The 67th Annual Spring Wildflower Pilgrimage occurs April 11-15, 2017. This five-day event draws thousands of people from around the world to catch the short-lived appearance of millions of wildflowers bursting up through the forest floor of Great Smoky Mountains National Park.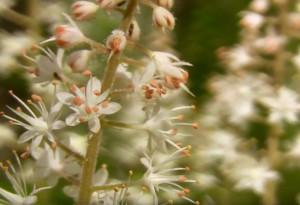 There are over 1,500 kinds of wildflowers in the national park, and they bloom in a short-lived, overwhelming flood of color and beauty during the spring time, until the trees catch up with their own spread of foliage and throw the forest floor into shade.
Almost 150 programs are offered by park rangers and a variety of experts, aided by many volunteers and enthusiasts of the national park's renowned diversity and fame as a distinct global biosphere. Besides wildflowers, topics explore wildlife, ecology, culture, and natural history, with walks, motorcades, photographic tours, art classes and seminars.
This year's programs will include a study of forest regeneration following wildfires – and we are already seeing new growth in burn areas from last year's fires.
You can register for available programs at the Mills Conference Center in Gatlinburg starting at 5pm April 11. This year all the programs are outdoors, and all programs are held come rain or shine. All programs require registration, except for some evening events that are free and open to the public, held in the Mills Conference Center.
There are also displays open to the public, and memorabilia for purchase, at Mills and the Sugarlands Visitor Center in the park, with special attention paid to engaging kids.
For details of all these events, including maps and directions, see the Spring Wildflower Pilgrimage website, and download the 26-page program brochure [pdf]. Also check the Facebook page for news and pictures of the many sights captured daily during the event.
Spring flowering season travels uphill over time. We always know when spring is coming, with the early arrival of daffodils blooming in Cades Cove, typically in March. This is followed by the carpets of millions upon millions of wildflowers at middle elevations, and culminates in the brilliant mountain flowers at the peaks, latest of all in the year, typically in late May and June. The wildflowers of the peak bloom during the Pilgrimage will be mostly gone by the end of April.
Cabins of the Smoky Mountains is proud again to be a sponsor of the 2017 Spring Wildflower Pilgrimage, with its unique sights, some to be found nowhere else.