The scenery of the Smoky Mountains is spectacular to look at, but what if you'd like to get closer to nature and walk around in that scenery, and could use some help getting started? In this case, A Walk in the Woods is a full-range tour guide service that can help.
Join in small or larger tours and have your own personal guide show you selected trails and magical places in Great Smoky Mountains National Park, helping you experience for yourself the wonders of nature with expert advice and guidance.
The opportunities range from a 1-hour stroll along the river in Gatlinburg to 2-3 hour nature walks in the National Park, to more strenuous hikes and camping trips. Over the 16 years that A Walk in the Woods has been in Gatlinburg, the guides have developed tours that suit just about every type of need and experience level.
More than 2 dozen different tours include 1-hour walks designed for special needs, wheelchairs, young children and strollers, and even one for your pets. These are ambles along rivers and streams, among wildflowers, with guides describing the history and lore of the environment.
The 2-3 hour tours are rated Easy to Moderate walks that take you on visits to waterfalls, mountain tops, the Appalachian Trail, early settlements, and some of the best spots to experience the season changing with the Fall colors and the Spring wildflowers. There's even a night tour to see how the forest comes alive in the dark.
The half-day and full-day hikes go deeper into nature and explore hidden areas and views, birds and wildlife. More seasoned hikers use these to enlarge their skills and their enjoyment of Great Smoky Mountain National Park. Indeed, people who took their first steps in nature with A Walk in the Woods come back every year and book ever more advanced and rewarding tours.
A Walk in the Woods offers a shuttle service to pick you up directly from your cabin, or even the airport. The company will store your luggage or your car while you're hiking, meet you at a trail-head, or resupply you during a hike or camping trip.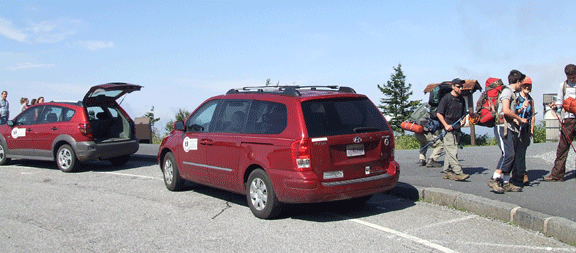 The company's service has opened up the world of "thru-hiking" to hikers facing that tricky business of getting back to your car when you start at one trail-head and finish your hike at another. Understanding the logistics, and being extremely reliable, has solved this problem for many hikers.
The company now also offers van tours, with stops at scenic points, to let someone else do the driving while you do the looking – this includes the hugely popular and often very crowded drive to Cades Cove. And if you have a group in your own bus coming to the area, the company provides a knowledgeable "step-on" guide to join you and show you around.
Beyond all these services, A Walk in the Woods also offers a trip planning service to give you the best itinerary for your requirements. And you can even rent equipment from the company by appointment, so you don't have to bring outdoor gear with you on your vacation.
The tour guide service is the work of love founded and run by husband and wife naturalists, Erik and Vesna Plakanis. The company is highly acclaimed, and was featured on the Travel Channel. In 2012 Erik was awarded REI's highest designation as a Top Guide, the only person in North America that year to be so honored.
For more information call 865-436-8283 and see A Walk in the Woods web site and Facebook page.