Practically anywhere you drive in the Smoky Mountains of Tennessee is a scenic drive, but here are some of the super-scenic roadways and places to stop along those roads, for photographs and memories.
Great Smoky Mountains National Park is the most visited national park in the country, and some days this shows in the amount of traffic. One general tip is always to go early in the morning or later in the evening to avoid some of the crush and to find better parking wherever you choose to stop.
Scenic Roads
Within the national park, some of the most scenic drives include the Cades Cove loop road, Newfound Gap Road, and Little River Road. Two others of note include the Roaring Fork Motor Nature Trail, which starts from Gatlinburg and offers an immersive nature experience from your car, with waterfalls and overlooks, and many places to stop and hike or work the camera. And Rich Mountain Road is good to know about as a peaceful roadway, especially if Cades Cove is crowded and you want to leave. See our guide to Driving in Great Smoky Mountains National Park for more.
Outside of the park, Wears Valley Road from Pigeon Forge offers great views of the mountain ranges as it heads to Townsend on the Quiet Side of the Smokies. As it passes through the town of Wears Valley itself, there's an option to turn south to Metcalf Bottoms Picnic Area and to connect with Little River Road. Meanwhile, the Gatlinburg Bypass serves to go around much of the Parkway traffic and is a great drive in its own right.
One spectacular road to know about outside of the park is Foothills Parkway. It offers stunning panoramic views of the mountains, and is a highway with no buildings, just a sweeping driving experience.
And for the really back-road experience, check some of the lesser known areas in our Biking guide. Some of the roads suitable for bikes are also driving roads, and if you're an explorer you can find stunning beauty.
Scenic Views
Vantage points to drive to specifically for the vista include Carlos Campbell Overlook, Newfound Gap Overlook, and of course Clingmans Dome.
The Carlos C. Campbell Overlook is less than 3 miles south of Gatlinburg on Hwy 441. Easy to pull into, this offers a superb view of Mt. LeConte. Newfound Gap is about 15.5 miles along the same highway, at the state line with North Carolina and with glorious views of both sides of the ridge line. Just past here is the turnoff to Clingmans Dome Road, leading to the famous observation tower,  which on a clear day commands a view of seven states.
Another overlook occurs on Rich Mountain Road, which offers a unique view of Cades Cove and the old Baptist Church along the way. And the Gatlinburg Bypass includes the Gatlinburg Scenic Overlook along the way – with a view of Gatlinburg that you'll recognize instantly from the many photographs taken from there, including this one: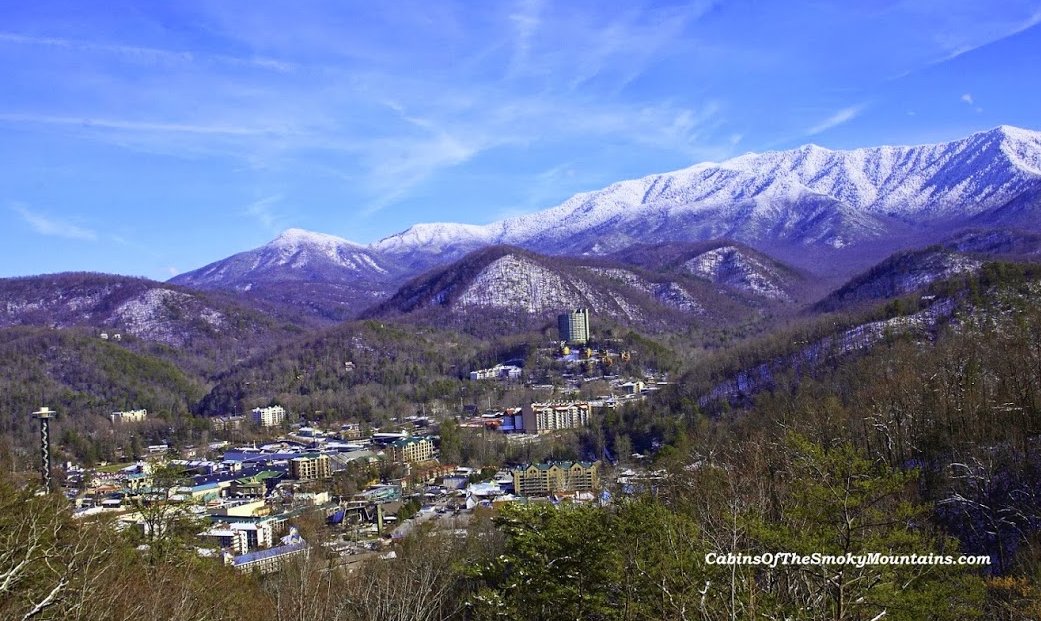 Wherever you go in the Smokies, always be on the lookout for wildlife, and be ready to slow down or stop anywhere. And please always keep a distance from all animals, especially bears – this is mostly for their safety because if they get accustomed to humans eventually the park service will have to relocate or even euthanize them. Best to use a zoom lens and view them from afar.
And any time you're driving you should be aware that your GPS and cell phone may not be reliable in some parts of the mountains. Check a map for directions. And check our guide to Shortcuts and Back Roads to get better oriented to the area. You can also find more scenic-route advice in our guide for travelers driving in from the Best Airport for Flying to Gatlinburg, which is McGhee Tyson airport on the south side of Knoxville.
~~
If your sights are on the outdoors, see our guides to Gatlinburg Hiking Trails, and our Smoky Mountains map page, as well as more outdoor ideas in our Smoky Mountains Activities guide. Check out our Things to Do in the Smoky Mountains guide as well and the all-important, Things to Do in Gatlinburg With Kids. And remember we have cabins all over the area, so pick your vacation headquarters from our Wears Valley cabins, our Pigeon Forge rental cabins and our Gatlinburg cabins – and if you're bringing a pet check our updated list of pet friendly cabins in Gatlinburg and Pigeon Forge.