Eagle Crest
Eagle Crest Resort is close to Pigeon Forge. Situated on a ridge in the Upper Middle Creek Road area, the resort is close to Dollywood, and has a community swimming pool in season (with bathrooms). Be sure to check if your cabin has access to this pool, if this matters to you.
---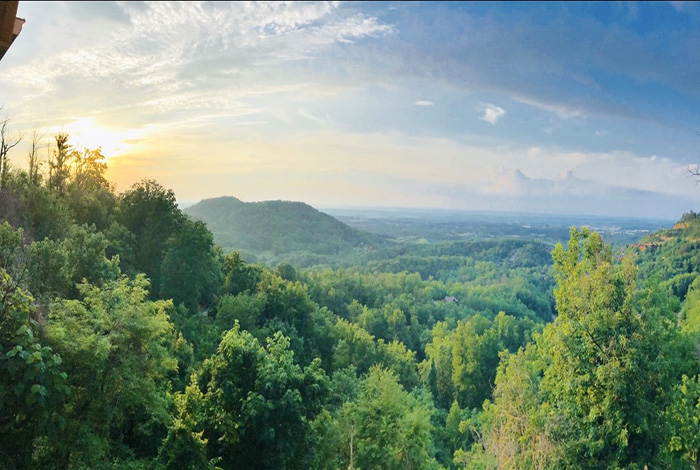 ---
Eagle Crest…Where Luxury Meets the Mountains.
Lying to the east of Pigeon Forge, the resort offers a view of Bluff Mountain to the west, and some cabins can see Mt LeConte. Some cabins are nestled in wooded areas, with great privacy within a mountain feel, while some have clear views of the Smoky Mountains. Be sure to check the views of cabins when you book, if this is important to you.
Dollywood is only minutes away from Eagle Crest Resort, which can be useful if this tremendous theme park and its water park are on your itinerary. Pigeon Forge itself is only minutes more, around five miles in all from the resort area to Parkway at Light #8.
The roads are paved and generally manageable in all seasons, although winter driving in the mountains always calls for extra care. Some cabins because of their access will suggest four-wheel drive during winter - it's marked on their listings for each cabin below, so check this before booking.
The Gatlinburg Golf Course is equally close to the resort and to this part of Pigeon Forge. And it was given that name long before Pigeon Forge incorporated as a town - to answer the question that everyone asks!
At this end of Pigeon Forge, The Island is quite close for shopping, kid's activities and entertainments of all kinds. Teaster Lane, on the resort side of Parkway, runs parallel and is a good way to get up and down between the attractions of Pigeon Forge without getting on Parkway itself - less traffic. Veteran's Boulevard is another way to avoid much of the traffic if heading north to Sevierville or coming in from the north.
Gatlinburg is only minutes away from Pigeon Forge, as is Great Smoky Mountains National Park. If you're the exploring type, check a good map for back roads to the national park, and to bypass traffic on Gatlinburg's Parkway as well. Be aware that your GPS navigation system will not be reliable in this mountain area - check maps and directions if you like to get off the beaten track.
The cabins of Eagle Crest Resort, of course are all first class luxury vacation cabins, for you and your group to make a home away from home in the mountains. See below for availability.
Jump start your next vacation to the Smoky Mountains by giving us a call at 866-347-6659. Let us make your next vacation one to remember.
---
Tap on row for more cabin info.