Hidden Springs
Hidden Springs Resort offers some of the closest rental cabins to Dollywood - in summer you can see the nightly fireworks from the theme park. The gated resort features an attractive and airy glass-enclosed swimming pool, heated for year-round use, at the entrance end, which is also closest to Pigeon Forge. Cabins at this end of the resort are minutes from Parkway yet still away from the bustle of town.
---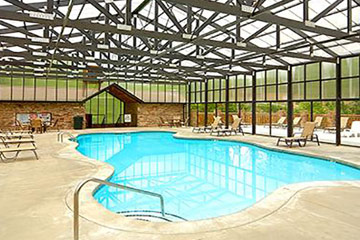 ---
Hidden Springs…Where Luxury Meets the Mountains.
The resort's proximity to Pigeon Forge combined with its semi-seclusion in the hills above town offer the means for a quick adventure into town and retreat back home for lunch with no great amount of driving.
Hidden Springs Resort is fairly long with over 100 cabins extending back into the hills and up-slope. All the roads are paved. Some of the cabins farther back in the community, often with the best mountain views but also further up hill, can offer more challenging driving in winter. As with everywhere in the mountains, GPS can be unreliable and Internet can sometimes be patchy.
Depending on where your cabin is located, you can be in Dollywood within 4-5 minutes. Another attraction close by is Parrot Mountain, a lovely area in the hills with exotic birds that you can touch - your kids will love this place, as well as Dollywood.
From Hidden Springs Resort, you'll quickly encounter Veterans Boulevard, one of the great bypass routes for north-south travel. The attractions just a few miles north at Sevierville are easily in reach. Another road you'll discover is Teaster Lane, which takes you up to The Island for hours of fun and engagement, and all of this without touching Parkway once (if that's what you want). Consult a map to get oriented and to plan your excursions from your resort cabin.
Hidden Springs is one of the earlier resort areas, and consists of an HOA with multiple cabin owners and different management arrangements, so be sure to check amenities in advance to make sure your cabin fits your needs - with adequate driveway parking and a road suitable for your vehicle, the right mountain view, a place outside the cabin for the kids and pets (if applicable) to play, and so on.
Many of the cabins in this resort have great views of the mountains, and in general the farther back into the resort you go, and the more uphill and winding the road, the better you are rewarded with mountain views. All of the resort, however, can be considered very convenient for dropping into Pigeon Forge in minutes.
Jump start your next vacation to the Smoky Mountains by giving us a call at 866-347-6659. Let us make your next vacation one to remember.
---
Tap on row for more cabin info.