Pin Oak
Pin Oak Resort is a quiet gathering of cabins so incredibly convenient for Pigeon Forge that you can walk down the road to the Parkway. Pin Oak offers a swimming pool in season.
Clustered along the quiet street of Pinoak View Drive, the cabins are set nicely apart from each other on both sides of the street, each with the usual back deck and hot tub, and some with great views of the mountains, while many are more wooded.
---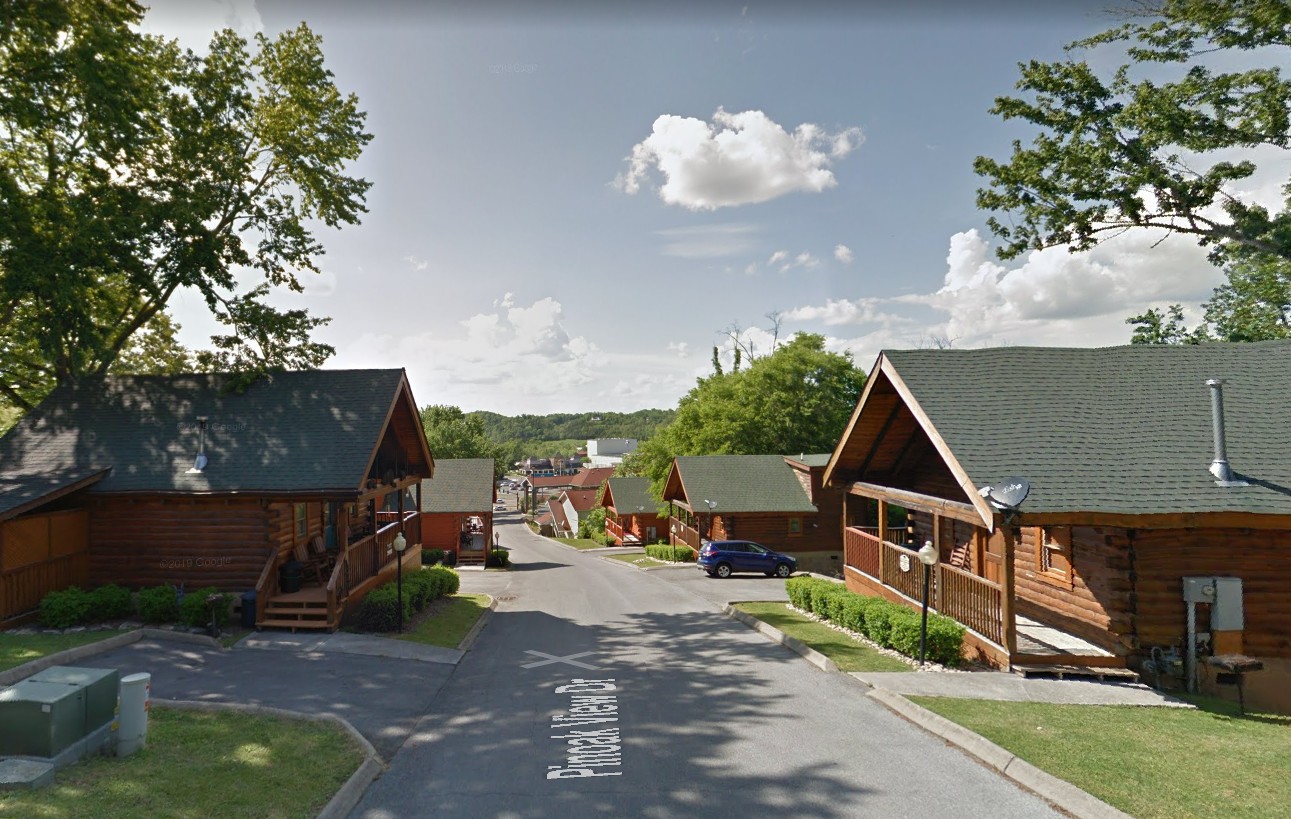 ---
Pin Oak…Where Luxury Meets the Mountains.
The road to enter the resort area is short, straight and with only a very mild incline. Walking on mountain roads is not normally recommended, but this is a safe city street that also happens to be in the hills - for the best of both worlds.
Nothing is better than cabin living for accommodations in the Smoky Mountains, and Pin Oak offers all that you expect from a rental vacation cabin. While you could walk to all the neighboring attractions - the Titanic, Hatfield & McCoy and many others - you probably want a vehicle to drive to enjoy this bustling Smoky Mountains area. Pin Oak gives you a head start on access.
Parkway is about 30 seconds away, with Dollywood just a few miles to the south, and the Old Mill district just beyond that. If you tire of the sights of Parkway, check out Teaster Lane, which runs the length of Pigeon Forge parallel on the east side of Parkway, and carries a lot less traffic.
This is the north end of Pigeon Forge, and Gatlinburg and Great Smoky Mountains National Park lie to the south, some 10 to 15 miles - if you can pass by the countless attractions along the way. But you can also explore thw Quiet Side of the Smokies to the west of Pigeon Forge very easily from your starting point in Pin Oak.
Highway 321 at Light #3 from Parkway heads west to Wears Valley, from where you can go south to Metcalf Bottoms picnic area for fishing, tubing and a quiet entrance to the national park, or continue on 321 to Townsend and Cades Cove, another way into the park.
While Pin Oak Resort offers unmatchable convenience for Pigeon Forge - especially for a family with sights set on Dollywood, for example - it also offers a good way to bypass most of the north-south run and head west. These roads mentioned are incredibly scenic, and travel through countless scenic spots, creeks, waterfalls and other attractions, with superb views of the mountains from almost everywhere.
Whatever your itinerary, if you want to start on Parkway in Pigeon Forge, and still enjoy cabin living in the mountains, Pin Oak Resort may be the one for you.
Jump start your next vacation to the Smoky Mountains by giving us a call at 866-347-6659. Let us make your next vacation one to remember.
---
Tap on row for more cabin info.