Shagbark
Shagbark Resort lies about 7 miles west of Pigeon Forge in a peaceful mountain setting on a secluded, hilly and greatly forested ridge, and with access to the national park that avoids many of the more crowded routes. The resort offers several amenities.
Shagbark is a gated community with 24/7 security, containing a few hundred privately owned cabins of all sizes, mostly set apart from each other. Many owners reside year-round in this community, which has a local community feel rather than a fabricated resort feel.
---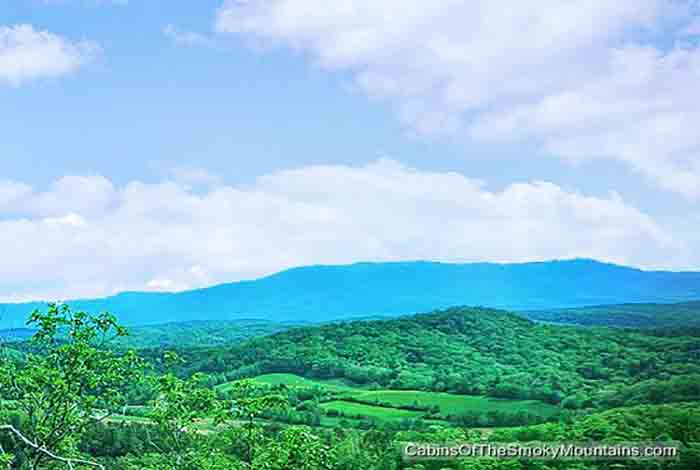 ---
Shagbark…Where Luxury Meets the Mountains.
Shagbark offers a swimming pool in season, as well as tennis courts, a playground and frisbee golf. There are areas to walk including by the creek. If you come simply to be quiet in the mountains, you could spend all your time here. Internet may be a little haphazard here, and GPS will not be reliable so maps and good directions are your friend.
Some rental cabins have stunning views of the mountains while others are more wooded, but the entire 1,300-acre area is beautiful, with a year-round creek flowing through it, and abundant wildlife - please brush up on wildlife etiquette, and do not feed any of the animals.
Some of the roads to cabins are steep and narrow, and four-wheel drive may be required in winter - check with reservations before booking if this is an issue. The resort offers a secluded and typically mountain-like feel, private and in the woods - it's a great getaway place.
Shagbark is located off of Hwy 321 in the Waldens Creek region, 6.4 miles from Light #3 on Parkway in Pigeon Forge - about a 12 minute drive. This is Wears Valley, which is outstandingly scenic, and with some of the best mountain views in the region. Driving from here to anywhere is a scenic drive in its own right - there are countless scenic spots, sights and streams everywhere, in greatly forested country.
To the south lies Metcalf Bottoms, a picnic area with fishing and river tubing, also offering entrance to Great Smoky Mountains National Park in the summer (the road is closed in winter). To the west along Hwy 321 lies Townsend and the way into Cades Cove.
From Metcalf Bottoms a scenic drive takes you into Gatlinburg. This is situated in the area called the Quiet Side of the Smokies, with obvious attractions in avoiding much of the bustle and crowding that happens in the highly visited Smoky Mountains.
Jump start your next vacation to the Smoky Mountains by giving us a call at 866-347-6659. Let us make your next vacation one to remember.
---
Tap on row for more cabin info.