Sky Harbor
Sky Harbor Resort is located mid-way between Pigeon Forge and Gatlinburg, nestled in the mountains yet not too far off the highway, and convenient to all the attractions of this Smoky Mountains area. This prime location is on King Branch Road, about 2-3 miles off the Spur (which is the strip of separate roads joining Parkway in Pigeon Forge and Parkway in Gatlinburg. All these roads are Hwy 321).
---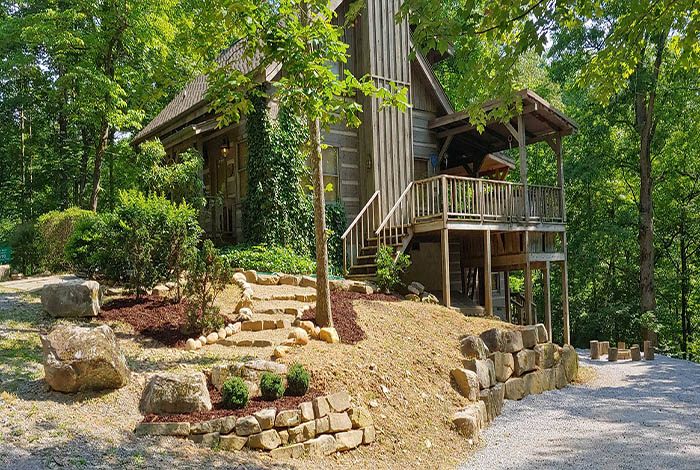 ---
Sky Harbor…Where Luxury Meets the Mountains.
Sky Harbor is a subdivision rather than a resort community. It consists of several hundred privately owned cabins. The 35 miles of interior, paved roads are private and well maintained by a property owners association, which also provides trash collection and street lighting, as well as snow removal and infrastructure maintenance.
The resort has several ponds, and some creeks running through it, with abundant wildlife. There is a sign and even a Lodge for Sky Harbor but it feels more like an extensive neighborhood than a place for tourists. It's a peaceful, friendly and cozy setting hidden in the hills, and it's easy to feel like a local here after you get used to navigating the area.
Many cabins have narrow driveways, and four-wheel drive may be recommended in winter. Cabins vary in size and situation, some hidden in the trees and some with stunning views of the Smoky Mountains, so be sure to check on amenities and features that come with each cabin.
Connecting with the Spur gives you a scenic drive either heading north to Pigeon Forge or south to Gatlinburg - a few miles either way. In Pigeon Forge, if you want to avoid Parkway traffic look for Teaster Lane running parallel on the east side. This will take you up to The Island at the north end of town.
Southbound on the scenic Spur brings you into Gatlinburg, or you can split off to the Gatlinburg Bypass and again avoid the main Parkway crowds, arriving at Great Smoky Mountains National Park. An area to explore is to the west of both towns, Wears Valley and Townsend on the "Quiet Side of the Smokies", with access to Cades Cove.
From this end of the Smokies you can loop through two incredibly scenic drives, Little River Gorge and Fighting Creek Gap road passing through waterfalls, trails and great scenery on the way to Gatlinburg, and Wears Valley Road itself to the north, connecting with Pigeon Forge. This will make sense on a map.
If you check out the numerous attractions within the national park itself, as well as the two towns of Gatlinburg and Pigeon Forge, you'll have done well to explore the highlights of the area. And Sky Harbor Resort is perfectly situated to get you everywhere.
Jump start your next vacation to the Smoky Mountains by giving us a call at 866-347-6659. Let us make your next vacation one to remember.
---
Tap on row for more cabin info.