Smoky Cove
Smoky Cove Resort is a cabin community to the west of Pigeon Forge, about 5 miles from Parkway as the crow flies, and about a 15-minute drive from the Parkway. It offers resort amenities such as a swimming pool in season, and is situated in very scenic surroundings. It's heavily wooded with many mature trees.
---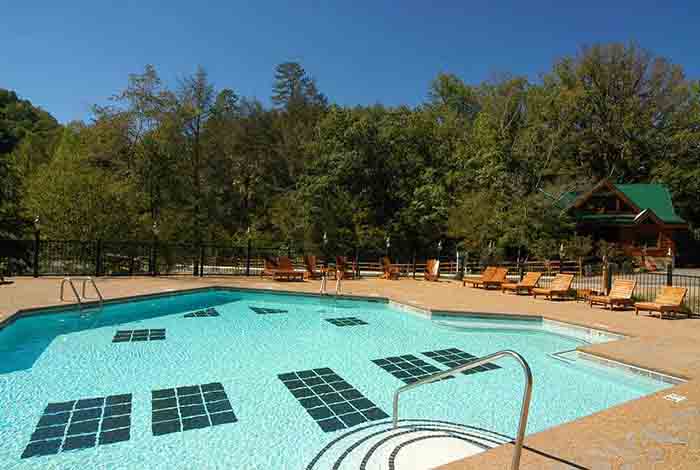 ---
Smoky Cove…Where Luxury Meets the Mountains.
The resort entrance is impressive, stacked stone and a waterfall, and the resort's common amenities are right here too. There's a very attractive outdoor swimming pool (salt water rather than chlorine) available in season, and a picnic pavilion with tables and grills, as well as a fire pit and horseshoe pit. The roads are good and cabins are not hard to get to.
The common areas such as the pavilion are nice to gather with friends and family, to eat a takeaway meal from your adventures in town, or just to sit and relax. The resort is laid out for strolling, and encourages guests to walk around and explore the grounds. The many trees provide cloistered canopy areas for shade and tranquility.
The cabins are nicely designed and set for a sense of privacy from your neighbors. Some cabins have superb views of the mountains, while others are more secluded and park-like in deeply forested surroundings.
Smoky Cove Resort is located at 1809 Smoky Cove Road, Pigeon Forge, TN 37876. The community is reached from Hwy 321, turning off north as the road heads s towards Wears Valley and on to Cades Cove and Townsend. This is on the "Quiet Side of the Smokies" in the Waldens creek area.
While the many attractions of Pigeon Forge are only a few minutes away, this western side offers some of the best views of the mountains, along with some gorgeous scenic drives, and two of the less traveled entrances to Great Smoky Mountains National Park.
Those who come for a restful time or to immerse in nature, rather than for the attractions of Gatlinburg and Pigeon Forge, often choose this quieter and less bustling side to stay in.
Jump start your next vacation to the Smoky Mountains by giving us a call at 866-347-6659. Let us make your next vacation one to remember.
---
Tap on row for more cabin info.