Adventure is better off the ground – try a treetop-level ropes course (and zipline) in 70 acres of natural beauty in the Smoky Mountains.
UPDATE: In 2019, Adventure Park closed the Ropes Course operation, explaining that, while it was a great thing for kids, it also split up families. The horse trails and the ziplines are running strong, and families can stay together as they enjoy a day visiting Adventure Park.
NOTE: For other Ropes Courses in the area, see our guide to Ropes Courses in the Smoky Mountains. Also check our guide to Ziplines in the Gatlinburg Area.
And see our guides to more outdoor activities in our Smoky Mountains Activities, as well as more family fun in our Things to Do in Gatlinburg With Kids – all sections of this Things To Do in the Smoky Mountains compendium.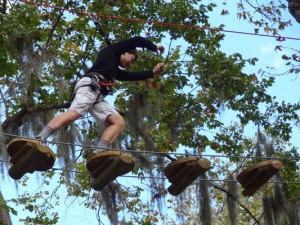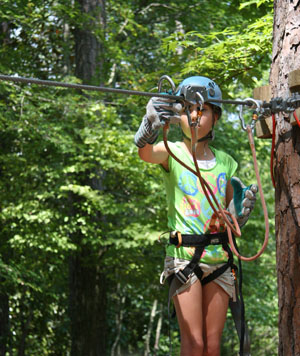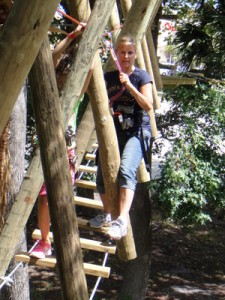 Being outdoors doesn't mean you have to stay on the ground. Get in the air and stay there throughout the Adventure Tree Tops Ropes Course, fully harnessed and traversing a mix of ziplining, climbing, rope walking, and numerous other elevated platforms that make up the course.
Tree Tops has 3 distinct courses, including one for kids (minimum age 8). All kids love to climb, and the kids course includes tree decks, rope bridges, clambering through barrel-like tubes and walking the wires between tree platforms – all the time in a harness and with a guide.
Children age 12 and up can join with adults in the two other courses, one lasting about 45 minutes to an hour, and the other an hour and a half. You can do both courses in sequence also. The ropes courses are set in 70 acres of natural beauty with great views of the Smoky Mountains – seen even better from above the ground of course.
The object is to complete the course, and guides are present at all times for anyone who might get into unexpected difficulty. You don't need to be an athlete, but you should be reasonably healthy and comfortable with physical adventure.
A sky bridge, cargo nets, swings and a suspension bridge form part of the treetop terrain you traverse on the ropes course, along with one or two ziplines for a bit of fast travel through the air. At the end of the course, take a seat and let the crew take you on a 4-wheel adventure back to the starting place.
Adventure Park also offers horseback riding. Ticketing is flexible to offer courses with or without a zipline, and to add an hour of riding if desired. You can make a day of it pretty easily at Tree Tops.
For a physical family or a group of people, the course is a wonderful team-building and bonding experience. Advance reservations the day before are recommended for groups. Shoes should be closed-toe, clothing comfortable, long hair tied and jewelry/scarves that could snag in ropes removed.
Adventure Park is open every day of the year, weather permitting, at 10 am until dark.
Helpful Information
Location
1628 Parkway, Sevierville, TN 37862
Near Pigeon Forge, in Adventure Park in Sevierville, across Parkway from Tanger Outlet.
Save
Save