Tee up and take your golfing techniques to another level of play at one of the fun-filled blacklight miniature golf courses in Gatlinburg and Pigeon Forge. Play among a variety of scenic and challenging themes from a pirate village to skeletons and spacemen. A visit to miniature golf courses in the Smoky Mountains leads to adventure and entertainment for all ages.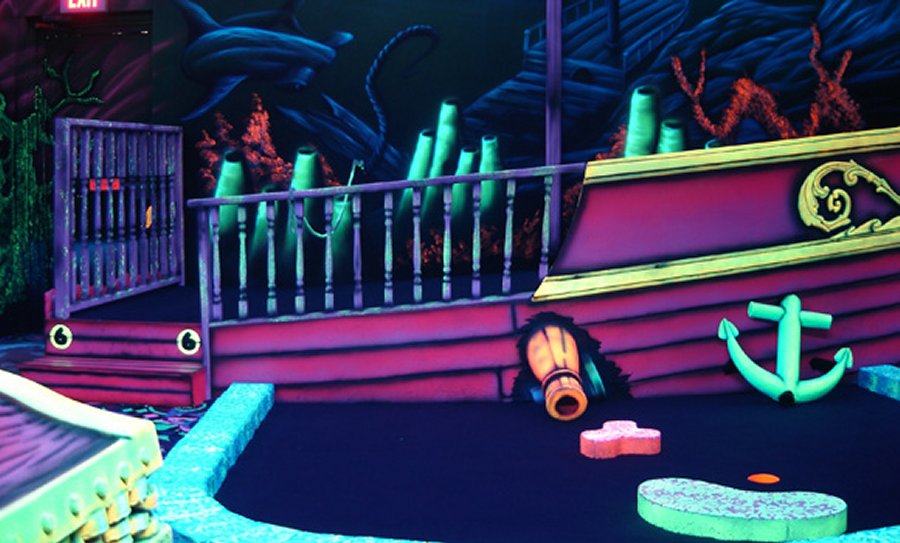 Gatlinburg Blacklight Mini Golf Courses
Blindshot Barnaby's Circus Golf
At the 18-hole Circus Golf indoor mini golf course, it's all about the challenge of making your way through an array of blacklights amid a setting of circus decor. Add a pair of 3-D glasses, and the interior comes ablaze with extra bright and sparkling colors. Once you've conquered the challenge of the course, head next door to the Mirror Maze and "see" yourself in the network of mirrors as you "panefully" attempt to find your way to the exit. Circus Golf is at 919 Parkway. This one has a touch of the Haunted House about it, so be warned. Facebook page.
Gatlin's (formerly Fort Fun) Indoor Blacklight Golf
There's more indoor miniature golf fun and excitement at Gatlin's where the blacklight course takes you to the denizens of the deep. The under-the-sea adventure features tropical fish, dolphins, and a giant octopus. Along the course, be on the lookout for an elusive mermaid and be prepared for the challenge of the sunken pirate ship.
Gatlin's has plenty of fun to go along with miniature golf. Take a thrill ride at the Motion Ride Theater or test your driving skills at the electric bumper car arena. If you're interested in finding a treasure trove of gemstones, visit the Gem Mining area, and become a prospector where you're sure to find an assortment of valuable loot.
If the weather is friendly, head to one of the two outdoor mini golf areas offering 45 holes on award-winning courses. Enjoy the game while learning a little piece of Gatlinburg's history along the way. Gatlin's – formerly known as Fort Fun – is at 716 Parkway. Website.
Treasure Quest Golf
Treasure Quest Golf provides an unusual adventure of equally unusual sights as you play through the 18-hole indoor miniature course. The scenic course features several themes including jungle wildlife, Egyptian drawings and statuary, pirates, skeletons, monsters and more. To add to the fun, five of the holes now feature black light, making the course even more interesting and challenging for all ages. Treasure Quest Golf is at 653 Parkway. Facebook page.
Pigeon Forge Blacklight Mini Golf Courses
LazerPort Fun Center
LazerPort's indoor blacklight mini golf course is designed to put your golf technique to the test. Venture forth into the unknown as the course takes you through 18 holes of brilliantly colored, space-themed interior where you'll encounter space ships, planets, and extraterrestrial beings.
After playing through the course, keep the excitement level on high with a game of Laser Tag, or zip around the Go Kart course. At the 10,000 square foot game arcade, play to your heart's content on a variety of racing and action games that earn points for an assortment of prizes. LazerPort is at 2782 Parkway. Website.
MagiQuest – Pirate Golf
Ahoy mateys! That's the welcome to expect from the villagers while playing at the 18-hole miniature Pirate Golf course at MagiQuest. The blacklight course will keep you on your toes looking for hidden treasure – as you take your best shots playing through the Caribbean-inspired pirate village, or aboard the pirate ship!
And MagiQuest has 3 more adventure games to explore. Continue the fun with an interactive role-playing adventure in the MagiQuest fantasy world, where magic rules – use a magical wand to solve mysteries as you're challenged with arduous quests of enchantment.
Meanwhile, laser excitement awaits at The Vault, a laser-beam obstacle challenge for the more agile in the party. And everyone can enjoy Odyssey, an insightful journey through brilliant lights shining on endless pathways winding through an intricate mirror maze – one of the largest in the word – where there's something amazing at every turn. MagiQuest is at 2491 Parkway. Check out our feature article: MagiQuest in Pigeon Forge – World Within a World.