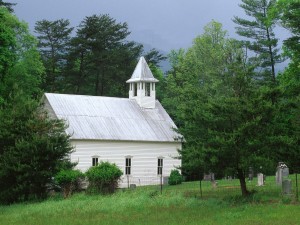 It can be hard to find the right church when you're traveling, so here's our guide to help you.
The Gatlinburg and Pigeon Forge area offers many places to worship during your visit to the Smoky Mountains.
Church Listings
You can find a variety of churches through the ChurchFinder.com website.Here are some shortcuts to selected towns. If you click the link for the town you're interested in, you'll see a listing of churches in the area. The church address is listed on the first page and if you click the Church Profile tab, you'll find a phone number, reviews, information about the church, and a map showing the location.
Gatlinburg
The Gatlinburg Chamber of Commerce website offers another resource for local churches. You'll find a list of churches, the address, phone number, schedule and time of services, and a map with the option to access directions.
Pigeon Forge
The Pigeon Forge Department of Tourism also has a list of churches on their website to consider. Information about each church, contact information, and worship hours is available by clicking the More Details tab.
Dollywood
Dollywood offers its own place of worship for visitors, in a step back in time at the Robert F. Thomas Chapel. Fitted with hardwood floors and wooden pews, the simple church echoes the spirit of worshipers. Stop by at 11:30 a.m. on Sunday morning during the regular season and 5:30 p.m. during Smoky Mountain Christmas and join in the singing at this pleasant one-room country church.
Worship in the Smoky Mountains
There are other attractions of religious interest in the area. See our feature on Churches, Chapels and Worship in the Smoky Mountains, and discover the Easter Sunrise worship each year high on the Ober Gatlinburg ski mountain, and the Christ in the Smokies Museum & Gardens year-round attraction, one of the most popular spiritual destinations in the nation.
Wedding Chapels
And then there's that special kind of worship known as getting married. See our page on Wedding Chapels in Gatlinburg for a few ideas on where to go, as well as links to wedding resources. Also note our Gatlinburg honeymoon cabins and our own Smoky Mountain weddings packages.
The Great Smoky Mountains is a romantic setting any time of year and if you're planning a destination wedding, what better way to celebrate tying the knot than letting the Smoky Mountains be the backdrop for your special day.