You'll step back in time when dining in the classic style of the 50's at Mel's, where American favorites fill the menu. From the large exterior neon sign to the cozy booths, chrome accessories, and music playing from the jukebox, it's a time machine and a great place to eat. With something to please every palate, from breakfast to burgers, and desserts any time to satisfy a sweet tooth, this diner has long been a Pigeon Forge favorite among locals and visitors alike.
The atmosphere is fun and upbeat with ongoing music from the 50's and 60's. Pick your favorite tune from the jukebox, sing along, or challenge others to name that tune while enjoying generous portions from a large selection of classic cuisine.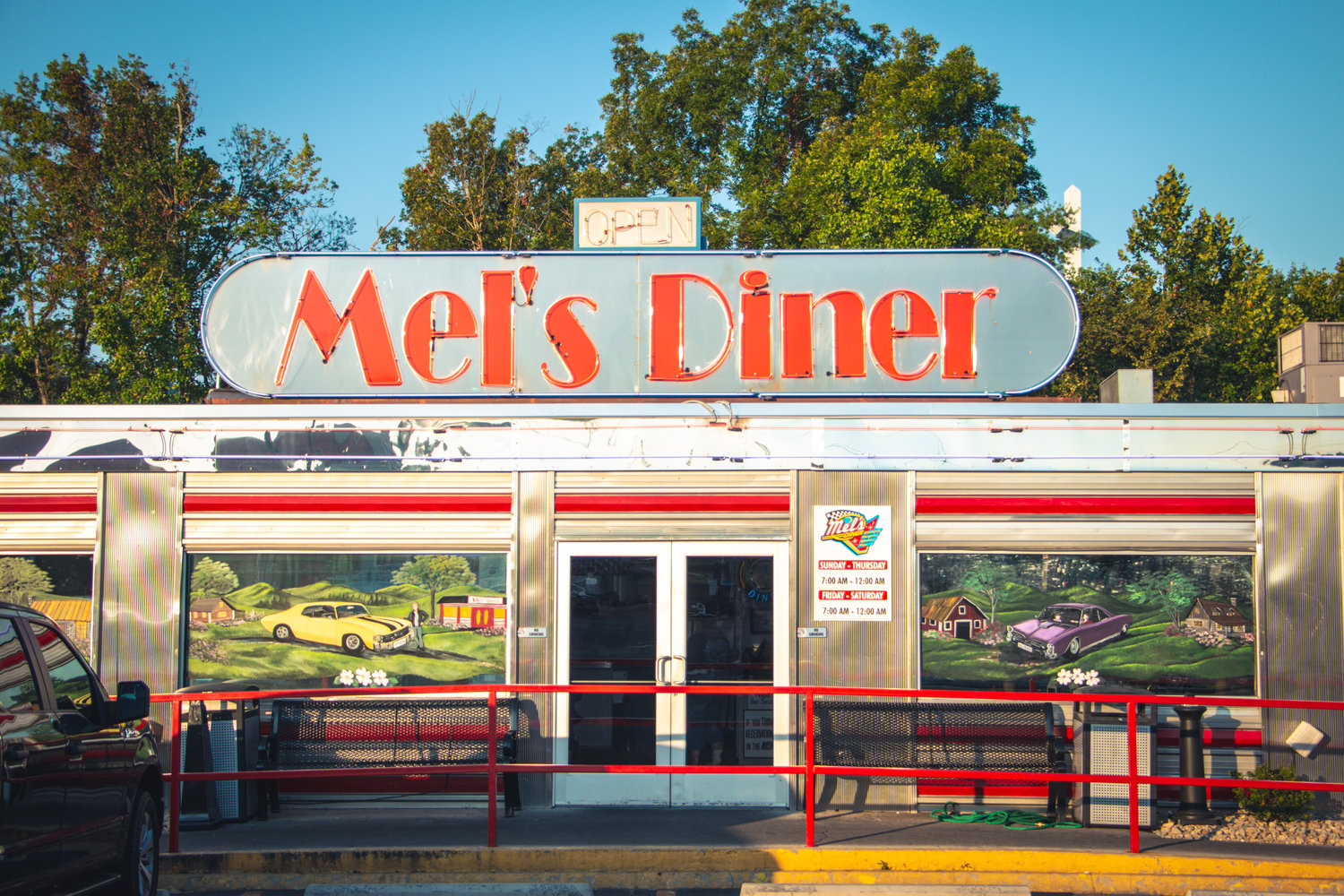 Start and End the Day Your Way
Breakfast classics offer a delicious and filling way to start the day. Enjoy eggs the way you like them accompanied by traditional bacon or sausage or go classic with a side of fried bologna, beef tips, or country fried steak.
Short and big stacks of fluffy pancakes topped with butter and syrup with assorted sides, sweet and delicious French toast, assorted omelets, or tasty biscuits smothered in sausage gravy and sides, such as hash browns or grits, round out the breakfast menu.
Breakfast is served all day, from 7 am to MIdnight, for those who consider it great at any time. And all menu items are available at all times.
Lunch and Dinner Classic Menu
To start off your meal, Mel's has plenty to choose from. Savor the flavor of Trevor's Cheese Fries with Bacon, Tony's Onion Rings, Abbot & Costello Jumbo Wings, John Wayne's Chicken Quesadilla, and much more.
If you prefer a light meal, choose from a variety of flavorful soups and salads. The menu offers favorites such as a bowl of hearty homemade chili or chicken noodle soup, or a freshly made Cori's Chef salad, Julie's Grilled Chicken Salad, homemade chicken or tuna salad, or a spicy Mucho Lolo's Taco Salad.
Mel's sandwich menu turns traditional ingredients into a "blast from the past" with favorites, such as the Bette Davis BLT, Darlene's Fried Bologna and Cheese, Matt's Meatloaf Sandwich, or the chicken, barbecue, bacon, and cheese Fabulous Thunderbird.
From traditional hot dogs to burgers, Mel's also has choices such as Big Foot's Foot Long Dog, the Buddy Holly Chili cheeseburger, the Chubby Checker Cheeseburger, or the Beach Boy Hamburger.
Betty Jo's Home Cookin'
Several favorites made from scratch are part of the menu selections that offer guests a taste of tradition. Choose from classics such as Miss Stella's Country Fried Steak and Gravy, slow-roasted Randi's Pulled Pork Barbecue or Grandpappy's Pot Roast, Hungry Eddie's Hamburger Steak, Bad Boy's Beef Liver and Onions, Miss Dee's Hand-Breaded Catfish, and Sudlow's Made from Scratch Meatloaf
Sweeten the Meal
Rich and creamy ice cream delights sweeten the meal with a selection of shakes, floats, malts, and sundaes. Delve into an order of homemade peach cobbler or enjoy a slice of strawberry shortcake or hot fudge cake.
For the ultimate dessert experience, share an order of Mel's ultimate banana split featuring six scoops of ice cream accompanied by a banana, and pineapple and strawberry topping, rich chocolate syrup, sweet whipped cream, assorted nuts, and a traditional cherry highlight the pyramid. Guests can enjoy a smaller version of Mel's banana split available with three scoops of ice cream plus all the toppings.
Planning a Visit
Whether your plans have you headed to Great Smoky Mountains National Park, Sevierville, Gatlinburg, or area attractions, Mel's Diner is just a short drive away – located at 119 Wears Valley Road, just off Parkway near Traffic Light #3. (See our Back Roads & Shortcuts guide to see how accessible this location is.)
Mel's Diner is open 7 am until Midnight, 7 days a week, and caters orders to go as well as seated dining. You can also buy a limited-edition T-shirt with assorted designs and other merchandise to commemorate your visit.
Location: 119 Wears Valley Road, Pigeon Forge, TN 37863
Phone: 865-429-2184
Web: melsdinerpf.com