Gatlinburg and Pigeon Forge get a lot of traffic, and it can be useful to know some of the alternative roads to take if the main routes are jammed. This is especially true of you're trying to get out into the countless nature attractions – including Great Smoky Mountains National Park of course, and don't want to drive through the congestion on Parkway in either town. Here are some of the shortcuts.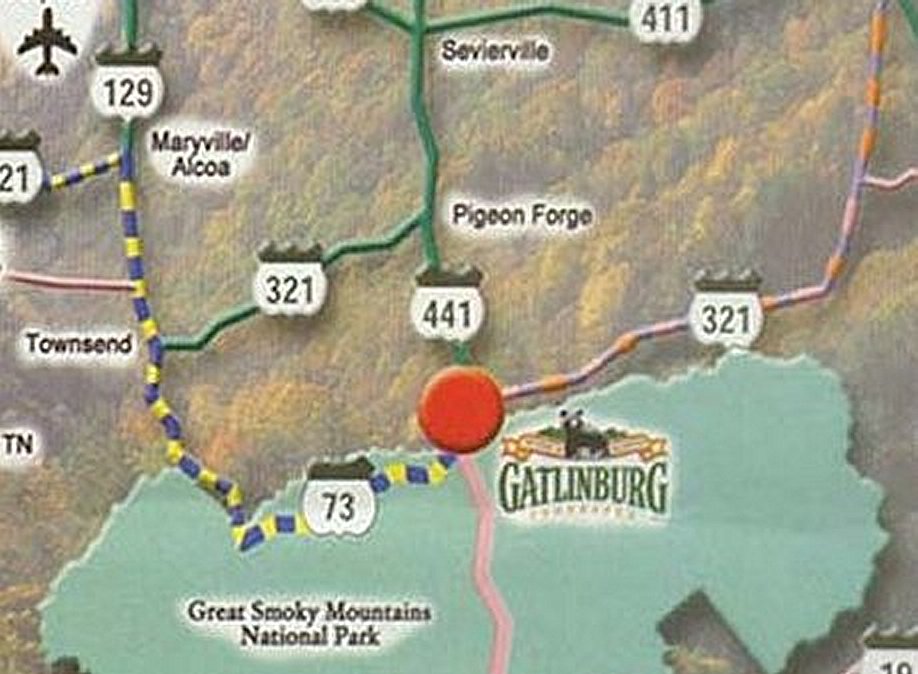 One smart move by the way if you're new to the area is to pick up a map – there are maps everywhere including at the visitor centers – or at least study the terrain carefully online. Don't rely too much on GPS because it may not be accurate deep into the mountains. Also, a compass is truly handy if you want to explore some of the lesser mountain roads – many of them are great shortcuts but they can be winding and sometimes change their names, and it's easy to go astray.
Pigeon Forge Back Roads
Two key roads to know about in Pigeon Forge are Teaster Lane and Veterans Boulevard. Teaster Lane parallels Parkway just a block or so over, on the east side. It runs from Light #2 at the north end down to connect with the southern end of Veterans Boulevard, and Dollywood Lane. You can also cut over to Teaster Lane from Light #5 on Jake Thomas Road. The Island has a back entrance right on Teaster Lane.
Veterans Boulevard a little north of Dollywood Lane will take you to the back entrance of Dollywood. Veterans Boulevard will take you up to Sevierville and may be your way in if, like many people, you're coming from Interstate 40 and planning to drop down into Pigeon Forge and Gatlinburg..
Dollywood Lane, by the way, leads on to Upper Middle Creek Road, which is a good road to the east into the hills and connecting with some other north-south roads such as Birds Creek and Pittman Center Road. This is farther afield than our immediate shortcuts, but if you're up for exploring, there's a lot of great country, such as around Cosby, a little to the east of the strip that rewards a visit.
One hidden gem you should also know about is a walking/biking & pet-friendly park trail that runs the extent of Pigeon Forge, right along the river, behind many of the attractions and close to nature. This is the Riverwalk Greenway, running from Patriot Park through The Island (literally) and up to the Community Center and City Park to the north. A quiet and convenient way to travel through town.
On the west side of Pigeon Forge two roads are worth knowing. A small one is Florence Drive, which parallels Parkway for quite some distance and has less traffic. But the big one is Wears Valley Road, Hwy 321, which branches off to the west (and which you can get to from Teaster Lane), and offers two ways into the national park without going through Gatlinburg.
For options from Hwy 321, see the route to Townsend and thence to Cades Cove. Also note where the Foothills Parkway is situated, for a stunning scenic drive. The town of Wears Valley offers a trip south to Metcalf Bottoms and an entrance to the park. Note also where Little River Road is, for a wide assortment of incredible scenic attractions, and another way to Gatlinburg.
Gatlinburg Shortcuts
It would be a wide and scenic loop to leave the top end of Pigeon Forge at Hwy 321 and follow some of the options presented above, just in order to come into Gatlinburg without hitting its own Parkway – but it would make a wonderful journey. There's also a shorter way to do the same thing and that's to take the Gatlinburg Bypass.
The Gatlinburg Bypass begins at the south end of the Spur – the scenic stretch of Hwy 321 that connects Pigeon Forge to Gatlinburg – just south of the visitor center on Parkway, at the north end of Gatlinburg. Just when the traffic might start getting snarled, this road offers your escape. It's a must-drive road anyway that offers the very best overlook views of Gatlinburg – many of those amazing views you've seen of the town nestled in the mountains are taken from this road.
The Bypass continues down into the national park, intersecting with Hwy 441. Here you can go on into Sugarlands Visitor Center or cut back up a short distance to the south end of Gatlinburg. From Sugarlands, note where Little River Road connects (called Fighting Creek initially), and bear in mind the fun mentioned above that's available from this road.
A shorter road that avoids Parkway in Gatlinburg is River Road (not to be confused with Little River Road – check the map). This road parallels Parkway on the west side and you can get on it by Anakeesta. It will take you down to Ski Mountain Road, with then a short jog over to Parkway if you want, or on to the Gatlinburg Bypass and all points from there. River Road can be a handy way to skip out of Parkway traffic and get moving to somewhere else!
Another such road is on the east side, and this is Baskins Creek Bypass. This starts on East Parkway close to where it merges with Parkway proper, and cuts off this convergence, connecting with Cherokee Orchard Road – which brings you onto Parkway, just across from River Road! Alternately,, you can continue on to connect with Historic Nature Trail, where you could cut back up to Parkway or go on to adventures such as the Roaring Fork Motor Nature Trail.
If it all sounds a little confusing, check the map to see how well it all can work. And welcome to the inside track!
~~
PS…no matter which part of the Smokies you make your base, make sure to stay in one of our Gatlinburg cabins, Pigeon Forge cabins or Wears Valley cabins. And each cabin comes with a deal that no one else can match – a free book of Pigeon Forge coupons and Gatlinburg coupons for free tickets to many of the area's best attractions, worth over $700!
---
And remember that romance in the Smoky Mountains is made perfect with one of our Gatlinburg honeymoon cabins.