From the Metcalf Bottoms Picnic Area you can access the Metcalf Bottoms trail, which is an easy-to-moderate hike that goes 1.5 miles out and back (3 miles round trip) and should be passable for almost all members of the family. The trail meanders along the river and provides views of some of the classic rolling hills, wildflowers, and lush forest that the Smokies are known for.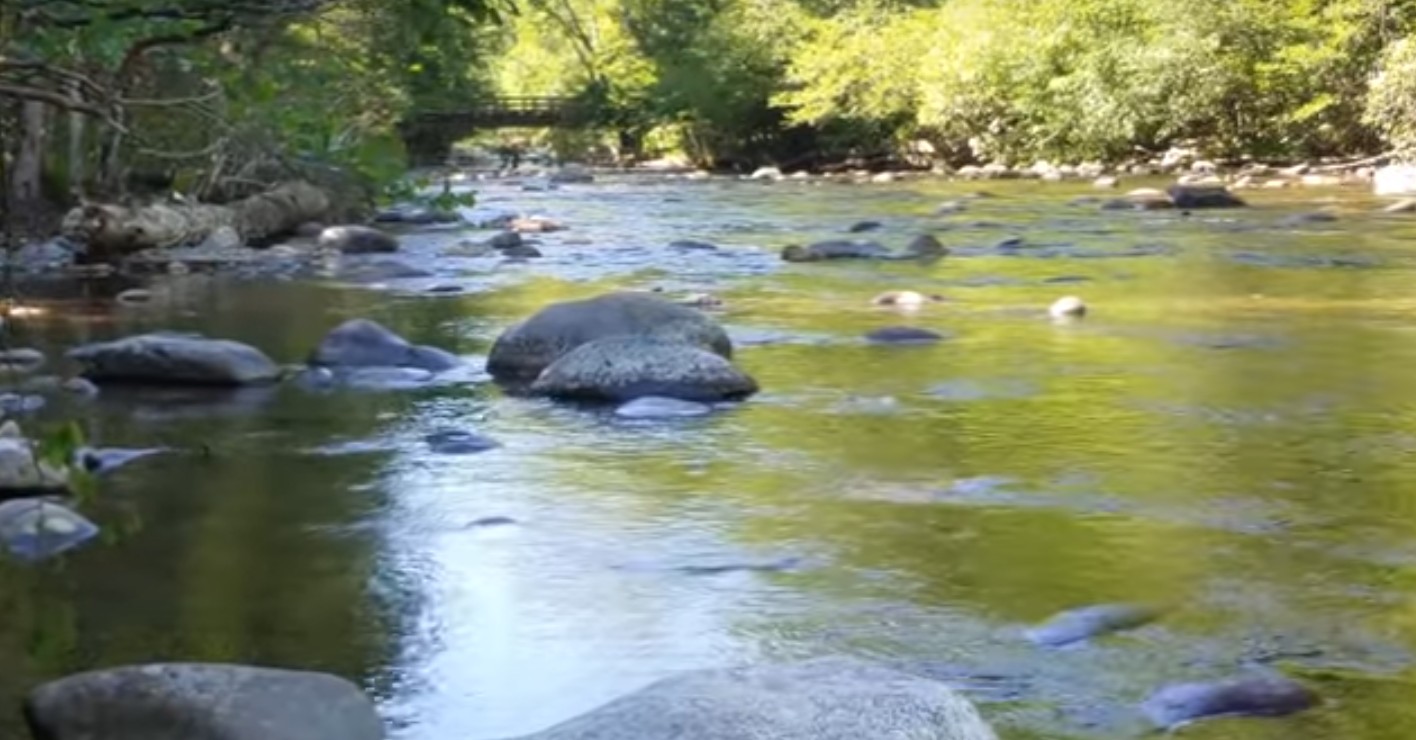 Take a pleasant and historical short hike in the park
Hiking the Metcalf Bottoms Trail also gives you an opportunity to learn more about the history of the area. At the end of the trail you'll come upon the 19th century schoolhouse of the Little Greenbrier School, which still contains a blackboard and some desks that were used by teachers and students. If you wish to continue on, the Little Brier Gap Trail also connects to the schoolhouse, and will take you further to the Walker Sisters' Cabin.
Have fun in the water responsibly
One of the great things about Metcalf Bottoms Picnic Area and Trail is that there is plenty of easy access to the water throughout the area. During the warmer times of the year it's a great spot to do some swimming or fishing in the gorgeous environs of the national park, but there are some safety guidelines and conservation rules that must be followed.
The swimming areas of the river can have slipper surfaces and uneven terrain, so make sure to take caution when you are standing or walking and watch out for the children in your group. The rivers and streams throughout the Great Smoky Mountains National Park are popular spots for anglers from all over, but it's important to remember that fishing in these waters requires a valid state fishing license at all times. Violations are frequently enforced and fines can be steep, so have your license on your person whenever you grab your gear and hit the water.
Plan a picnic, but be sure to follow regulations
Sharing a picnic with your family and friends at Metcalf Bottoms amidst the mountain scenery is a great way to spend an afternoon in one of America's most beloved national parks. Whether you bring a home cooked meal prepared in your cabin or stop to pick something up at a local restaurant or store, it's all about creating memories with your loved ones against the backdrop of one of the most unique regions in the country.
Metcalf Bottoms has two main picnic areas, and both feature great views of the Little River, plentiful picnic tables, and charcoal grills for cooking. There is also restroom access, drinking water provided, and a 70-seat pavilion available for rent if you are hosting a gathering. Wildlife, including bears, live in and around this area, so please be sure to clean up all of your food and waste, as well as the grill, before you leave. Feeding the wildlife in the park is against the law, and violations of these rules cause bears to leave the safety of the backcountry and come to human-populated areas more frequently in search of food – this in turn forces the park service to euthanize them, so feeding bears results in their death.
Make Metcalf Bottoms a part of your journey down Little River Road
Metcalf Bottoms is simple to reach from any of the areas surrounding the national park. You can get to it by traveling south from Wears Valley on Wears Cove Gap Road, or you can include in your tour of Little River Road, which features many popular scenic areas and trails that deserve a spot on your itinerary. Keep in mind that Metcalf Bottoms is a popular area in the park, and that the best time to visit during busy periods is generally earlier in the day.
~~
If you're looking for more outdoors adventure, see our guides to Gatlinburg Hiking Trails, and our Smoky Mountains map page, as well as more outdoor ideas in our Smoky Mountains Activities guide. Check out our Things to Do in the Smoky Mountains guide as well and the all-important, Things to Do in Gatlinburg With Kids. And remember we have cabins all over the area, so pick your vacation headquarters from our Wears Valley cabins, our Pigeon Forge rental cabins and our Gatlinburg cabins – and if you're bringing a pet check our updated list of pet friendly cabins in Gatlinburg and Pigeon Forge.