Mini Golf is a perfect family activity that mixes young and old energy in the same great fun, and the miniature golf courses in the Pigeon Forge and Gatlinburg area of the Smoky Mountains are some of the wildest and cutest you'll see. Here's a guide to some of the local mini golf venues you may want to try during your stay here.
If your kids love Ripley's Believe It Or Not, try taking them to either of two mini golf courses, in Sevierville and Gatlinburg, both operated by Ripley's.
In Sevierville just a few minutes up the road from Pigeon Forge, Old MacDonald's Farm Mini Golf and Arcade features one of the area's newest courses of mini golf. Old MacDonald's offers three mini golf courses comprising 54 holes in all. No simple mini-golf course, this one has animated fantasy characters everywhere striking fun poses, water features, and interactive elements at each hole.
A video game arcade complements the mini-golfing for a change of pace while Tanger Outlet Shopping Center is right across Parkway for a more sophisticated time of shopping for gifts and best deals.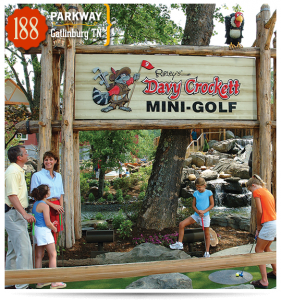 Meanwhile, back in Gatlinburg, Ripley's other mini golf adventure offers a splendid view of the Great Smoky Mountains in the background. This is Davy Crockett Mini-Golf, with two beautifully landscaped, 18-hole courses that are dotted with animated characters and interactive displays. Each hole has its own interesting layout and some even creatively employ water streams to get your ball in the hole.
The themed course replicates the days of old when Tennessee hero Davy Crockett roamed the hills of the Smokies. Ripley's Davy Crockett mini-golf park also offers free parking, as well as package discounts for Ripley's other attractions.
Another great mini golf course is Hillbilly Golf in Gatlinburg, which offers two 18-hole courses – all on terraces cut into the mountain slope, which offers some challenging and fun miniature golf. Extra fun comes from taking the tram up the side of the hill to get to the courses – kids love this.
A new mini golf course is Crave in Pigeon Forge, with an indoor and outdoor (on the roof) course. Crave is themed around candy, and offers a great candy and milkshake store, as well as mini bowling.
Fantasy Golf in Pigeon Forge offers 2 miniature golf courses, one hilly and one flat. The theme is prehistoric, with outsize creatures everywhere.
Gatlin's Mini Golf in Gatlinburg offers two award-winning 18-hole miniature golf courses, beautifully landscaped in a serene setting. Gatlin's also offers a Blacklight Mini Golf course (see our guide to Blacklight Mini Golf in Gatlinburg and Pigeon Forge.)
Mini Golf Courses in Gatlinburg, Pigeon Forge and Sevierville
Old MacDonald's Farm Mini Golf and Arcade
Traffic Light #13
1639 Parkway
Sevierville, TN 37862-2851
(865) 428-1699
www.ripleys.com
---
Davy Crockett Mini-Golf
Traffic Light #1
188 Parkway
Gatlinburg, TN 37738-5149
(865) 430-8851
www.ripleys.com
---
Hillbilly Mini Golf
340 Parkway
Gatlinburg, TN 37738-4962
(865) 436-7470
See our Feature Story
---
Crave Golf Club
2925 Parkway
Pigeon Forge, TN 37863
865-366-3403
www.cravegolf.com/
---
Fantasy Golf
3263 Parkway
Pigeon Forge, TN 37863
(865) 428-7079
Facebook Page
---
Gatlin's Mini Golf
Reagan Terrace Mall
716 Parkway
Gatlinburg, TN 37738
(865) 436-2326
www.gatlinsfuncenter.com