Smoky Mountain Outdoor Center is a one-stop shop for river tubing, bike rentals and outdoor gear – located in Townsend next to the Little River, and close to trails, biking greenways and Cades Cove in the national park.
Get a Free Bike Rental AND One Free Tubing Pass, plus over $700 in other coupons, when you book a cabin. Call us at

866 34 SMOKY

.
Spending quality time outdoors in the Smoky Mountains is an important priority for many visitors, but people have different visions of what that entails. For some it's a relaxing tube ride down a lazy river, while others prefer to hit the toad on two wheels and bike through nature. And some people want to connect with nature by taking a quiet hike through the wilderness. For all of the above, Smoky Mountain Outdoor Center is your one-stop shop for planning an exciting adventure in the area that allows you to explore and have fun the way you want to.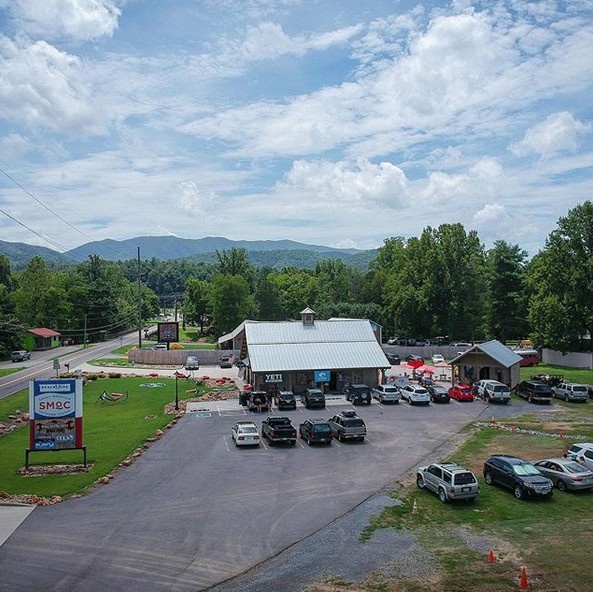 Embark on a Smoky Mountain outdoor adventure tailored to you
Tubing on the Little River near Townsend is one of the most fun things to do in the region, and Smoky Mountain Outdoor Center provides you with all-day tubing access for one simple price that includes your tube and shuttle rides to and from the river's entry point. Their tubes are sturdy and specially-made to suit the rocky beds of the Little River, and they're available for all ages.
Smoky Mountain Outdoor Center also offers bike rentals through Knuckle Busters Speed Shop, so you can cruise through the area in style and get a perfect view of all the incredible scenery on display. Rates are available for half-day, full-day, and even multi-day rentals, so you can customize your Smoky Mountain biking experience to best suit your vacation. All bike rentals also include a helmet (which Tennessee law requires on young cyclists), so you never have to worry about practicing proper safety procedures on the road or trail.
Get a taste of the quieter side of the Smokies
Smoky Mountain Outdoor Center is located in Townsend, TN, a quieter town that is also near some of the most picturesque locations in the region. The hustle and bustle of Gatlinburg and Pigeon Forge are definitely exciting, but sometimes you may want to explore a less crowded area that still features plenty to do. If that's the case, Townsend makes a perfect trip out from Gatlinburg – the drive over is gloriously scenic, and it puts you in the Quiet Side of the Smokies. And if you wonder where to ride your rented bike, Townsend has over 10 miles of greenways to explore also.
Townsend is a gateway to Cades Cove, the most popular area of the national park, and on certain days during the summer the Cades Cove loop is restricted to bike traffic in the early hours, making it a great option for a ride on your rental bikes. It's also a great location for fishing and swimming, and there are plenty of scenic picnic areas to enjoy.
Outfit yourself with the right gear and recommendations from local experts
Smoky Mountain Outdoor Center also features a good selection of outdoor and hiking gear, as well as trail maps, so you can get ready for your trip whether you're taking a quick day stroll down a nature trail or embarking on an overnight backpacking adventure. Townsend is also close to some great trails in the park, so you'll be ready to embark once you finish outfitting yourself with gear.
The Smoky Mountain Outdoor Center staff members are themselves enthusiasts about all kinds of outdoor activities in the area, making them knowledgeable to answer any questions you have or give you recommendations for trails and excursions that fit what you're looking for. They want you to have a great time in the Smokies, so don't be afraid to ask!
Useful information
Smoky Mountain Outdoor Center
209 Wears Valley Road, Townsend TN, 37882
Tel: 865-448-3500
Web: smoctn.com
PS..Check out our other guides to outdoor activities such as Horseback Riding in Gatlinburg (or any of the many special Gatlinburg Events happening through the year). Here are our guides to Things to do in Gatlinburg with Kids, Smoky Mountain Activities for all the outdoor adventures, and Things to do in the Smoky Mountains for everything else!