Waterfalls are one of the most popular sights to visit in Great Smoky Mountains National Park. Most of them require a hike – although there are two that can be seen by car. But the park has more than 150 hiking trails, offering over 850 miles of hiking, so choosing the right trail for you and your family can be an adventure in itself.
If you're in the mood for discovery, one of the hidden gems of the park requires a short – but tricky – hike with some beautiful views, on a less well known trail that leads to a stunningly beautiful waterfall. This is Spruce Flats Falls trail.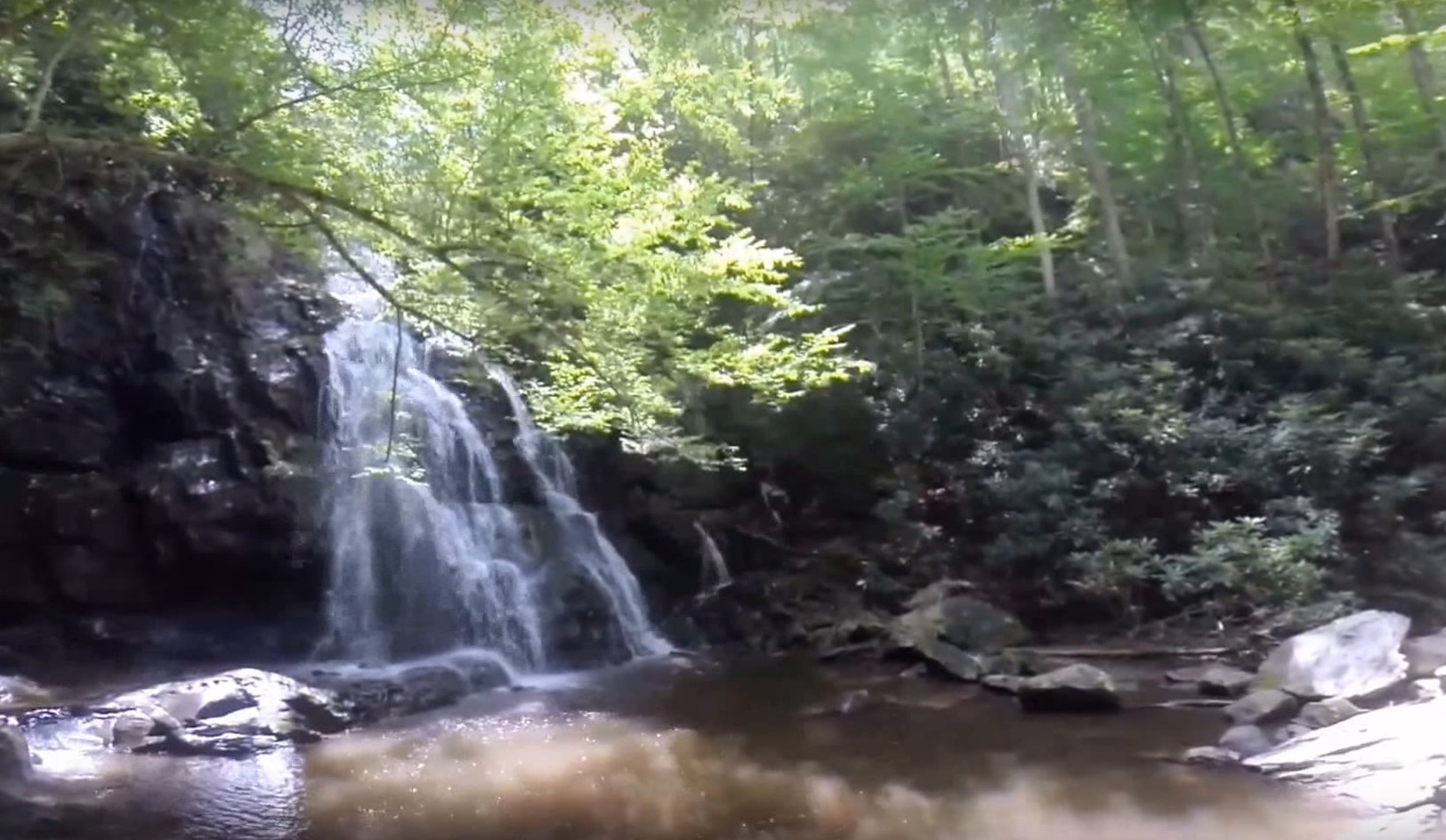 The trail up to Spruce Flat Falls covers approximately 1.9 miles. It shouldn't take you more than an hour to traverse the distance. Why is it tricky? It's rated "moderate", which is already harder than "easy", so if you have young children or difficulties getting around, this one may not be for you.
It's a narrow trail, with rocks and tree roots to get over, and after a rain it can be slippery. There's a steep drop-off, so while we don't want to discourage you from taking the trail, we do want to warn that if you're careless, it is possible to slide off the trail – this has happened, and the hiker required professional rescue. But if it's a dry day, and your group is fit and serious about tackling the outdoors, then by all means take this perfect half-day excursion, and claim the reward of Spruce Flat Falls.
Hiking to Spruce Flats Falls
On your journey up to the falls you will traverse through a young forest, which means that you'll have plenty of opportunities for viewing ferns, all types of deciduous trees, and wildlife. And if you're not fond of crowds, since this trail is less well known, you might see very few people on your hike to the falls.
The trailhead is found at the Great Smoky Mountains Institute at Tremont. After parking, follow the gravel trail towards the dormitories, and find trail signs off to the left. Watch your step, especially in the winter and spring months, when the trail is more likely to suffer from erosion. As the trail winds its way up the hill, you'll come to a portion that is covered in rocks of different sizes and shapes. Past the rock scramble, you can catch your breath and enjoy the scenic overlook of the Little Greenbrier Fault Line.
Next comes another scenic view, the Middle Prong of the Little River, a favorite trout fishing spot. The trail will start to descend towards the falls. As you come out of the trees, you'll be able to see the impressive Spruce Flats Falls. Depending on the season, you might experience a bit of mud at the end of the trail.
Throughout the year you'll always have an opportunity to brave the chilly water as you dip your feet in to get closer to the falls. TIP: carry a pair of dry socks and a towel with you on this trip. You'll get your feet wet, either because you wanted to dip them, or because you had no choice!
Always be aware of how to treat rushing water in the national park, and remember that the rocks and steep drop-offs on the trail will be particularly slippery after a rain and in the morning as fog and evening precipitation begins to lift.
This moderate hike offers a chance for you to view a beautiful four-tiered waterfall. The highest point on Spruce Flats Falls is almost 40 feet in the air. Once you reach the falls, you'll want to spend some time walking around to view it from different angles. The falls are best photographed before midday – in the morning the shadows and lighting will create dynamic shots that can be captured by anyone with a camera. And as with everything in the park, starting early in the morning is always good advice to avoid crowds.
Hiking to Spruce Flats Falls is a great opportunity for individuals and families alike to create some special memories. Keep in mind that the conditions of this moderate hike will vary depending on the season and recent weather conditions. Good footwear, a diligent attitude, and some hiking experience will make the trek to and from Spruce Flats Falls a good excursion.
Many people from the Institute at Tremont have made this hike, and one of them was good enough to film it for the rest of us. Here's a step-by-step view of the terrain:
TIP: Also see our Insider's Visual Guide to the National Park – and with an abundance of different cabins close to the park to choose from, check out our tips on How to Find an Affordable Gatlinburg Cabin, How to Find a Gatlinburg Cabin With Spectacular Views and How to Find a Secluded Gatlinburg Cabin.