Great Smoky Mountains National Park has over 2,000 miles of running water, and its folded topography allows for rocky slopes at every elevation and almost literally around every corner. Water plus sloping rock equals waterfall – and the park has them in abundance.
The majority of the popular waterfalls are on the Tennessee side of the park, and Gatlinburg makes an almost perfect center for visiting these falls.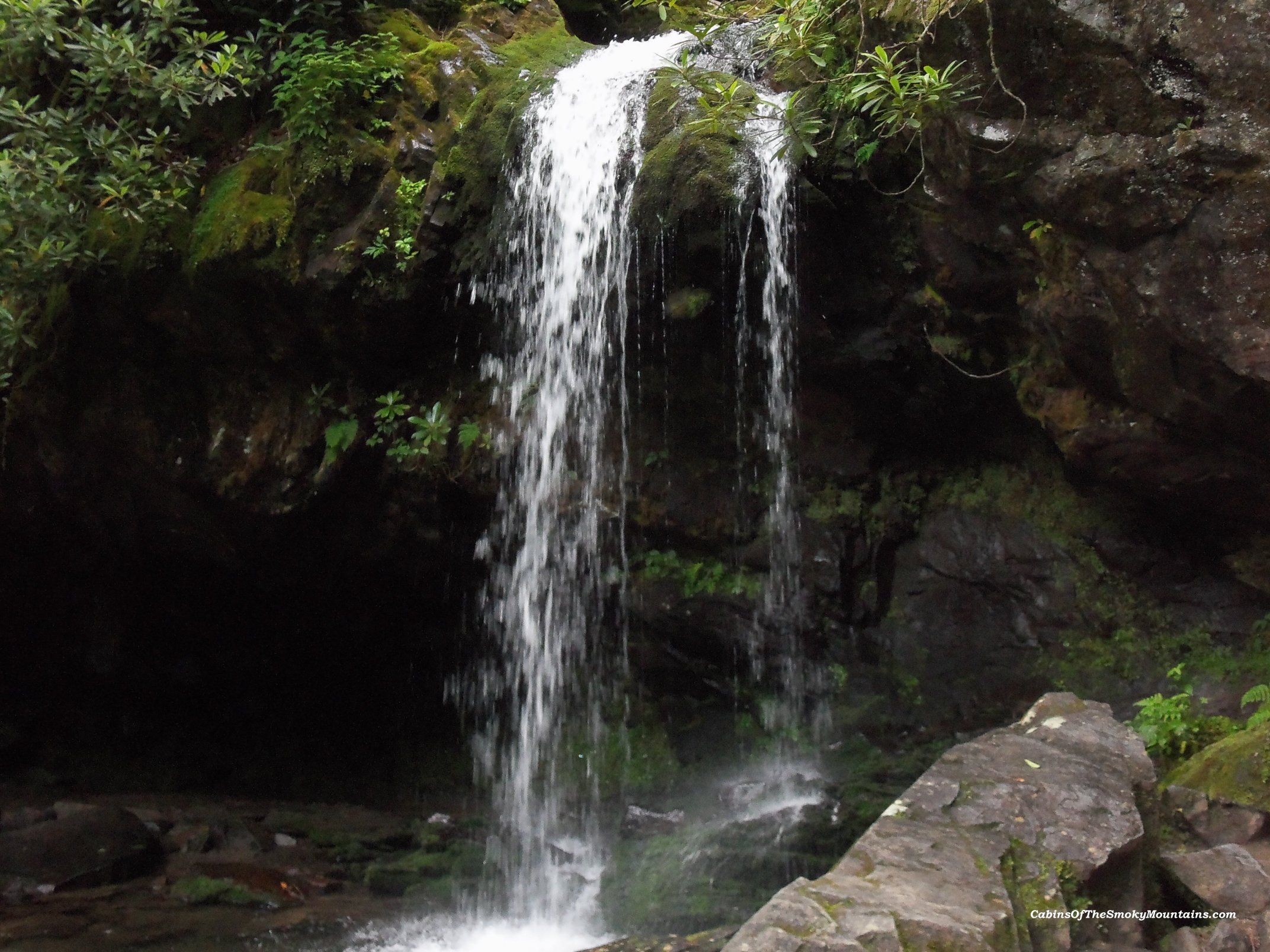 Most of the falls take a hike to get to – ranging in difficulty from strenuous through moderate to easy.
There are two waterfalls, however, that you can see and approach easily from the roadside – a great help to the physically challenged or families with small children (and large cameras!). See our articles on Place of a Thousand Drips and also Meigs Falls.
Here are some of the most visited, photographed and remembered waterfalls.
Waterfalls in Great Smoky Mountains National Park.
Abrams Falls
5 Mile Round Trip — Moderate Hike
The trail begins in the back of Cades Cove loop road and is a moderate hike. This wide trail climbs two ridges and follows Abrams Creek to Abrams Falls, a 20-foot fall into a large pool perfect for swimming and wading. Abrams Falls has the largest water volume of any park fall, and is among the most photogenic.
Grotto Falls
3 Mile Round Trip — Easy Hike
This trail is located off the Roaring Fork Motor Nature Trail, through a hemlock dominated forest. Grotto Falls crosses three small streams and is distinctive as the only waterfall in the park one can walk behind.
Hen Wallow Falls
4 Mile Round Trip — Moderate Hike
Near Cosby Campground, south of Cosby, Tennessee. The main trail leads to the top of the falls and a steep, narrow side trail leads to the bottom. Although it does not carry a high volume of water, Hen Wallow is a beautiful cascade that fans out as it slides down sheer rock for almost 100 feet.
Laurel Falls
2.6 Mile Round Trip — Easy Hike
The easiest waterfall hike on the Tennessee side of the park, which follows a paved trail. The trail cuts through the middle of a series of cascades. Laurel Falls is 60 feet high.
Rainbow Falls
5.5 Mile Round Trip – Moderate to Strenuous Hike
At 80 feet, this is the highest single plunge water takes in the park. This trail makes a good challenge and reveals a beautiful fall.
Spruce Flats Falls
3.8 Mile Round Trip – Moderate Hike
This is a hidden gem of a falls. The trail is not enormously strenuous but it is tricky with a steep fall possible for the careless. The falls is a rewarding, four-tiered waterfall in a picturesque setting.
Baskins Creek Falls
3.0 Mile Round Trip – Moderate
Another less well known (therefore less crowded), two-tiered, 40-Foot waterfall. The trail in goes downhill, which means the harder work is coming back – so be prepared for that extra exertion. Worth the visit.
Fern Branch Falls
8.0 Mile Round Trip – Moderate
Porters Creek Trail leads to this falls along a creek and through some very scenic settings deep and quiet in the forest. Very peaceful. The falls are a beautiful, 50-foot waterfall – bring a camera, and maybe lunch.
Cataract Falls
1 Mile Round Trip – Super Easy, great for families
This short trail is located just behind Sugarlands Visitor Center, so it's close to amenities and good for younger children. It's a 25-foot waterfall, very pretty. The trail connects to a nature trail if the family wants to explore further after the falls.
Ramsey Cascades
7.5 Mile Round Trip — Strenuous Hike
The trail head begins in the Greenbrier Area. The trail passes through an old growth deciduous forest before reaching the 100 foot high Ramsey Cascades, the park's tallest waterfall.
And on the North Carolina Side:
Indian Creek Falls
2 Mile Round Trip — Easy Hike
Start the hike out of the Deep Creek Area. This flat trail leads to picturesque Indian Creek Falls, which cascades 60 feet down a series of ledges into a wide pool.
Juneywhank Falls
1.5 Mile Round Trip — Moderate Hike
The trail is located about one-fourth mile beyond the Deep Creek campground Amphitheater. The trail leads uphill through pine-oak forest to a lovely cascade.
Chasteen Creek Falls
4 Mile Round Trip — Moderate Hike
Hike out of the Smokemont Campground. A small, but graceful falls, this area makes a good moderate hike.
~~
For more trails, with and without waterfalls, see our Hiking in the Smokies guide for a Great Smoky Mountains National Park map that shows all the trails, with our listing of some of the best Smoky Mountains hiking trails. It's all free to explore. And also see our guides to Gatlinburg Hiking Trails, and more outdoor ideas in our Smoky Mountains Activities guide.
Also check out our Things to Do in the Smoky Mountains guide as well, and Things to Do in Gatlinburg With Kids. We have cabins all over the area, so you can plan your stay in our Wears Valley cabins, our Pigeon Forge rental cabins or our Gatlinburg cabins – and if you want to bring the family pet along, check our latest list of pet friendly cabins in Gatlinburg and Pigeon Forge.