If you've tried some of the Scenic Drives & Easy Hikes we recommend, you may want to deepen your appreciation of the Smoky Mountains with more extended hiking. You can become a hiker-naturalist in an instant, with personal help from experienced guides. Book a guided tour in Great Smoky Mountains National Park with the nationally renowned nature-guide service, A Walk in the Woods.
Discover the treasures of Great Smoky Mountains National Park with the service founded by naturalists Erik and Vesna Plakanis, a skilled and knowledgeable married couple with countless miles logged exploring and walking the woods. Their guide service offers guided nature walks, day hikes and overnight trips. In two decades of operation, they and their team of guides have safely guided more than 80,000 people. They also offer trip planning services to create a tailored itinerary that suits exactly what you're looking for.
Walks
The guide service offers more than 2 dozen different tours, including very easy ones: 1-hour walks designed for special needs or wheelchairs, for young children or baby strollers, and even one to take your pets for a walk. These include ambles along rivers and streams or among wildflowers, with guides describing the history and lore of the environment.
For visitors looking for an easier to moderate walk (2-3 hours), A Walk in the Woods has options that include visits to waterfalls, mountain ridges and opportunities to explore the Appalachian Trail and its early settlements. Guides will also bring you to the best areas to view the fall colors and spring wildflowers.
Lore
For more immersive experiences, the half-day and full-day hikes go deeper into the forest for additional opportunities to view birds and wildlife, in areas not often seen by park visitors. These hikes are also opportunities for seasoned hikers to enlarge their skills and their enjoyment of Great Smoky Mountain National Park. Indeed, people who took their first steps in nature with A Walk in the Woods come back every year and book ever more advanced and rewarding tours.
A Walk in the Woods offers a wide range of guided nature walks, day hikes, driving tours and overnight trips that encompass a broad spectrum of adventure, beneficial to both the amateur and the experienced explorer. Programs include an Art History Tour, a Fall Color Walk, The Road Less Traveled, Women in Wilderness, salamander and birding treks, trip organizing and planning, and classes and seminars. For a unique perspective, the night tour allows guests to experience firsthand the forest coming to life in the evening darkness.
Discover the best sights, trails, flora and fauna that the Park has to offer. Learn about the medicinal and edible uses of wild plants and mushrooms, and about wild animals and their tracks and signs. Learn backpacking, primitive skills, outdoor survival and local human history, including tales of the Cherokee and early settlers of the area.
Wheels
A Walk in the Woods provides shuttle service to and from your lodging or the airport, and throughout the National Park, freeing you from all transportation concerns The company will store your luggage or your car while you're hiking, meet you at a trail-head, or resupply you during a hike or camping trip.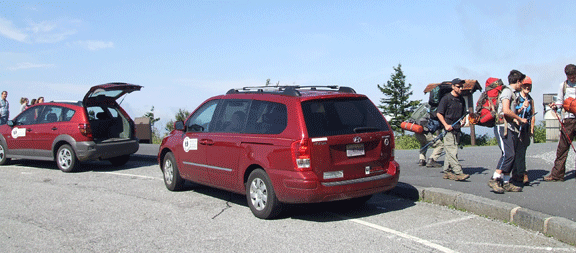 The company's service has opened up the world of "thru-hiking" to hikers facing that tricky business of getting back to your car when you start at one trail-head and finish your hike at another. The guide service's deep understanding of the logistics, combined with its commitment of extreme reliability, has solved this problem for many hikers who don't want to turn around and walk the trail back, or who have extensive itineraries.
Drivers
Van tours are another option for groups. These tours provide the opportunity to view the area and stop at scenic points while letting someone else drive. For popular and often crowded drives, such as the one to Cades Cove, this is a good option. For large groups with their own bus, a knowledgeable "step-on" guide is available to give your group an insightful tour.
Equipment
A Walk in the Woods also provides an equipment rental service, so apart from clothing and some sensible boots, you don't have to buy or bring your own gear from home. The equipment rental service is personalized by appointment to properly match backpacks, tents, sleeping bags, and stoves to your needs and body frame.
A Walk in the Woods and its founders, Erik and Vesna Plakanis, have been recognized for excellence. The company's services have been featured on the Travel Channel. Also, in 2012 and 2017, Erik Plakanis was awarded Top Guide by REI; their highest designation.
The company is licensed and insured and all guides are certified in S.O.L.O. Wilderness First Aid, Red Cross CPR and Non-Lethal Aversive Bear Conditioning.
For more information about services, qualifications and commendations from media, organizations and satisfied customers, as well as to meet the company's team of guides, and to study the trail reports, see  A Walk in the Woods web site and Facebook page or call 865-436-8283.
TIP: if you're looking for accommodation during your hiking days in the Smoky Mountains, consider a Pigeon Forge cabin rental, or our Gatlinburg cabins and Wears Valley cabins. There's nothing like a soak in the hot tub on the deck after a good day's hike!