As the Christmas period draws closer it's always good to remember what the time was originally about, and the Smoky Mountain Area Rescue Ministries organization achieves this every year with its Festival of Trees in Gatlinburg, a first taste of Christmas in the Smoky Mountains.
The occasion ushers in the Christmas season next week with hundreds of Christmas trees decorated in many themes to delight all ages, thousands of twinkling lights and decorations, handmade craft items and ways for you to send your own custom holiday cards.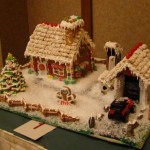 Santa will there of course, and the kids will enjoy their craft area to make their own projects, while everyone can marvel at the Gingerbread Houses entered in the contest by local families, chefs, businesses and organizations.
Gatlinburg's Festival of Trees will be held at the beautiful W.L. Mills Conference Center (adjoining the Convention Center), just down Historic Nature Trail (Airport Road) from Stop Light #8 on Parkway. Parking is readily available. Entrance is free, with donations greatly appreciated. All proceeds benefit the Smoky Mountain Area Rescue Ministries.
The event opens on Tuesday, November 20 with the annual Grace Luncheon followed by a procession with bagpipes, and runs through Saturday, November 24. Tickets for the luncheon and more information are available through the event website or call 865-908-3153.
Click for more information on the good work performed by the Smoky Mountain Area Rescue Ministries. In their own words: many area communities "come together to demonstrate the love of Christ in an incredible way, enabling us to serve thousands of needy or desperate families and to prevent homelessness which is nestled in and around the Smoky Mountains of East Tennessee."
Thanksgiving with Christmas coming is a great time to count our own blessings, and also to think of others, and the Festival of Trees is a delightful way to do both.