Here are the many seasonal shows and attractions in the Gatlinburg and Pigeon Forge area that mark the Christmas season, as well as festivals, parades, lights and shopping opportunities in abundance, with something to suit every age and taste. These are the season-long events – and for the shorter, special festivities and events happening during the Christmas period, see our Christmas 2019 guide.
Christmas Shows
Pigeon Forge hosts a lot of great theater and dinner shows, and many of them have Christmas themes running during this season.Here are the highlights.
Christmas Attractions
Anakeesta. Over in Gatlinburg, the mountaintop world of Anakeesta becomes a winter wonderland during the Enchanted Winter celebration. A canopy of lights and decorations, with a fire pit. giant Snow Globe and lighted Skywalk, as well as food, music and shopping for special delights.
Crave Golf Club in Pigeon Forge offers mini golf and adventures for kids with a candy theme, and during this festive season the place is decked out for a Candy Christmas. Try this winter wonderland with almost 100 trees, 30,000 Christmas Lights, and 20,000 ornaments.
Dollywood. The legendary theme and amusement park dresses up in world class style for many occasions, including Christmas. Check out the Smoky Mountain Christmas experience for literally millions of lights, the award-winning shows on different stages, and the wonderland magic of Dollywood with a 50-foot Christmas tree for the centerpiece.
The Titanic. This famed ship replica in Pigeon Forge offers a glowing holiday feel for families during the Christmas and Winter celebration, with lights and decorations and a chance to exchange greetings with the crew of the vessel.
Sky Lift Park. Gatlinburg's newest attraction, the latest addition to one of the town's favorite mountain rides, now with the longest pedestrian aerial bridge in the country – it's Sky Lift Park, with thousands of twinkling lights, and the best views of Gatlinburg from the SkyBridge which becomes even more incredible now transformed into a tunnel of vibrant lights at night.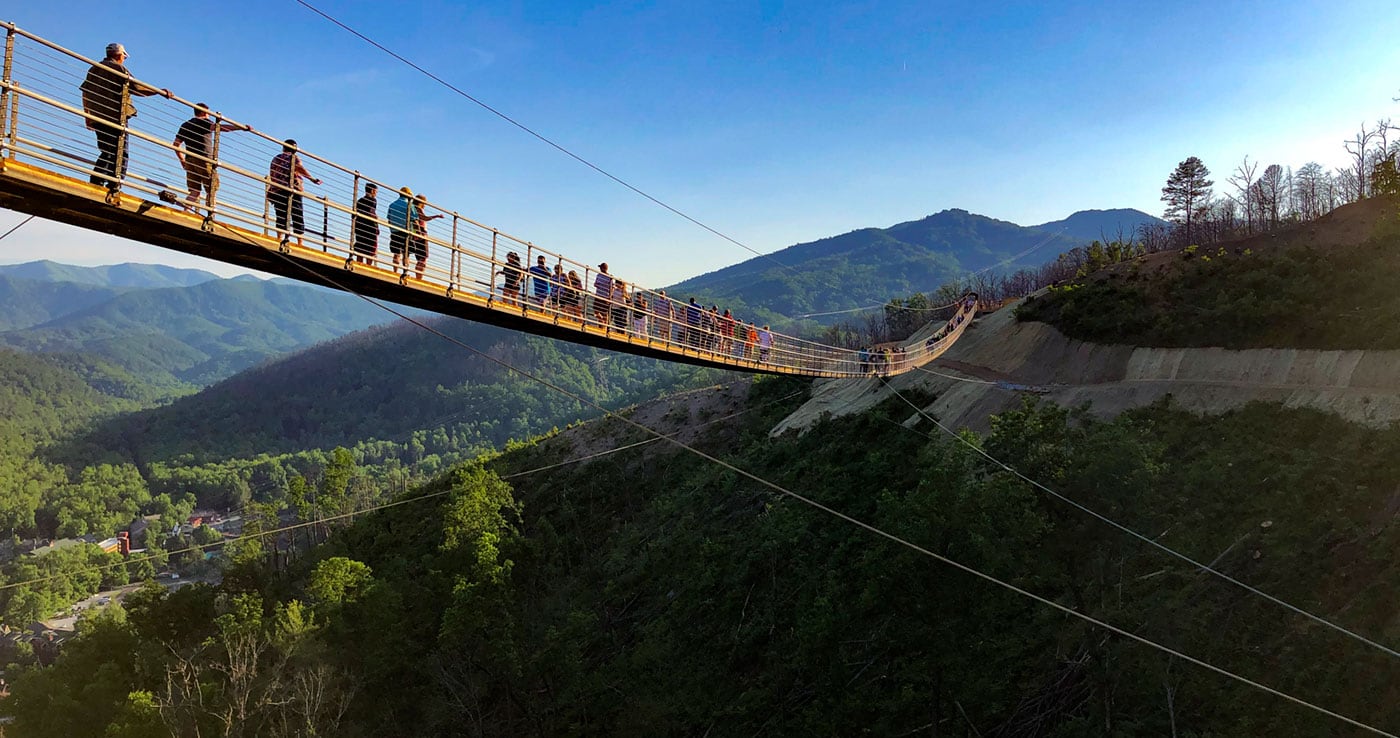 Shadrack's Christmas Wonderland. How about a drive-through light show? It's Shadrack's Wonderland, with Christmas light displays animated and synchronized to seasonal music piped through your car radio. This is a unique experience for the whole family and the pet – everyone who can fit in the car can enjoy Shadrack's light shows, and they're even open on Christmas night too!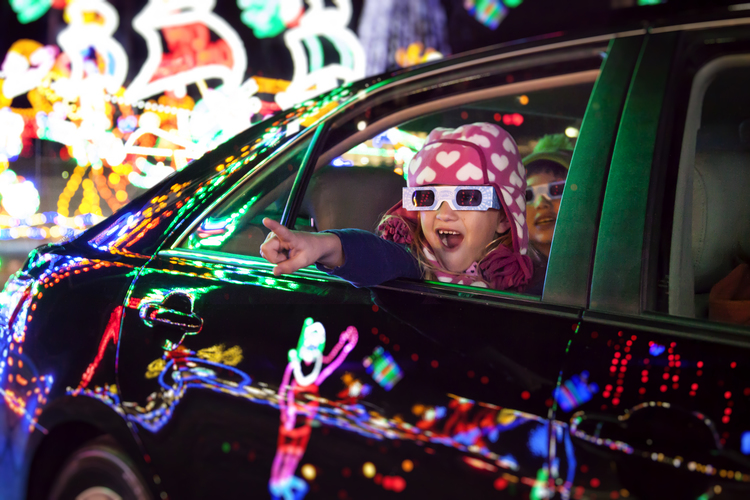 Christmas Activities
Ober Gatlinburg Snow Tubing. There's skiing of course for all levels of skill at the ski resort up on the mountain outside of Gatlinburg, but for a fun activity that everyone in the family can enjoy, try the Snow Tubing. This lasts from about Thanksgiving until Easter, and is usually pretty booked, because it's everyone's favorite fun activity – so be sure to book before you take the Aerial Tramway up from downtown Gatlinburg.
Light Shows. This Smoky Mountains area puts on a fabulous light show each Christmas, with many millions of lights to see, marking the time of Winterfest and Winter Magic. From driving tours through the towns to stage shows, to spectacular fireworks, there are plenty of opportunities for you to get in the holiday spirit and see millions of lights in the Smokies this season.
Tour the Lights by Trolley.  The millions of lights that come alive during this season are all over, and it helps to know some of the best spots to be amazed. See our guide to the best displays of lights in the area, by trolley and by car: Winter Tour of Lights.
Tunes & Tales. One of the most popular features of Gatlinburg is Tunes and Tales, with accomplished musicians and performers offering street entertainment along Parkway during summer and also some of the winter. The Christmas season features the players on Friday and Saturday evenings through December 22nd.
And THEN it's Christmas!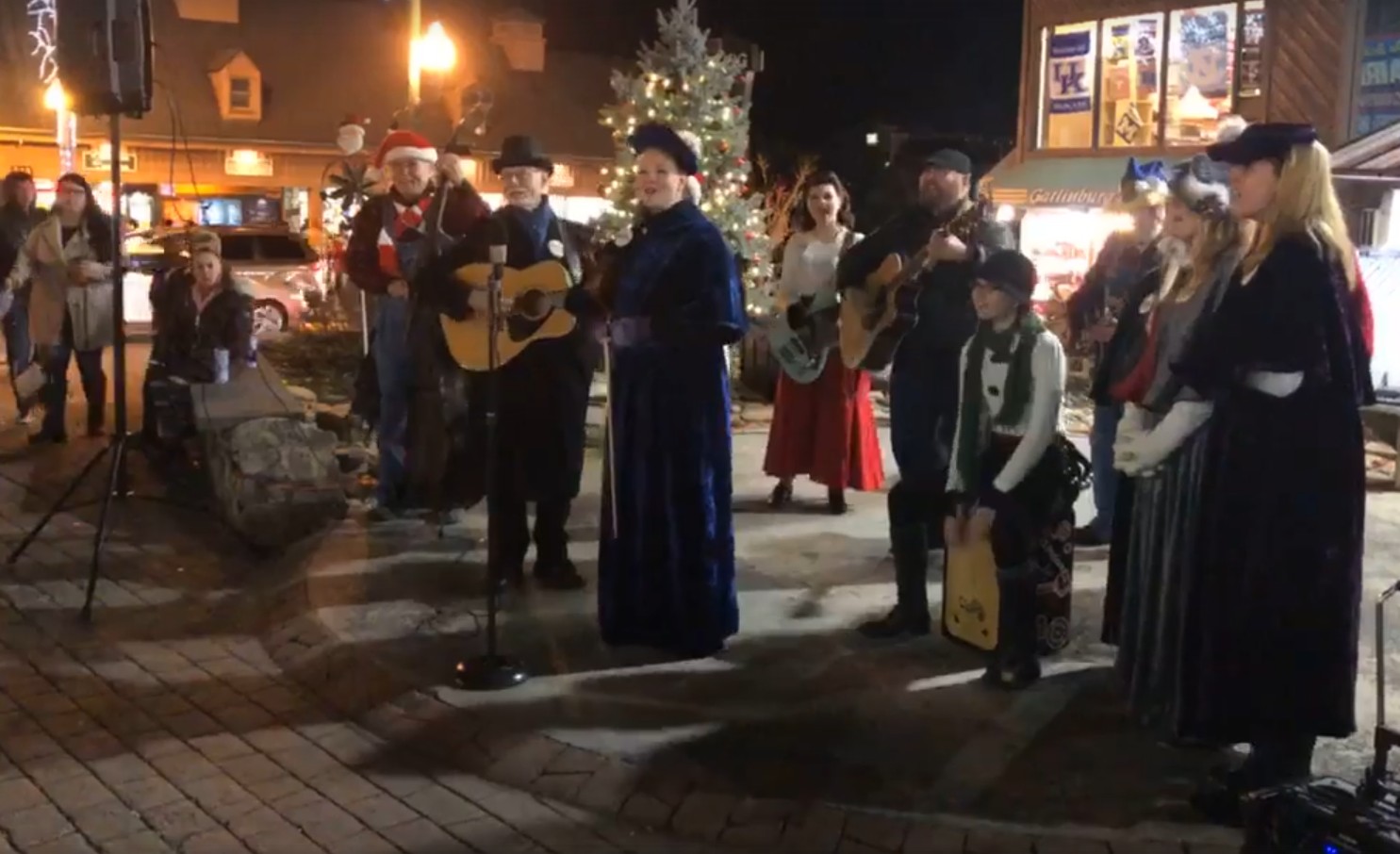 ps..For all the great events happening year round take a look at our guide to Gatlinburg Events and if you're trying to navigate the vast selection of activities and attractions during your stay, check out our section on Things to do in Gatlinburg including the many outdoor activities illustrated in our Smoky Mountains Activities section and our Things to do in the Smoky Mountains special review.
Maybe the most important selection of attractions fall sunder our Things to do in Gatlinburg with Kids choices of top activities. And remember as a guest in one of our cabins, you'll get our complementary Trip Cash book of Gatlinburg Coupons and Pigeon Forge Coupons, free tickets worth over $700 to some of the best attractions in the Smokies!
And no matter where in the area you prefer to stay, we have Gatlinburg Cabins , Pigeon Forge cabin rentals and over on the Quiet Side of the Smokies, our Wears Valley cabins.