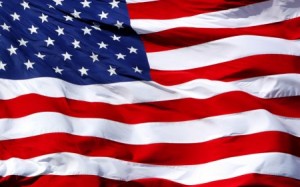 One hundred thousand Americans will gather in Gatlinburg, Tennessee, at midnight on July 3rd to lead the nation in celebrating Independence Day with the first Fourth of July Parade in the country. Gatlinburg has been proudly kick-starting July 4th with its Midnight Parade for 37 years, and 2013 is year number 38.
Watchers will begin picking their favorite spots and lining the route of the parade as early as the morning of the 3rd. Sleep is a fugitive element during this vigil as excitement builds and the town bursts into action to welcome the Fourth right after the stroke of midnight!
This year, the First Independence Day Parade in the Nation will specifically honor Women Veterans and other U.S. Heroes, also featured as this year's parade marshals. The 572nd U.S. Air Force Band will be a star performer giving us a rousing demonstration of skill and uplift.
The parade includes contingents from the services – Army, Navy, Air Force, Marines and Coast Guard – as well as local responders, and a parade's worth of vintage and specialized vehicles. Floats, marching bands, and every kind of excitement from bagpipes to balloons will fill the sights and sounds of Gatlinburg as the Fourth of July begins.
The parade will begin at Traffic Light #1a on East Parkway, turning left at light #3 onto Parkway and continuing south along downtown Parkway to Light #10 at Ski Mountain Road. The whole thing takes up to an hour and a half – a great parade by any measure.
River Raft Regatta
Then you can sleep – but wake up in time to catch the traditional Gatlinburg River Raft Regatta starting at noon. Every kind of creative object that can float will be drafted into service as an unmanned boat and launched down the Little Pigeon River, and it's anybody's guess what will happen. Be at Christ in the Smokies bridge on River Road to see the launch or Ripley's Aquarium for the end. Many prizes will be awarded in this very fun and very competitive regatta.
July Fourth Gatlinburg Fireworks Finale
But wait, there's Fireworks too! The annual July Fourth Gatlinburg Fireworks Finale will blow everyone away later in the evening, starting at 10 pm at traffic light #3 (where the parade turned) in downtown. There will be fireworks all across the nation of course on July Fourth, but the Gatlinburg show is VERY good if you've never seen it – it rates as a Southeast Tourism Society Top 20 Event.
So have a great Fourth!