Kasey and her family came to stay with us recently, and wrote up her impressions of the trip. We always appreciate these views through other eyes of cabin vacation time. What made this trip so interesting was they shared the cabin with another family. It worked out well, and could probably only have worked using a cabin for accommodations.
Kasey's family includes four kids, while their friend's family has two, so it was four adults and six kids sharing a 5-bedroom cabin. The good news is that there was plenty of room for everyone to feel comfortable, with quiet space when needed and communal times such as meals together. And then there was the game room, which kept both the kids and adults occupied and having fun.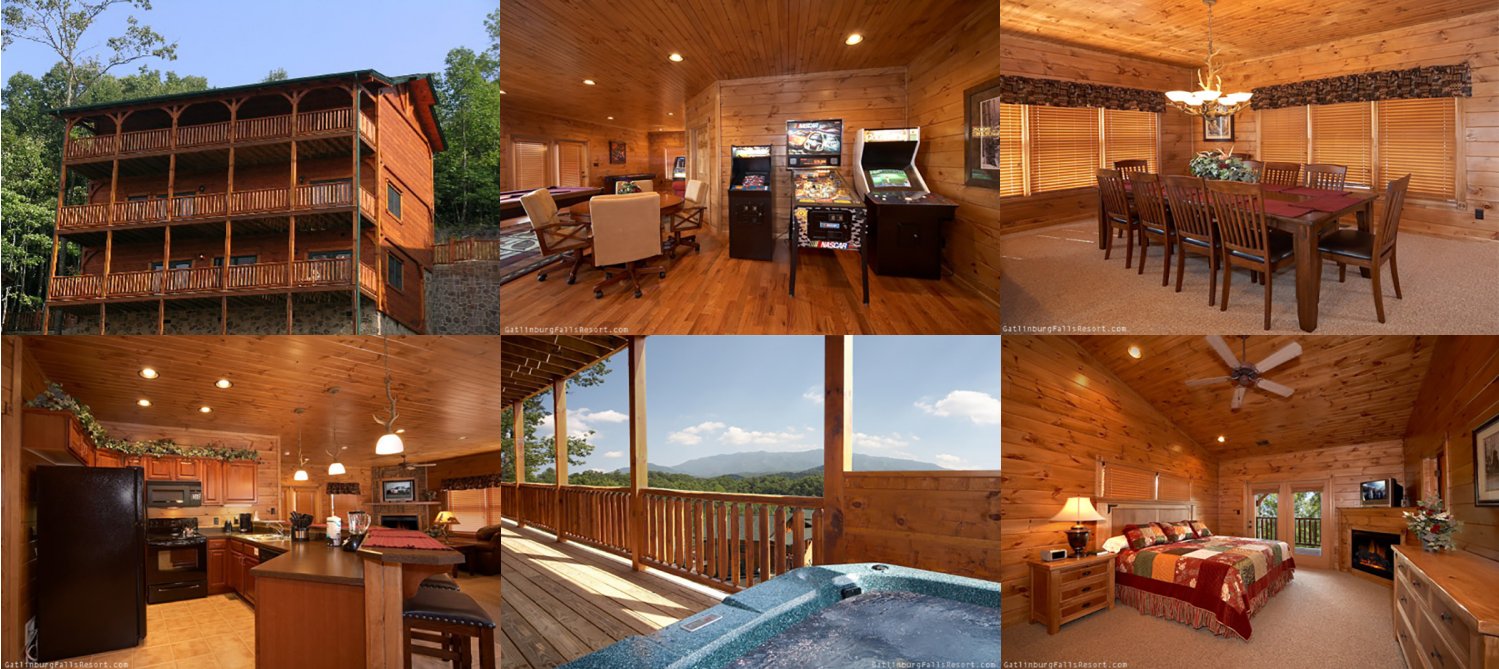 Kasey was so pleased with how the trip worked out that she wrote up this article called, 7 Reasons Why You Should Vacation with Friends and Family at Gatlinburg Falls Resort.
Read the article for all the good things about vacation cabin living in the Smoky Mountains. Here are a few highlights that struck us from her article.
Time together is everything, and we knew that this mattered greatly to Kasey. The kids grow up so fast, and life is so busy, that the simple things like sharing a meal together around the same table is part of a great vacation together.
Dad got to hang out with his buddy while still being part of the family, and Mom got to visit with her girlfriend the same way. Truly relaxing. People really are the greatest fun when you have time and space to enjoy them. Friendships between the two families deepened during their vacation together.
Vacations are often very hard on family life, but not in a cabin filled with entertainment, games, a hot tub on the deck, rocking chairs, and the mountains all around. Meals together were far less stressful than trying to get the whole family seated and fed in a restaurant. And the little ones could take a nap without everyone else having to sit quietly, as you would in a hotel room.
The spaciousness of a cabin is clear to see, but the economy of it is something to think about too. Sharing a cabin with others brings the cost down significantly, and the savings on food and entertainment adds up considerably. Instead of that feeling of being on the street for so much of the vacation, and always having to do something, everyone could occupy themselves in their own way in the cabin, relax and get ready to go out together on adventures in town, on a scenic drive, or exploring the national park.
We're biased of course, but we think that cabin living is the only way to visit the Gatlinburg and Pigeon Forge area. It's the perfect place to rest and relax, to spend time together, to save money and stress, and to choose where to venture out on a jaunt.
Here's Kasey's video tour of their cabin:
Follow these links for more information about Gatlinburg Cabin rentals, Pigeon Forge cabins and Wears Valley cabins. Also learn about Smoky Mountain weddings and Gatlinburg honeymoon cabins. Many cabins are pet friendly by the way – be sure to ask. And also be sure to read about our Galtinburg coupons that we give away with every cabin booking, worth over $700, for some of the best local attractions!
And also remember that romance in the Smoky Mountains is made perfect with one of our Gatlinburg honeymoon cabins. For more tips on cabins, see our guides to How to Find an Affordable Gatlinburg Cabin, How to Find a Gatlinburg Cabin With Spectacular Views and How to Find a Secluded Gatlinburg Cabin.