For a picture view like this, who would need any other reason to vacation in a cabin in the Smoky Mountains? Well, in the spirit of journalistic completeness, blogger Jess Weaver did come up with several more reasons – and you can read her story here: Why Vacationing in the Smokies is a Good Idea.
She and her family stayed for a few days in our 4-bedroom Cypress Lodge cabin, and here are some of the things they discovered.
The first thing the family discovered was the stupendous view from the cabin, which you can see above. Jess opened all the blinds to keep the surrounding mountains in view at all times. We always say the view is breathtaking, so it's nice to hear when someone actually has to catch their breath!
The Pool
It was a hot week when the Weaver clan were here, and fortunately, as with most of the resort clusters of cabins in the area, Gatlinburg Falls has a great pool, so the family spent a lot of time swimming and cooling off. In fact, after a day of several excursions to the pool, they would hit the hot tub at night for the final water soak.
One other way they spent the hot week was downhill snow-tubing at Pigeon Forge Snow just up the road in Gatlinburg's neighboring town of Pigeon Forge. This cool place is America's first indoor snow tubing facility, and open year round (ps..another choice for winter activities in the heat of summer is the indoor ice-skating rink at Ober Gatlinburg).
The Cabin
So how did Cypress Lodge stack up for a family place to stay? Jess reports that she saw her kids maybe once or twice a day – they slept in the bunk beds in the basement, which is also where the game room id. The cabin is loaded with arcade games, as well as a pool table, and everyone managed to stay occupied all the time – a mother's vacation dream!
The kids did pop their heads up for some hot-tub time – and presumably also for meals, produced  in the "gorgeous" kitchen that Jess loved. Most cabins have fully equipped kitchens, which makes for a truly comfortable home away from home for families on vacation. The expense of eating out is avoided, as well as the time wasted. It's a cozy way to stock your own food preferences and snacks, and well as to gather together over meals.
The kitchen leads into the living area, with its own covered deck for that all-important peaceful morning coffee. And with super views – unfathomable, like a painting, she said, and we understand. Many cabins have more than one deck, at different stories and sides.
Cypress Lodge also has a very cool home theater room with big comfy seats that the kids fell asleep in most nights. There were nine people in the party and they found plenty of room in the spacious cabin to be together at times and also be intent in their games or just quiet times to relax when they wanted. The cabin features four master bedrooms, each with its own bathroom.
The trip was a success – in case you wondered! – with everyone happy with their experience, all shared in one cabin and one great outdoor playground all around.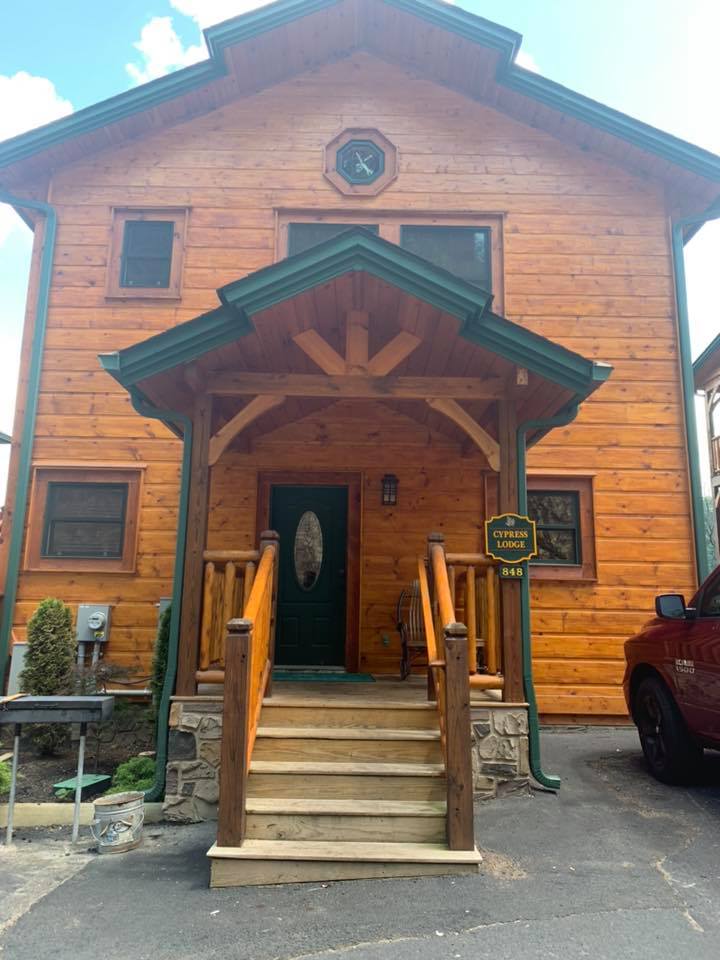 PS…remember that romance in the Smoky Mountains is made perfect with one of our Gatlinburg honeymoon cabins. And with so many different cabins to choose from, see our guides to learn How to Find an Affordable Gatlinburg Cabin, How to Find a Gatlinburg Cabin With Spectacular Views and How to Find a Secluded Gatlinburg Cabin.