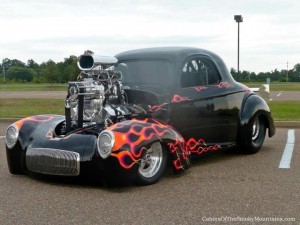 Pigeon Forge shows the world what a real American party looks like on this early weekend, Thursday through Saturday, April 14-17. It's the 2016 Spring Rod Run, and the streets are awake all day and LATE into the night with a slow cruise of automobiles built mostly for muscle, and totally for style.
If you thought about trying to drive anywhere in town during this event, change your plans, or at least slow them down to a steady cruise in low gear. Traffic is dense during this street party, and parking can be tricky – your good walking shoes are your friend in this event, and with so much to gaze at, it's the best way to get around anyway.
The Spring Rod Run draw draws many thousands of visitors and enthusiasts to the area for the fun and excitement – not to mention the awards and the $8,000 in cash prizes. There's a competitive edge here, with several categories for an awesome rod to shine in. Hundreds of amazing cars are coming to town to show off – and don't worry about missing them, you'll see them everywhere.
There's the usual swap meet with all kinds of parts and accessories available. Vendors will be on hand with everything you can think of to do with muscle and magic. There's food and live music in plenty, which means you don't have to leave the center of attraction.
The Rod Run centers around Light #6 on Parkway in Pigeon Forge, as it has for over 3 decades, but the venue itself is now at the LeConte center, a block away, providing a much larger event space and lots more parking.
Check the event website for more information about the Spring Rod Run or call (865) 687-3976. And take a look at our write-ups of other Spring Rod Runs here and here.
Admission is FREE to the Rod Run – as if you could keep it away from coming to see you – and this year there's a free shuttle running from The Island close by – so you can enlarge the entertainment options, sit down for a meal, or simply take a breather if all that shining chrome and gleaming paint starts to dazzle the eyes!
We have HALF-PRICE cabins available during this event, although they're booking fast. Be sure to call us at 855-91-SMOKY to see what's available – phones are open 24/7. And always keep an eye on our Specials page for last-minute deals on cabins. And if you wonder where to stay during this event, check out our Pigeon Forge cabins, as well as our Gatlinburg cabin rentals and Wears Valley cabins.