Starting the first week of November and ending January 1, Dollywood's annual Smoky Mountain Christmas festivities for 2016 are plentiful with lots of sparkling lights, colorful characters, seasonal songs and music, classic performances, and much more.
The season to be jolly will be upon us shortly, so it's none too soon to start making plans for a holiday getaway. This year, why not make your travel excursion to the Smoky Mountains where the weather is brisk, the landscape beautiful, and one of the top attractions is awaiting your arrival? Located in Pigeon Forge a few minutes from Gatlinburg, Dollywood is fun for everyone of all ages, any time of year.
Dollywood's Smoky Mountain Christmas Line Up
Throughout the amusement and theme park are a host of activities designed to share the spirit of Christmas. From parades and giant toys to visits with Santa and Rudolph, the park is ablaze with holiday lights, Christmas cheer, and the spirit of the holiday season.
Sparkling Lights
More than 4 million lights bring Christmas to life at Dollywood, and each night features a light show synchronized to music in the Timber Canyon Festival of Lights – perhaps the most popular of all the Dollywood Christmas attractions, and an audio-visual event to remember.
Starting November 16 another nightly favorite returns with the Parade of Many Colors on Showstreet, dazzling with vibrant floats, interactive characters in costume, and a number of other surprises that Dollywood has in store this season.
Colorful Characters
Christmas characters come to life at Dollywood and one you can't miss due to his "shiny nose" is Rudolph the Red-Nosed Reindeer. Come see Rudolph and his pals Yukon Cornelius, Bumble and sweet Clarice at Holly Jolly Junction for holiday games and a photo souvenir.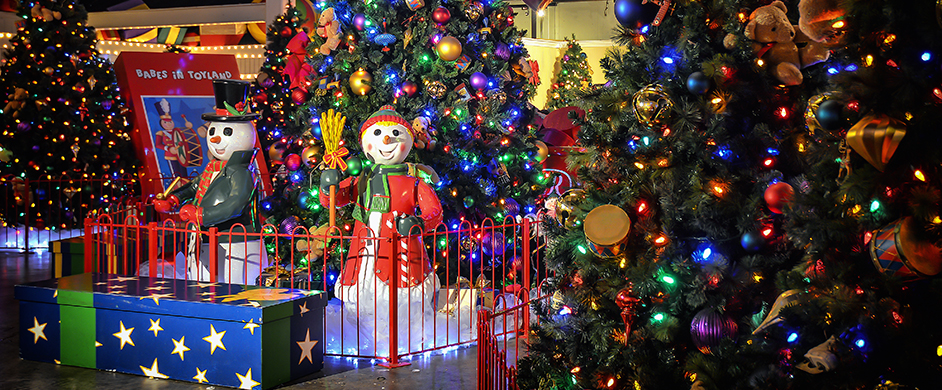 Seasonal Songs and Music
You'll be listening to more than jingling bells with Appalachian Christmas at the Back Porch Theater, acoustic renditions of music with a simpler feel. Enjoy the songs of Christmas in the Smokies performed by a 14-member cast of singers and dancers and accompanied by a lively band of eight talented musicians. Gospel music is in attendance too at the Pines Theater, where you can listen to favorite Christmas hymns performed by the Kingdom Heirs.
Classic Performances
The classic drama, "It's a Wonderful Life" comes to life at Dollywood with live performances of the holiday story at Showstreet Palace Theatre. Rejoice in the Christmas story of three shepherds following the star that leads them to the manger, in the live performance of "O' Holy Night", at the Valley Theater. And there's more going on at the Pines Theater as a Christmas miracle is brought to life with performances of "Twas the Night Before Christmas."

Dolly's Christmas Chapel
The rustic Robert R. Thomas Chapel is lit up and decked out for Christmas, both inside and out, capturing the essence of Christmas, past and present, and offering worship services on Sundays through the Festival.
Visiting with Santa
Grab the kids and head to Celebration Hall to find Santa Land with its beautifully decorated trees and over-sized toys on display as elves prepare for Christmas fun and activities. Santa will be there of course, to hear what the kids have on their Christmas wish list.
Park Activities
Dollywood features more than 40 rides and attractions for all ages. Whether you're maneuvering Demolition Derby bumper cars or screaming with excitement while riding the Lightning Rod wooden coaster, there's never a dull moment.
There"s also a variety of shops featuring handcrafted items, souvenirs, art work, fun photos, and much more. When it's time to please the palate, be prepared for a smorgasbord of southern fare from barbecue and pork rinds to corn dogs and taters.
This Christmas, set your sights on Pigeon Forge and Dollywood for a holiday celebration of fun from morning until night.
For information see the Dollywood Smoky Mountain Christmas website. And also see our Dollywood Vacation Package page.
Save