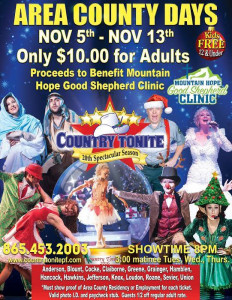 Country Tonite in Pigeon Forge is supporting Mountain Hope Good Shepherd Clinic during the clinic's Area County Days 2016 with reduced prices for area locals. The famous Christmas Show is available from November 5 through November 13 at a steal of a ticket price, with kids 12 and under getting in free, and matinees Tuesday-Thursday (November 8-10).
Country Tonite Theatre says it's "The One Show You Don't Want To Miss" and we believe it. The Christmas show is especially recognized as stellar entertainment, with dancing, singing, costumes and comedy and extra Christmas characters and sets to give the high-energy show even more zing.
The entertainment powerhouse's sponsorship of Mountain Hope Good Shepherd Clinic is part of the traditional fundraising win-win that local attractions undertake every few months in order to give the local people a chance to take a break from working the attractions and actually visit some of them – at the same time donating proceeds to Mountain Hope. It's a great way of recycling money back to the community, through a health clinic that performs outstanding work in the area.
Gatlinburg and Pigeon Forge, and the surrounding areas, are home to many seasonal attractions, and consequently a part of the workforce is often uninsured for medical requirements. Mountain Hope Good Shepherd fills a need to keep these and all people healthy through its low-cost services that are often below cost and require donations to support them. The Clinic currently has 22,000 patients on its records who depend on it for help.
And local attractions have always responded to the calls for donations with huge hearts and generosity. This summer our good friends at Ober Gatlinburg and the Sky Lift both pitched in to help with Sevier County Days donations to support the clinic. And here are a couple of other events we've written about in the past: there's the Annual Pirate's Ball courtesy of the Aquarium, and there was Climbing for Hope, the Firefighters vs Police contest at Lumberjack Feud.
So this year when you take in the show at Country Tonite Theatre – and remember that we offer a Free Ticket as one of our Pigeon Forge Coupons – be glad that the local workforce is enjoying the fruits of everyone's hard work also. And let's all be thankful that Mountain Hope Good Shepherd Clinic is keeping the whole area in condition to dance and sing for many years to come!
For more information, check out the Mountain Hope Good Shepherd Clinic website and Facebook page.
Save
Save
Save
Save