Here are some of the best Italian restaurants and pizzas in the Gatlinburg and Pigeon Forge area. With hundreds of great restaurants in the area there are lots of great pizzas too. But whether you want a tasty slice to keep you going through the day's adventures, or an Italian dining experience with specialty dishes, here are some of the notable places to keep on your radar.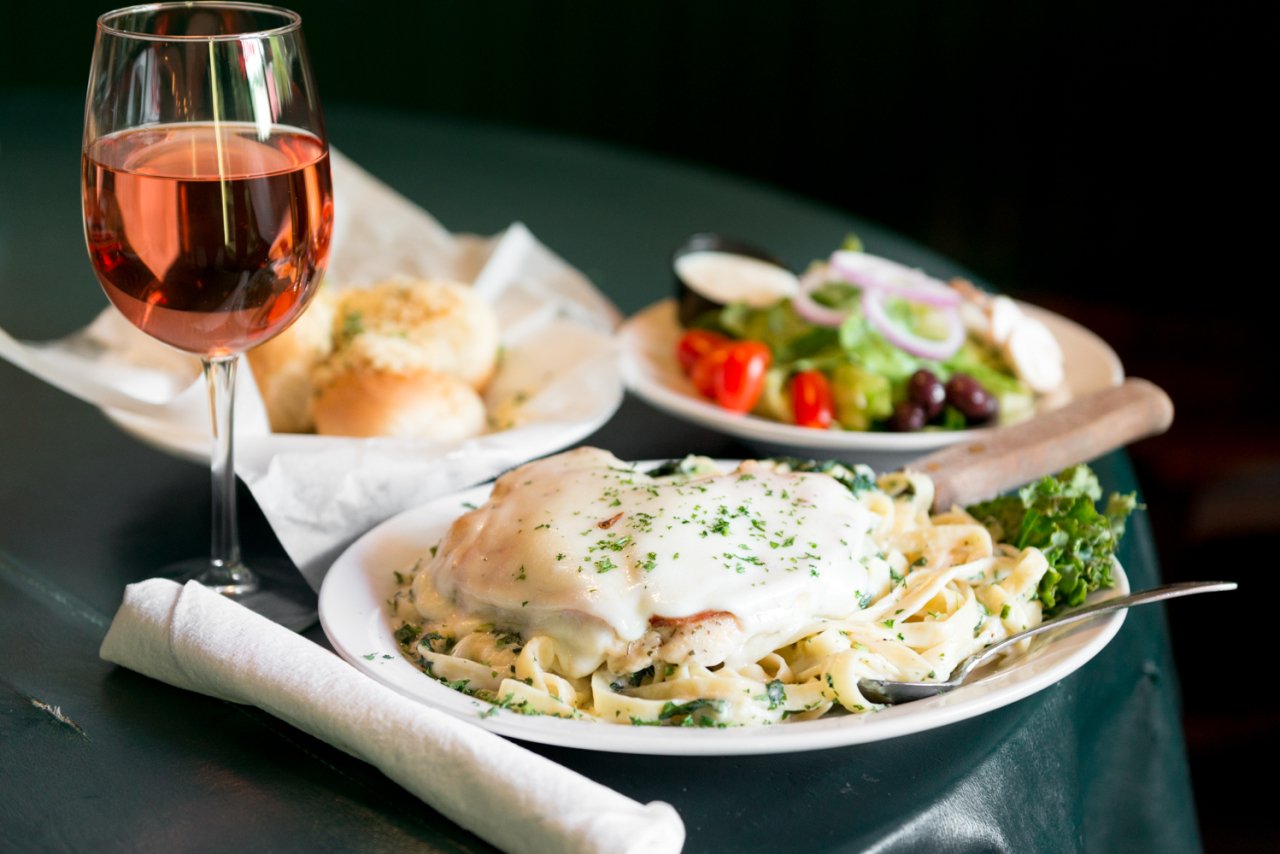 Best Italian Cafe & Pizzeria
The name is a good one for this Gatlinburg restaurant tucked away in the eclectic Elks Plaza, and serving classic Italian dishes as well as a New York thin crust pizza. Hard to find, and with a back patio that offers tranquility, this restaurant has been a local favorite since it opened in 1976.
Try the garlic rolls to get a sense of the kitchen's perfect touch. Settle in with wine and an Alfredo, or meatballs, or stuffed shells, or the tangy marinara – or tuck into a pie or calzone. The problem with Italian food is that there are always too many superb dishes on the menu, and you can only eat one (so you may have to come back!) – this restaurant doesn't solve the dilemma for you, but offers a great way to ponder the choices over a fine meal. See our feature on Best Italian Café & Pizzeria.
Taste of Italy
This Gatlinburg restaurant is another hidden gem, secluded from view on East Parkway, and a nice place to get in out of the world for a while and give yourself a treat. The family-operated restaurant offers a large range of quality Italian dishes and fresh ingredients, including for vegetarians. And there's a children's menu.
The kitchen knows how to prepare the classic Italian dishes, working magic with eggplant or chicken piccata, and with homemade dough for the substantial pizzas and calzones. As well as the many seafood and pasta dishes, Taste of Italy also offers subs and wraps, and also burgers, sandwiches and fries for all the family's tastes. See our feature on Taste of Italy.
Big Daddy's Pizzeria
Nothing bakes like a wood-fired brick oven, and you can test out that claim at one of the 3 locations in Gatlinburg, Pigeon Forge and Sevierville of this local restaurant. This is a roasting experience with all fresh ingredients (nothing frozen ever) and homemade.
Pizza? Of course, and you may not get any further than that. But if you like the idea of crunching into goodness, Big Daddy's has wonderful bruschetta, as well as garlic bread and wood-fired homemade crackers , and more baked and crispy things to savor just as they are, or to dip or smother. The marinara and meatballs are a feast and there are salads to complement.
Big Daddy's serves fabulous sandwich-style meals from the brick oven on its fresh focaccia bread, with every bite delicious. Oh, and they do offer pizzas, with many of the Italian servings you could expect from dishes, as well well as some American meat styles for the hungry ones in the party. Dessert, after all that? Cannoli of course (or take them up on their cheesecake temptation).
Big Daddy's Pizzeria is one of the Johnson Family of restaurants – the many fine restaurants developed by Bruce Johnson that you can read about in our feature on this local restaurateur. And Check the Big Daddy's Pizzeria website for more.
New York Pizza & Pasta
How about a huge slice? This family-operated restaurant can hook you up. Located in Mountain Mall on Parkway in Gatlinburg, this is a way station to restore yourself on a day's adventure on the strip – or even to make straight for, to get that pizza slice that no other food can substitute for. Fresh ingredients, great sauce, crispy enough to hold and eat – what's not to love?
And there's more – you can sit and enjoy an entire pizza, cooked to perfection for all the family, and completely delicious, as well as some other Italian servings, and of course salads and desserts to make everyone happy and full. The food here is more than you might expect from a mall. Your tummy will be pleased.
J. Del's Pizza
If you're at The Island in Pigeon Forge, well, that takes care of your whole day, with fun for you and the family. You'll need pizza at some point, and J.Del's Pizza, close by on Teaster Lane, offers an awesome one! Family owned and friendly, and very unpretentious, this eatery offers fresh ingredients, great flavor and a good variety of hearty, casual meals, including vegan-friendly.
As well as pizzas, you can find calzones, meatballs and marinara, salads and desserts, and some Italian dishes and baked pasta dishes. This place has lots of subs, both cold and hot. Also hot dogs and fries for the American in you. Prices are very reasonable. Facebook.
Mellow Mushroom
Located in Gatlinburg above the Ole Smoky Distillery on Parkway, this local franchise of a nationally known good eatery serves up a pizza that sits up there with the best. Mellow has a bar and is wheelchair accessible, with vegetarian and vegan meals, and some unique offerings from the kitchen that may just tempt you away from pizza, but Italian offerings as well to put that edge of anticipation on your hunger. Website.
---
For more great attractions in the Smoky Mountains, see what's going on with Gatlinburg attractions and Pigeon Forge attractions.
And remember that romance in the Smoky Mountains is made perfect with one of our Gatlinburg honeymoon cabins.
Check our Gatlinburg cabins, Pigeon Forge cabins and our Wears Valley cabins for your best place to stay in the Smokies.