In case you want to dine out on Christmas Day, a number of local restaurants in Pigeon Forge and Gatlinburg have you covered.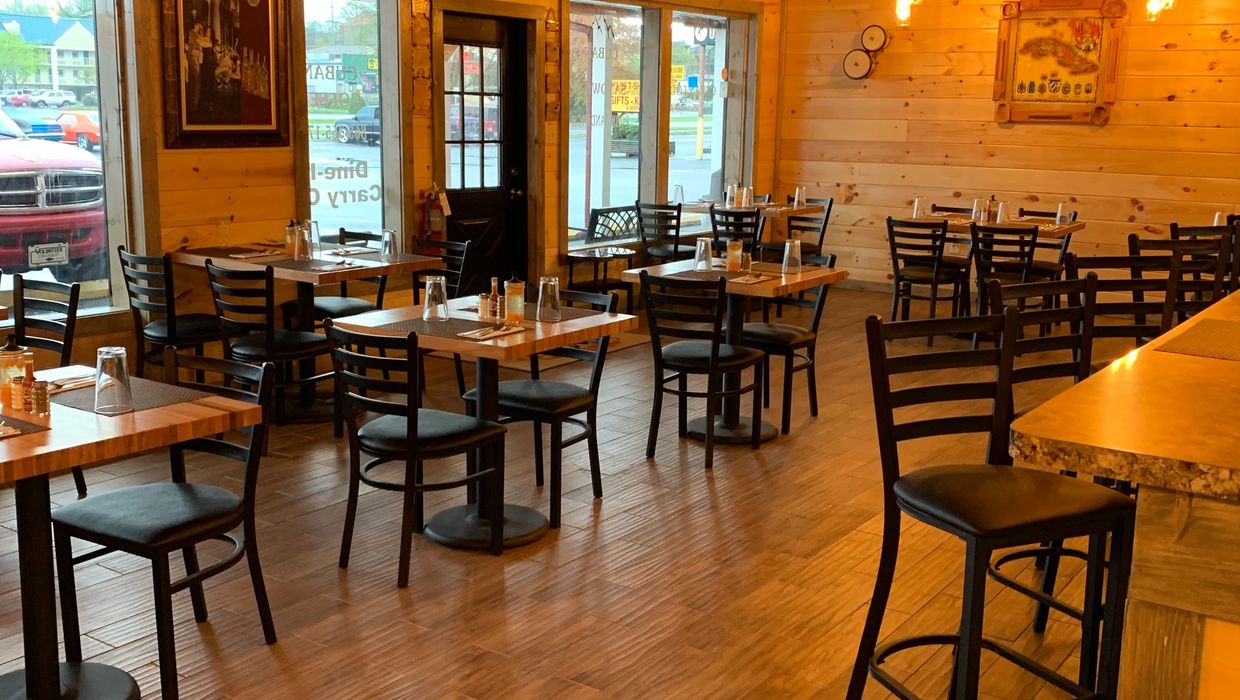 If you're strolling Parkway on the big day, Fannie Farkles is open – and there are those who call the foot-long corn dog the most perfect food ever created. This street-side eatery has restored strength to countless visitors fatigued from walking along Parkway.
Seasons of Ober Gatlinburg is open on Christmas Day, as are the slopes and most of the indoor attractions too. If you absolutely must have a white Christmas, then regardless of the weather down-slope, up on the mountain they do have snow. And the food is great.
But Gaucho Urbano is open Christmas Day as well, serving Brazilian food with flair. If you like meat for your meal, Brazil knows all about that, and this Pigeon Forge steak house has multiple cuts to tempt you. It's located close to the old Mill Restaurant (which is closed) – so all is not lost!
Mexican food is always tasty, and No Way Jose's Cantina is open in both Gatlinburg and Pigeon Forge on Christmas Day. Calhoun's is open also, in both towns, for steak and shrimp and everything in between. Shrimp? Yes, Bubba Gump Shrimp Co. in Gatlinburg is open also, and they deliver and take out too.
Cherokee Grill in Gatlinburg is open on the day, with American and steak and seafood cuisine. Always great service, delicious food, and walk-ins are welcome – although as with everywhere, it always pays to contact first or make a reservation.
Chesapeake's in Gatlinburg is open on Christmas Day, if seafood is on your mind – they have it here in abundance (reservations useful here). And for a retro visit to the Fifties, try Sunliner Diner in Pigeon Forge. And to wash all this food down, Smoky Mountain Brewery is open in both Gatlinburg and Pigeon Forge – and Maryville too, if you're driving out in the Quiet Side of the Smokies.
Many places are closed – or iffy – on Christmas Day. If you're dining on Christmas Eve, it's good to know that Smokies Cuban Cafe is open, one of our favorites. Authentic Cuban food is hard to find, but this is the real deal. Grab some Caribbean flavor in this great little restaurant for a mid-winter treat. Closed on Christmas Day, however.
Here is an updated list of places to eat, on Christmas Eve, Christmas Day and also New Year's Day. No list is ever completely up to date, as people change plans at the last moment, so be sure to call around, or cruise around, to check your favorite places.
Anakeesta is closed Christmas Day, but open all other times – likewise the SkyLift Park, also up above Gatlinburg. Dollywood is open on Christmas BUT currently booked up online – so it would be a random possibility if you're looking to get out of the cabin and go visit.
The Johnson Family of Restaurants is closing for Christmas – bad for us, since their food is so good, but good for them and their hard-working employees. It's been a tough year, as they say, and  usually they're open through the holidays – this one year though, they're taking a break to be with family.
Not everyone wants to dine out on Christmas Day, preferring to stay in with family. But if you can rustle up a meal in the cabin, you can make an evening visit to Shadrack's Christmas Wonderland – that's one place that's always open on Christmas Day, and all the family can stay in the car and drive through the amazing Christmas lights.
As for New Year's Day, it's all pretty good news. Most places are open and beginning the year with gusto. After you've rested from the New Year's Eve celebrations, you shouldn't have to worry about where to eat again, until next Christmas!
~~
Check in on more of the current festivals and happenings with our Gatlinburg Events guide. Also see our guide to Things to Do in the Smoky Mountains as well as our Smoky Mountains activities pages, and the all-important guide to Things to Do in Gatlinburg With Kids.
We have cabins throughout the area for you to stay in – check our Gatlinburg cabin rentals and our Pigeon Forge cabins. And don't forget our Wears Valley cabins over on the quiet side of the Smoky Mountains.
Also, each cabin offers our Trip Cash book of Gatlinburg coupons and Pigeon Forge coupons – worth over $700! – with free tickets to some of the best attractions and activities in the area.