It's Easter time in the Smoky Mountains in the Gatlinburg and Pigeon Forge area, and as always, there's a lot going on.
Arts and crafts are never far from the surface in this part of the world, carrying forward much of the Appalachian history and tradition of the region. Thursday through Saturday, April 2-4, marks another annual Great Smoky Easter Arts & Crafts Show.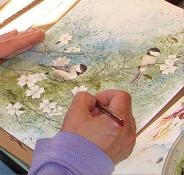 The show is FREE, and runs from 10 am to 5 pm (6 pm on Friday), at the Gatlinburg Convention Center – just off Parkway at traffic light #8, on Historic Nature trail. This is a great shopping and family browsing event. Gatlinburg is home to the nation's largest community of independent artisans, and this is the first chance of the year to see what they've been creating during the winter "hibernation" period.
Easter fun kicks into high gear on Saturday, April 4. For people who enjoy fishing, the Annual Spring Trout tournament is happening this weekend, April 4-5, in 20 different streams and fishing spots around Gatlinburg and Pigeon Forge. See our story on the 2015 Spring Trout Tournament for more details.
Easter eggs start the Saturday morning fun for the kids, at Patriot Park in Pigeon Forge with the annual Easter Egg Hunt. This FREE event starts at 10:30 am with games for the kids under 12, and the hunt gets underway at 11 am. For more details call (865) 429-7373.
Patriot Park is a beautiful, quiet spot along the Little Pigeon River with a really pleasant walking trail. It has lots of free parking, and is adjacent to Old Mill Square, a calm oasis of history. Turn off Parkway at Light #7 in Pigeon Forge and Old Mill Avenue brings you to the Square.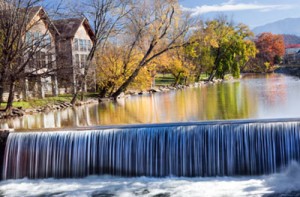 This is where the famous grist mill sits, with shops and eateries clustered around. And if you can get a reservation (which is required), on Saturday morning the Old Mill Pottery House Cafe & Grille offers brunch with the Easter Bunny from 9:30 until 11:00 am. Call (865) 453-6002.
Patriot Park is also the hub of the Pigeon Forge trolley system. Riding the trolley is a treat not to be missed, and for an inexpensive ticket you can take the trolley to many locations, including to Dollywood.
During Easter, Dollywood is in the midst of its month-long Festival of Nations, in full swing since March 21, and running through April 20. Stop by to catch some of the acts and celebrate Easter with an international flavor. More details in our story on the Festival of Nations 2015.
On Sunday, April 5, the sun will rise on on a day of morning worship and for several hundred people that will happen at Ober Gatlinburg, the ski resort and year-round adventure spot. Take the tram up and join in the 18th Annual Easter sunrise service, led by local pastors.
The Aerial Tramway is free for the service, and will run from 5:45 am. You can also drive up and parking is free. The sunrise service starts at 6:30 am and lasts for 45 minutes. Afterwards, stay for the Breakfast Buffet held at the Season Restaurant until 10:30am.
The Ober Gatlinburg Aerial Tramway leaves from 1001 Parkway in Gatlinburg, and to drive up, turn at Light #10 just past the Tramway and take Ski Mountain Road 3 miles to the top. This is a regular paved road, but steep and winding, so drive carefully. Call (865) 436-5423 for more information.