We see a lot of family reunions in the Smoky Mountains, where several generations stay in one large cabin, or some smaller cabins close to each other, and where they organize a celebration in our Conference and Wedding Reception Facility. In fact, of course, weddings are one of the great reasons for extended family and friends to meet up again in one place.
When multiple generations and larger groups of people stay in the same resort area, they don't want to be crammed together in a hotel room. They want the spaciousness of a cabin, with multiple floors and areas for fun, and separate nooks and bedroom suites for quiet time, and communal areas where everyone can come together over a meal or a game or just a sprawling conversation.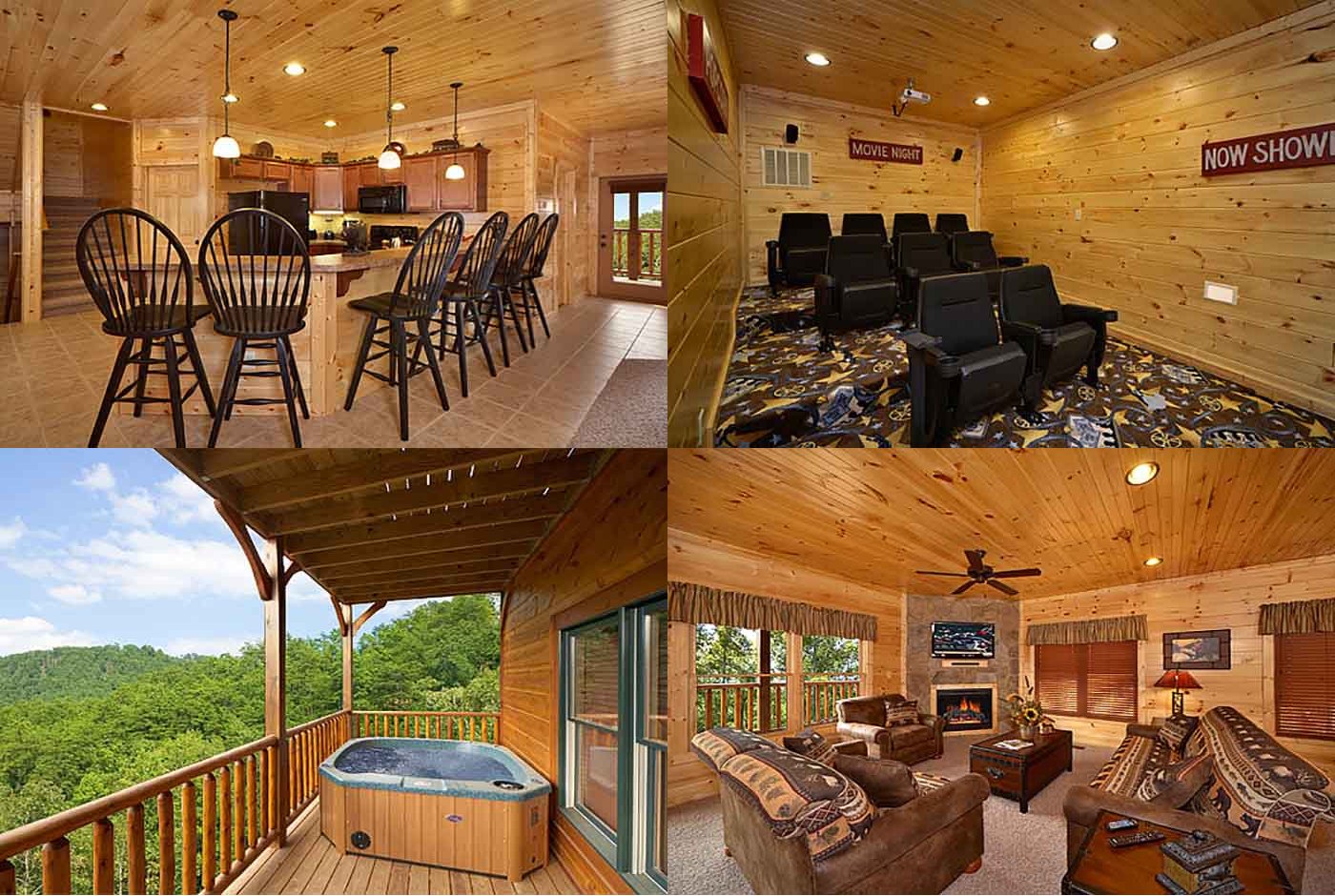 Some of the fondest memories in life are when extended family can gather to spend quality time together. These family get-togethers can be all too rare in life, and they make some of the best memories to stay connected. And the setting for a family reunion is best when it can take on a home-away-from-home feel, which is exactly what a vacation cabin offers.
Older family members can catch up on how quickly the younger ones are growing, and younger ones can learn more about the past occurrences in the family history. And everyone can marvel at how people change so much over time, and yet everyone is just the same.
Family Reunion Success Stories
Some people have actually managed to write stories about their family gatherings in our cabins in Gatlinburg Falls, and Shelley, an accomplished writer, was one of them. See our feature on her family's experience staying in a 5-bedroom cabin: Family Reunion Cabin Vacation in the Smoky Mountains.
One of the things Shelley celebrated most about her trip to Gatlinburg Falls was the fact that her entire family could coexist peacefully and happily in their 5 Star Lodge cabin.

With family members aged 11 to 71, it was initially difficult for her family to find a vacation destination that was pleasing for everyone. Fortunately, Shelley found Gatlinburg Falls Resort to be the perfect choice.

What was most essential was that everyone could separate to have their own privacy and peace and quiet when they needed it. And later, they could all come together in communal areas such as the family room or game room for some quality time.
We knew that would happen 😉
Ondria is another writer who came to stay with us, with 3 generations of family in a reunion that fit comfortably in a 2-bedroom cabin. Six adults and two children lived happily together for a week of total fun, in their own world. Here's her story: Cabin Living – the Ultimate Escape.
What did everyone like best about the cabin? Separate levels are always a good thing, with two different decks to hang out on. Two master bedrooms with bathrooms en suite, a lower level game room with plenty of activities to keep the little, and big, kids occupied. And there was a spacious, well equipped kitchen, with a large dining table and living space for people to spend time enjoying their company.

For a family, or any group, that enjoys sitting around a table with games and snacks, and just hanging out together, the cabin amenities proved their worth all week. It was good not to be rushed, and not to have that dreadful feeling on vacation of always having to do something outside of the hotel room. Instead, Ondria's family could take their time and choose where and when to venture outside the cabin.
What about non-family members in such a setting? Well, see how well two families who were neighbors back home, joined together oin one cabin for a vacation. Another writer, Kasey, came to stay with us and did that very thing, with four adults and sic kids. It worked out really well, with everyone occupied exactly the way they wanted to be at all times, all in the same accommodation.
See that story here: Two Families Share One Cabin in the Smokies.
Not only families come to stay with us in cabins of course. We often see church groups and business retreat groups, as well as friends and who know they can share a large cabin for the best affordability and have a great time on vacation.
The cabins with their multiple games and entertainments, as well as living amenities and Wi-Fi, offer the perfect space to gather in combination, as well as taking some private time, all in the one setting.
Those settings, by the way, can get very large. We have cabins in size ranging from 1-bedroom up to 20-bedroom – check out this monster, the Gatlinburg Lodge 20-Bedroom Cabin.
The Conference and Wedding Reception Facility
For the large event that really needs its own space for attendees to come together, our gathering facility is perfect. Whether you need a party dinner with a bar and dance floor, or an audio-visual presentation with tea and coffee, or something in between with hors d'oeuvres and champagne, the kitchen and amenities of this facility will fit the bill.
The Gazebo connected to the main space offers a refreshing breath of the Smoky Mountains. It can be used for a wedding ceremony, as a bar, or just an outside space to take a break.
Even with the amenities available in a cabin, sometimes there are so many people, or you want to put on something special – or something that you don't have to clean up yourself – this gathering place place, conveniently located close to many cabins in the resort, is the solution.
Guests in our cabins can book the facility for only a cleaning fee. All of your guests can gather from their cabins, showing up fresh and rested, and can return home to their cabin after the event, filled with the party spirit and without any traveling or formalities required.
When it's perfect, it's perfect.
~~
PS…remember that romance in the Smoky Mountains is made perfect with one of our Gatlinburg honeymoon cabins. And see our other guides to learn How to Find an Affordable Gatlinburg Cabin, How to Find a Gatlinburg Cabin With Spectacular Views and How to Find a Secluded Gatlinburg Cabin.