The best thing about a luxury vacation cabin in the Smoky Mountains is that you can do as much as you want to do on your vacation, or as little. You can do almost nothing if you want, and just live in the cabin enjoying its amenities, and soak in the hot tub on the deck and gaze at the mountains.
If you're going to take a vacation, you could just relax and let the comfort take you over. Stress – who needs it?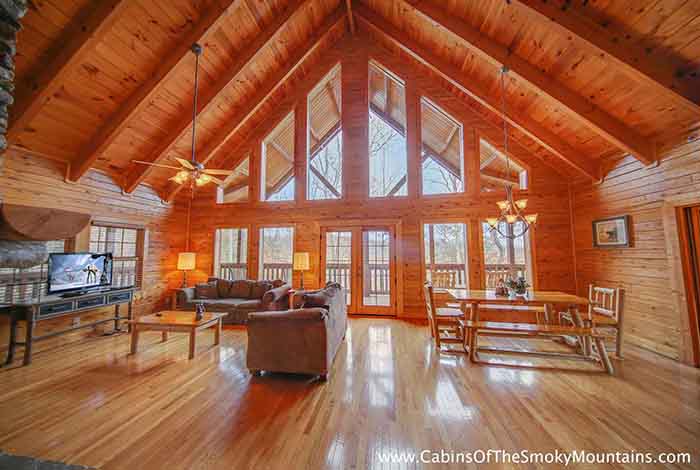 The fact is that you can get a whole lot of pampering done in your cabin.
Fresh air, birds singing, spellbinding mountain dazzle all around you, your favorite coffee made in your fully equipped kitchen, sipped on the deck in a rocking chair or maybe nestled with your partner on the deck swing. You're still in your slippers, on vacation, and letting the morning speak for itself.
Order up a couples massage in your cabin. Book a gourmet chef to come and cook for you. Have fresh groceries delivered to your cabin – even have them waiting when you first arrive after the drive in.
Don't do anything, and let the pampering come to you.
If you're with your special someone, enhance your cabin stay with one of our Romance Packages — perfect for honeymooners or those celebrating an anniversary. You can also make a fire and pop in a movie, relax on your deck overlooking the mountains, or get cozy in your very own heart-shaped Jacuzzi.
If it's a family vacation with kids, then enjoy the freedom that comes from the arcade games and table sports in the cabin. With multi-story cabins and even multi-level decks, there are plenty of places to get some peace. The kids can be downstairs playing pinball or wrapped up in electronic games, shooting pool, or having a foosball or shuffleboard contest. Meanwhile, parents can be upstairs in the kitchen getting a meal ready for everyone to come together – or maybe just still on that deck.
After dinner the whole family can watch a streaming movie or pop in a DVD. TVs and entertainment options are wired throughout the cabin, including Internet Wi-Fi. Parents will appreciate having the kids perfectly occupied without having to go somewhere to entertain them.
How about having your own laundry room while on vacation? Go home with clean clothes and no laundry to wash? It's a simple amenity, having a washer and dryer in your mountain cabin home-away-from-home, but it's a quiet luxury that maybe only a mom can fully appreciate.
Take a drive in the Smokies

Even the most laid-back setting may call for a drive outside in the mountains. Great Smoky Mountains National Park has over 800 miles of hiking trails, but there are also a lot of amazingly scenic drives, and even one trail that you can drive.
There are easy little walks and drive-up waterfalls that park rangers have developed for those who can easily leave the vehicle – people with small children or pets, or disabled family members. You don't have to be a rugged outdoors type to take in the scenery and sounds of nature of the Smoky Mountains.
Check our guides to the many Easy Outdoor Adventures and learn about the Quiet Walkways, the Nature Trails, the Scenic Drives, the waterfalls, and especially the Roaring Fork Motor Nature Trail – that driving trail we mentioned. And if you go into town, be sure to know where the splendid public parks are.
If you want to sample the zillion or so attractions in Gatlinburg and Pigeon Forge, check our guides to these in our entire Things To Do section. Get some great tips to the best attractions in our special guide, Things to Do in the Smoky Mountains. And to go straight to the outdoors, check our Smoky Mountain Activities section. Finally, here are some of the best Things to Do in Gatlinburg With Kids.
And check out our insider tips to Shopping and Dining for some of the hidden gems in the towns. There are more things to do and see than anyone can fit into a dozen trips, maybe even a lifetime. But we'll help to point you to some of the highlights.
When you book a cabin with Cabins of the Smoky Mountains, by the way, you receive our complimentary Trip Cash book of Gatlinburg coupons & Pigeon Forge coupons, worth over $700 (!) at some of the best local attractions, as our free gift to you.
So make your reservation today, for your choice of our best Gatlinburg cabins, Pigeon Forge cabins or Wears Valley cabins!