Baskins Creek Falls is a less visited waterfall in Great Smoky Mountains National Park, at the end of a 1.5-mile one-way, moderate hiking trail. It's a great waterfall to visit if you prefer avoiding crowds and are willing to do some hiking, but the trip itself requires some planning.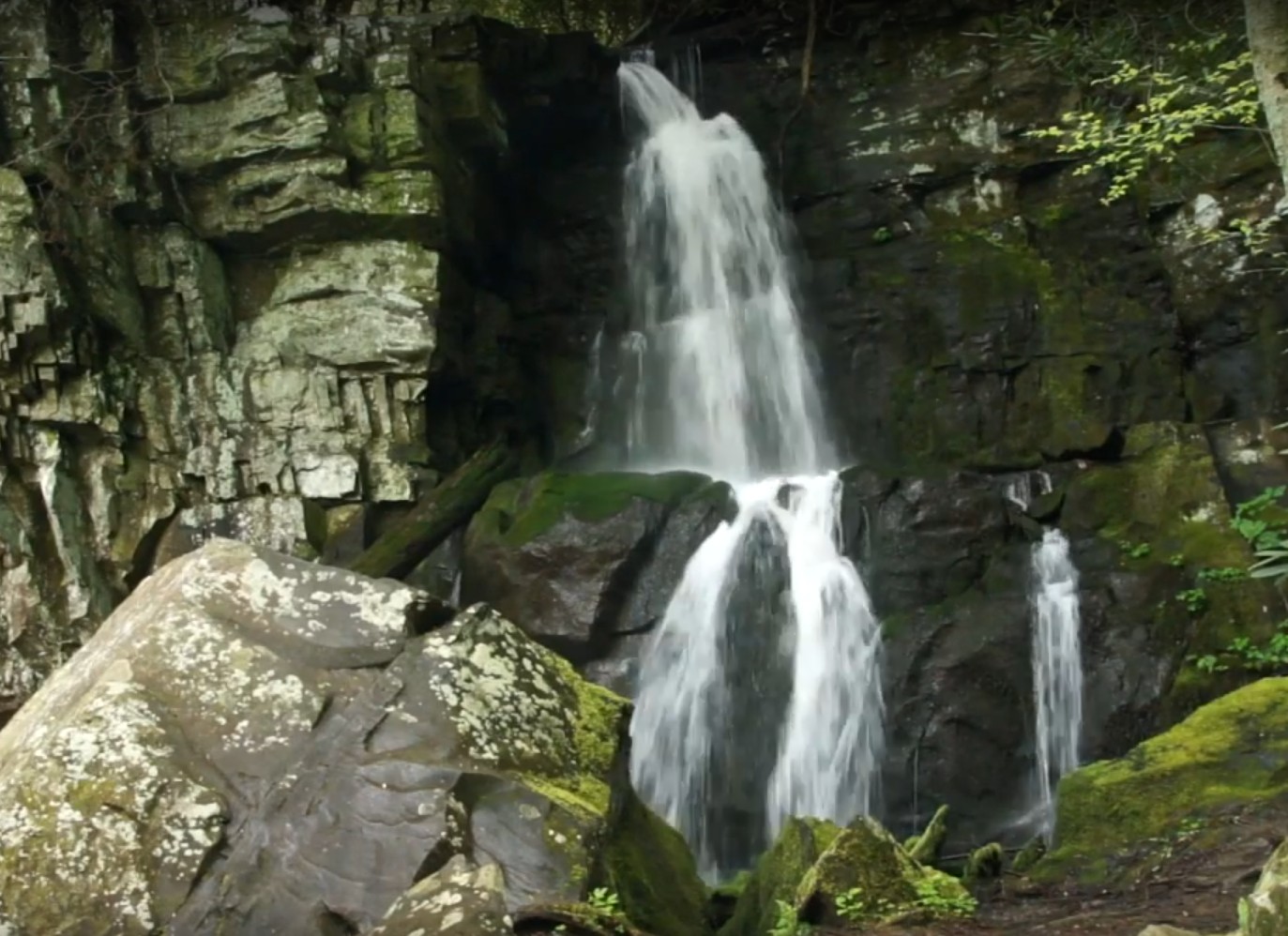 Hike to one of the lesser known Smokies waterfalls
Every visit to the Great Smoky Mountains is made better with a waterfall, or maybe several. Most of them require a hike of some kind to get to (although two can be viewed by car). But the trails and waterfalls themselves can get crowded at times, with so many visitors to the park, so many people seek a  little more solitude. If this is you, and you're up for a little activity without having to take a very long hike, the trip to Baskins Creek Falls might be just what you're looking for.
The trail to Baskins Creek Falls is 3 miles round-trip, and is largely downhill on the way to the falls – which means back up the mountain on the return. These falls are one of the hidden gems of the park, and they offer a fantastic chance to see a the most compelling natural feature of the park without having to navigate through crowds.
Come prepared and hike safely
The hike itself is generally considered moderate, and most people in decent physical shape should be able to complete it without a problem. However, this is not the type of terrain that is suitable for strollers. There is some shallow water you need to cross on the trail, so bringing a pair of dry socks and a towel is always recommended. Additionally, you may want to utilize some trekking poles to help stabilize yourself on the uneven terrain. Make sure you come prepared with drinking water, because you will need it on the steep ascent.
Stop and savor the beauty of the falls
Once you've descended the 1.5 miles to Baskins Creek Falls, the fun is just beginning. Enjoy the views of the two-tiered, 40-foot tall waterfall that cascades down the rock face in front of you. It's not the tallest or the most powerful waterfall in the mountains, but it is a stunning view and a beautiful spot to relax for a while.
You may want to stop for a rest, snack, or a picnic because you will need your energy to make the return, which is largely uphill. Also plan for the return to take longer than the initial descent did, because you will be traveling more slowly on the incline.
Explore as much or as little as you want
To get to the Baskins Creek Falls trailhead go you'll need to enter Roaring Fork Motor Nature Trail and drive about 0.2 miles. The trail to the falls is connected to several other trails, including one that takes you to Baskins Creek Cemetery, and a trail that continues on to another section of the Nature Trail – which you can start from also of course.. You can customize your hiking experience by journeying on to one or several of the connected trails, or you can complete only the 3.0 miles to the falls and back.
Again, this is not a long hike by any means and will be considered easy by some, but there is some rough terrain to navigate and the uphill trek back requires decent fitness. The nice thing about this trail is that you're already on Roaring Fork – so if the crew doesn't feel up to it that day, you can just keep motoring along, and visit the many other wonderful sights along the Motor Trail.
There are many ways to get into nature in and outside of the national park, and if you want something that is less strenuous but still gorgeous, check our guide to the Easy Walks in the Smoky Mountains – which details numerous ways to get outdoors, sometimes without even breaking a sweat. And also see our guide to Waterfalls in Great Smoky Mountains National Park.
~~
For more outdoors adventure, see our guides to Gatlinburg Hiking Trails, and our Smoky Mountains map page, as well as more outdoor ideas in our Smoky Mountains Activities guide. Check out our Things to Do in the Smoky Mountains guide as well and the all-important, Things to Do in Gatlinburg With Kids. And remember we have cabins all over the area, so pick your vacation headquarters from our Wears Valley cabins, our Pigeon Forge rental cabins and our Gatlinburg cabins – and if you're bringing a pet check our updated list of pet friendly cabins in Gatlinburg and Pigeon Forge.