When you visit the Smoky Mountains, there are numerous things to see and do, with numerous outdoor activities, including scenic trails to hike. But not everyone is super fit or experienced in the outdoors. Here are some easy walks you can take that will fit your schedule and your abilities, and also get you in nature and the beauty of the Smoky Mountains,
The following trails are designed for all ages and walking levels to take advantage of. They're especially useful to know about for families, small kids, disabled or frail people – or those who just want to be lazy on their vacation time, and prefer just to stroll easily through their stay here.
Sugarlands Valley Nature Trail
This is an all-access trail – which means it's even wheelchair accessible – and it's the only one with this designation in all of Great Smoky Mountains National Park. It's a paved and practically flat loop trail, only about a half-mile long but packed with rewarding things to see. Tall trees, water holes for wading, trout fishing, remnants of old homesteads from the 1920s, an abundance of plants and flowers, and wildlife, including bears, deer, and wild turkeys. The trailhead is just under half a mile south on Hwy 441 past Sugarlands Visitor Center, the gateway to the national park just outside Gatlinburg.
Gatlinburg Trail
You can walk to the Sugarlands Visitor Center from Gatlinburg if you want, along Gatlinburg Trail, a nice and easy walking experience running alongside and into Great Smoky Mountains National Park. The surface varies from paved to packed, but it's easy and it allows dogs – on a leash and under certain rules. The trail meanders alongside the river offering a scenic and quiet respite for unwinding. A bridge crosses the river – great place to take pictures – then continues on past a cemetery and a nostalgia-inducing homestead. The 1.9-mile trail can be accessed either from the Sugarlands Visitor Center end or the River Road end just off Parkway in Gatlinburg. The whole family can walk this trail, and it's one of only two national park trails that allow dogs. See our Pet Friendly Hiking Trails guide for more.
Fighting Creek Nature Trail
This trail starts formally at Sugarlands Visitor Center. It's 1.1 miles each way – you go and come back. The surface is packed dirt and almost flat, but there's a hiking feel with occasional tree roots to watch out for. It's a comfortable and family-friendly walk through the forest, with a famous old cabin to explore along the way. For being so close to civilization, the trail also offers glimpses of lots of wildlife – including bears, so study up on how to stay away from these wild creatures (see our Black Bears & Wildlife guide).
The Fighting Creek trail has a branching trail offering a side-trip to Cataract Falls, a waterfall that all the family can enjoy because of its short, half-mile trail leading up to it. This trail is mostly flat, and rates as an Easy walk for almost any age. Read more in our guide to Cataract Falls – Super Easy Waterfall & Super Fun.
Elkmont Nature Trail
A few miles west from Sugarlands, along Fighting Creek Gap Road, is the famous Elkmont area. One way to plunge into this deeply historical ecosystem – which is also host to the annual synchronous fireflies phenomenon – is to walk the Elkmont Nature Trail, a family-friendly, 1.1 mile loop trail. You should encounter minimal foot traffic while enjoying the cool greenery of Elkmont Nature Trail as it winds its way through the forest. Dotted along the way are seasonal wild flowers and many things to see. From the trailhead, purchase the brochure (for 50 cents and the honor system, as with many trails in the park) that explains each of the 13 interpretive markers displayed around the loop. Also note that close by is the Little River Trail, one of the easiest and most pleasant trails, wide and flat.
Public Parks
There are some excellent public parks in the area. Herbert Holt Park is located near downtown Gatlinburg. It has everything needed for a day adventure that can include fishing from the pier, smoking on the grill, enjoying a picnic lunch by the creek, horseshoes, and a kid's playground. The park also has walking trails for leisurely strolls.
Two other public parks, Mills Park and Mynatt Park, have picnic tables, grills, play area, tennis, and horseshoes. Mynatt Park also has a 9-hole Disc Golf course. Pigeon Forge has Patriot Park, a beautiful area by some quiet shopping and dining attractions, and with a nice walk along the river – also reachable by trolley. See our guide to Public Parks in Gatlinburg & Pigeon Forge.
Other Easy Options
There are numerous other easy ways to get outside, not just in the park but in the surrounding area – make sure to see our guide to Easy Outdoor Adventures: Fun Places for Everyone, which also contains attractions and rides in the mountains. And there are many scenic drives, some of which also lead to great hikes, picnic areas and waterfalls. See our guide to Scenic Drives and be sure that you know about the unique drive from Gatlinburg along the Roaring Fork Motor Nature Trail.
And don't neglect the many Quiet Walkways that the national park has provided as a way to stretch your legs in an easy stroll that also leads you into quiet forest. They have simple signposts that most people drive past. One way to take a scenic drive and visit some quiet walkways is to drive along Little River Road from Sugarlands to Cades Cove or Townsend – a gorgeous drive with numerous features along the way.
Also note that while Gatlinburg and Pigeon Forge are the heart of the visitor experience, the Townsend area to the west, and the Cosby campground area to the east are both more quiet, if you're averse to crowds. For lots of ideas, see our Outdoor Activities guide and also our definitive guide to Great Smoky Mountains National Park.
While the beauty of the trails will create memories of a lifetime, remember to be safe. Bring along sufficient water, watch out for slippery rocks around waterfalls and river banks, be aware of steep drop-offs, don't let kids wander, and observe wildlife from a distance. Always watch where you're stepping, and bring a camera for everything you'll see.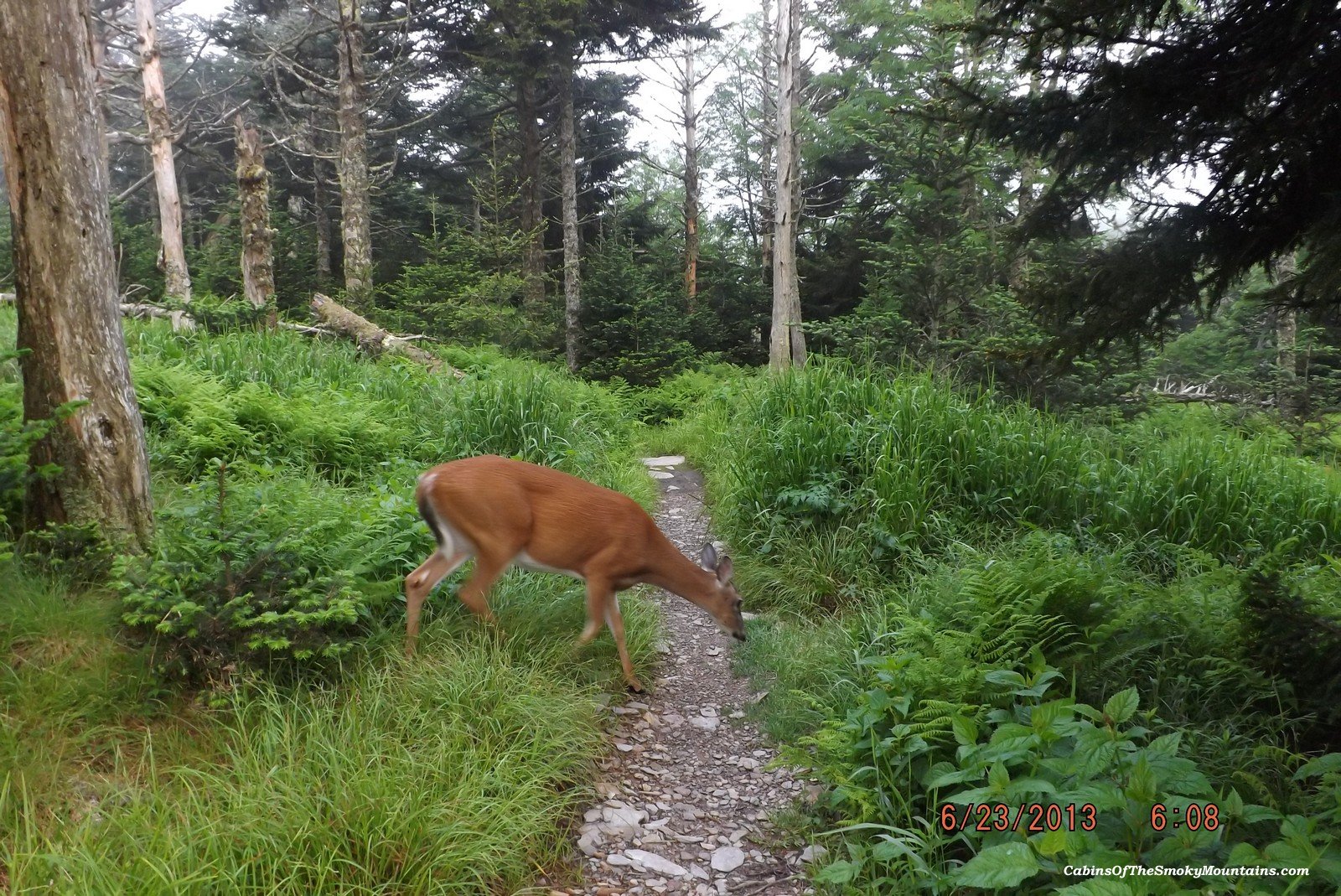 TIP: For more outdoor adventures in the Smokies, check out our Gatlinburg Hiking Trails, and our Smoky Mountains map page. And besides hiking, there are many fun outdoor things to do, which you can find in our Smoky Mountains Activities guide.
And wherever you target your activities in the park and the area, you can make it close to your cabin. We have rental cabins all over the area, including Wears Valley cabins, as well as our Gatlinburg cabins and our Pigeon Forge cabin rental.
Save