Cataract Falls is one of several natural waterfalls in Great Smoky Mountains National Park that can be accessed via a hiking trail. This particular trail is a short and easy walk, which means it's a great option for all the family, including small children who may tire easily, and inexperienced hikers.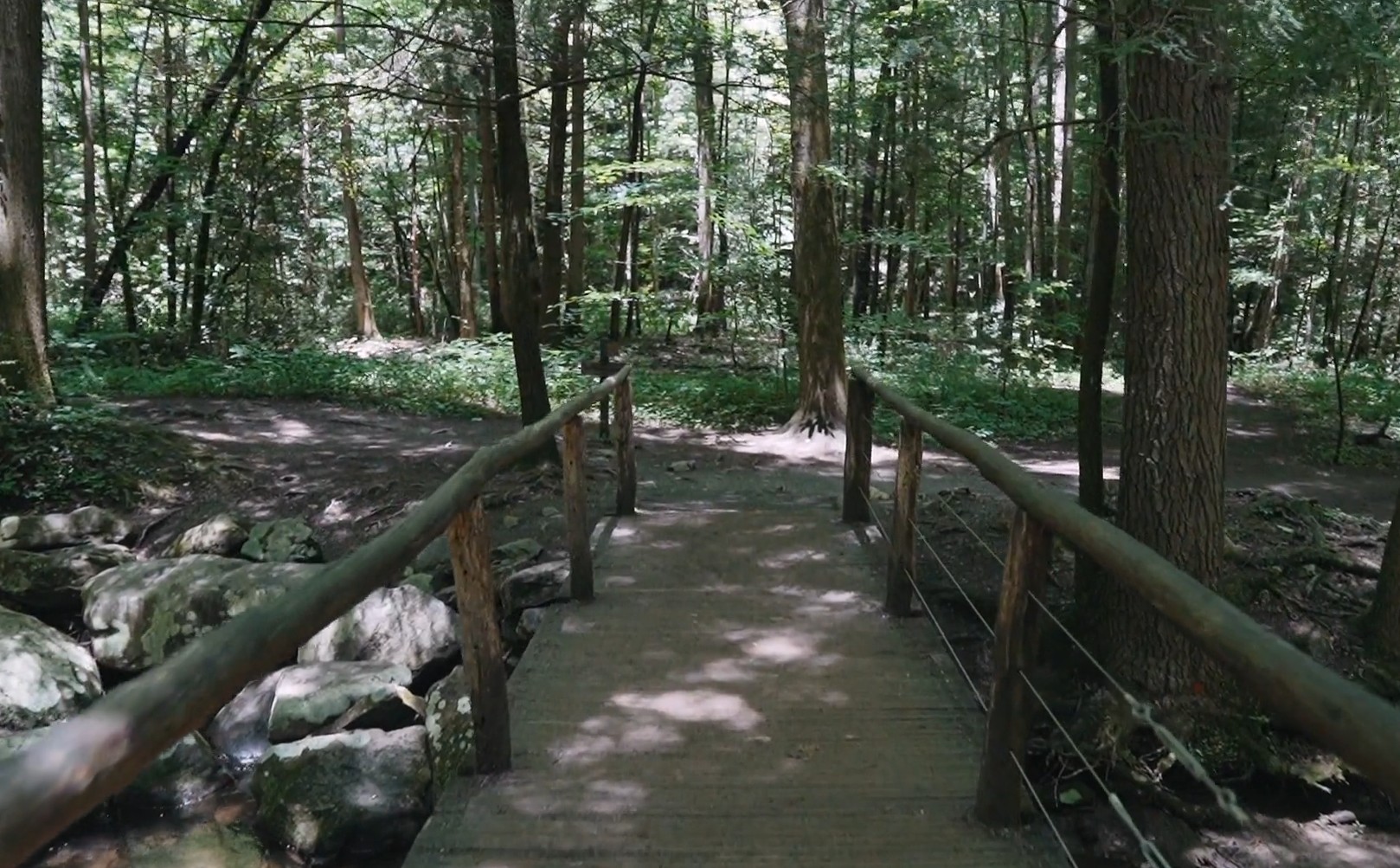 The Smoky Mountains teems with beautiful waterfalls that reward the journey to get to them, but many of them are only accessible by a moderate-to-difficult hike that isn't feasible for everyone. Thankfully there's also Cataract Falls, which is a 25-foot tall waterfall cascading down a rocky cliff that just about anyone can get to.
See the wilderness without having to stray too far
The short trail that leads to Cataract Falls is located just behind Sugarlands Visitor Center, which is one of the main entry points to the park from Gatlinburg and Pigeon Forge. Sugarlands Visitor Center is a great place to explore if you are new to the park, because it has some excellent resources to help you learn about many of the most popular attractions and get you started on your journey. Once you've explored there you can head down the short trail to Cataract Falls, providing you with a chance to see some of the wilderness the Smokies are famous for, without having to go too far away from the amenities of the visitor center.
Enjoy a beginner's hike that is perfect for the entire family
One of the best things about going to see Cataract Falls is that the trail leading there is a short and easy hike that still lets you experience some of the singular beauty of the region. The length of the trail is only about 1 mile round trip, which makes it accessible for younger and older visitors who may have difficulty traveling longer distances on foot. There are even many people who bring strollers along on the walk, but keep in mind there may be some spots where you briefly have to pick them up.
The terrain of the trail is easy to manage as well, and the relatively short hike means you can visit the falls and still have plenty of time in the day to explore the surrounding areas and see other attractions. Even for more experienced hikers who may find the trail lacking in challenge, it's still worth the quick trip to see the falls in person.
The trail itself branches off of Fighting Creek Nature Trail, and if you If you get the taste for more nature, when you return you can continue on down the Fighting Creek trail, which is easy and also not very long. The nature trails are special routes picked out by park rangers, usually for their ease, but always for their deep plunge into nature. We include the Fighting Creek Nature Trail in our guide to Easy Walks in the Smoky Mountains.
Learn about some native wildlife on your journey
Cataract Falls is the star of the show on this trail, but there are also other interesting things to see along the way. The trees in particular that line the trail are a great intro to the type of forest life that the Smokies is well known for, and you will also find several informational plaques along the way that identify certain plants and provide you with some background. It's an enormously easy way to get close to nature, and a positive learning experience for the kids as well.
Make Cataract Falls a memorable part of your Smoky Mountains vacation
Whether you're staying in a cabin in or around Gatlinburg or Pigeon Forge, Cataract Falls and Sugarlands Visitor Center are just a short drive away. If you and your family are interested in getting outdoors during your stay without doing anything too strenuous, consider adding a quick hike to Cataract Falls to your itinerary.
~~
Some of the more popular trails also lead to waterfalls – the most popular destination of all in the park. See our guide to more Waterfalls in Great Smoky Mountains National Park. And see more outdoor ideas in our Smoky Mountains Activities guide.
For more information see the Things to Do in the Smoky Mountains guide and also Things to Do in Gatlinburg With Kids. We have cabins throughout the area, so you can make your home-away-from-home base  station during your stay from among our Wears Valley cabins, our Pigeon Forge rental cabins or our Gatlinburg cabins If the family pet is coming too, see our lists of pet friendly cabins in Gatlinburg and Pigeon Forge.