The largest community of independent artisans in the nation is right here in Gatlinburg. They've been busy in winter, working on their latest creations. And on Wednesday through Saturday, April 17-20, they gather again to show it all off in the 2019 Easter Craft Show – admission Free!
Hosted in the huge Gatlinburg Convention Center at traffic light #8, the show regales the visitor with display after display of totally unique and high-quality, handcrafted items. The artists themselves are also in attendance, most of them actually at work on their craft, and all of them with endless patience to explain the finer points to all comers.
It's a friendly show, as with most things in the Smoky Mountains, and definitely for all the family. There will be food and music to liven up the quest through all the exhibits for that special something, perfect for a loved one – or even yourself – and there's no gift quite like a hand-crafted artwork.
At the Craft Show you'll encounter items that already seem to belong in their perfect place in your home, and become an heirloom for generations. It's that good. Even better, being able to meet the artist means you can commission a custom work for a special purpose or person, something completely one-off and unrepeatable.
For 3 days, from 10 am each day until 5 pm, you can enjoy some of the finest shopping anywhere, or enjoy the window shopping, and learn about crafts and media you may not have thought of. Everything is on show for you to gaze at and admire, from paper to pottery, wood to wicker, dolls to dulcimers and fabrics to fine metals and gems – too many styles and crafts to list.
So much talent and skill, often with deep roots in old Appalachian stories and history, all combine to make up the kind of fun you can also justify as a home-school expedition for your children. Kids don't get bored at the Craft Show, there's far too much going on and too many things to look at and listen to.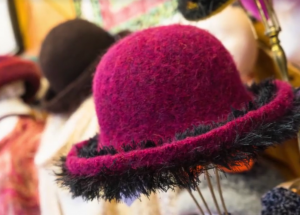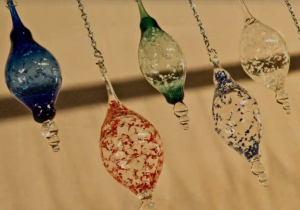 The fun doesn't end after the 3 days, by the way. The show is a showcase of some of the eye-catching items from the larger stocks at the artisans' own shops. And these you can find along the Arts & Crafts Community Trail, which the artisans of the show call their home.
The Trail is an 8-mile scenic loop road skirting Gatlinburg and studded with over 100 craft shops, studios and galleries. The loop starts just 3 miles out from downtown Gatlinburg and returns back in town. You'll find plenty of benches to sit and places of refreshment along the way, and even bed & breakfasts if you simply can't go another step!
There's ample parking at all the shops, and you can easily spend a whole day on this slow cruise of the arts and crafts shopping world. But it's also easy to take the trolley along the Trail too, with stops at all the key points, and a cheap ticket that lets you get on and off repeatedly.
When you meet some of the artists and their works at the Easter Craft Show, you'll want to make a date on your itinerary to hit the Community Trail and corner the artists in their lairs. You can find all the information you want on the Great Smoky Arts & Crafts Community website, and the Facebook page.
And for your accommodations during your stay here, choose from over 340 cabins in the area: see our Gatlinburg cabins, our Pigeon Forge cabin rentals and our Wears valley cabins.