Would you like to get expert personal instruction in creating your own work of art in the craft of your choice? This weekend is your time, as the renowned arts and crafts community of Gatlinburg starts a new venture, inviting the public into its studios and workshops to create the treasure of their very own making.
Hands On Gatlinburg is a 3-day weekend event, April 8-10, 2016, Friday through Sunday, with more than 15 different studios offering more than 40 classes of hands-on teaching and mentoring. Some of the classes are one-on-one, as in the case of glass-blowing, for example.
How about that? Now you can come to Gatlinburg and learn to blow a unique, custom glass object or ornament, almost all by yourself!
Gatlinburg is home to one of the most talented and flourishing arts and crafts communities in the country. The artisans have always been accessible and friendly, gladly sharing their skills in demonstrations, but this is a first for total, immersive instruction. Walk in an apprentice. Walk out an artist, complete with your own gift or heirloom for the future.
The key to this weekend is the ability to make a unique item, yourself, with your own special meaning, perhaps as an amazing gift to someone who is also unique?
Classes are conducted at the studios, and many have been booked for months. As of this writing tickets are no longer available online – so if you want to join the fun this weekend, simply call the studio of choice and see what places are left, if any. Here's the list of participating studios: Hands On Gatlinburg.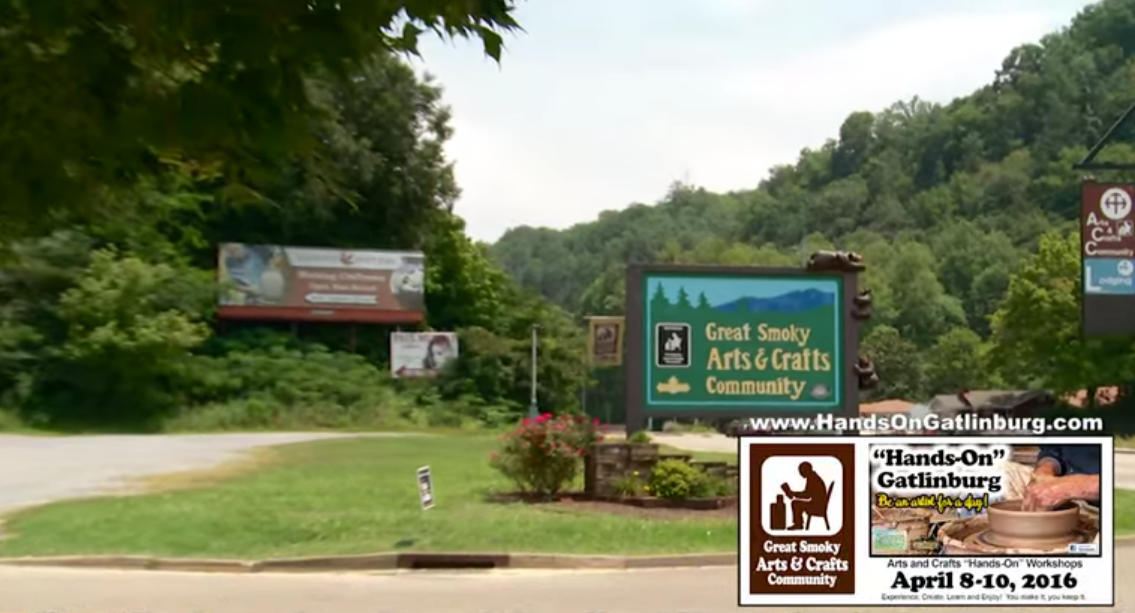 And remember, it's never wrong to book anything in Gatlinburg and Pigeon Forge a year ahead of time, from cabins to art classes, to anything else. Sometimes, missing out on an event this year simply means you're hugely ahead of the curve for next year – true story.
So what can you work in this weekend? There's clay, glass, wood, acrylic, wax, scent, oil, fabrics, silk, metals, wire, straw, beads, oils and watercolors, yarn and leather.
You can make a knife blade – even one made from flint – and the leather sheath for it, or a leather belt to hang it on. You can fashion glass for firing, or blow it. You can make pots and anything earthen or stone. You can paint, on canvas and fabrics, ornaments and other wares.
You can make bath products, skincare and aromatic-oil potions and pamperings, and candles of every kind – including completely unique. You can carve wood to your heart's content, or engrave, or sculpt metal, or twist wire around gemstones to your design. You can make your own broom – and never own a finer one!
You can make your own jewelry,  marble a silk scarf or knit your own, crochet a heart ornament, and even start to weave on a loom. You can weave jewelry too – it's true, using basket weaving techniques brought to making a necklace. And you can weave wicker too, into your own stool.
And this is not all – there's simply too much to list. So what did we miss? You tell us on Monday. Meanwhile, let's get to work!
Save