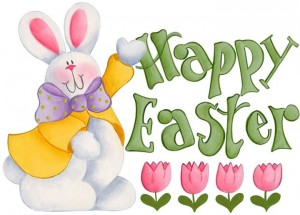 It's Easter 2016 here in the Smoky Mountains, coming early this year on March 27. Here's what's going on through the Easter weekend in Gatlinburg and Pigeon Forge.
If you want to take the kids on an Easter Egg Hunt and to meet the Easter Bunny, then Pigeon Forge gets you the earliest start on Saturday morning, March 26. It's an excuse to dress the kids up cute, take photographs that last forever, and get everyone all excited. Best of all, the events are Free.
There are two opportunities to search for eggs. At the Community Center on Community Drive, show up at 10:30 am and meet the Easter Bunny. The Hunt starts at 11 until noon. Ages are from 0-12 years old, with kids placed in several age groups and staggered start times so all children have a good chance to find eggs. This has been an enormously popular event.
A little further south, at Patriot Park there's another free egg hunt starting at 10 am, again for kids up to age 12. Patriot Park is the hub of the Pigeon Forge trolley network, and a pleasant place to hang with family or stroll along the river. Weather for Saturday should be sunny and warm.
Next to the park, Old Mill Pottery House Cafe & Grille offers its traditional Breakfast With the Easter Bunny. This is from 9:30 until 11 am – tickets are required for this, and they sell out fast, so be sure to call (865) 428-0771 if you want to get a table.
Meanwhile, over in Gatlinburg at Mynatt Park, on Historic Nature Trail, the fun starts a little later as kids up to age 12 are invited to  Meet the Easter Bunny at noon, and bring their baskets for an Easter Egg Hunt at 1 pm. Hot dogs and refreshments are provided – all this courtesy of the Gatlinburg Community Police Programs organization.
If you miss the fun on Saturday, or just want to try out those costumes one more time, Easter Sunday offers a chance to visit with the Easter Bunny all day at the Incredible Christmas Place, at 2470 Parkway in Pigeon Forge. Christmas is not just for December anymore – and now not just for Christmas either! The Easter fun is from 8 am to 5 pm – free.
Gatlinburg offers a unique place of worship for Easter Day – the Easter Morning Sunrise Service, early Sunday morning up on the mountain at Ober Gatlinburg. The ski area's famous Aerial Tramway is free of charge for attendees that morning. It leaves from downtown Gatlinburg every 15 minutes, and starts this Sunday, March 27, at 5:30 am.
Outdoor seating is provided facing the sunrise, and the service begins at 6:30 am, led by local pastors. The offering collected will be used to help the needy. The day should be warm and partly cloudy – if the weather turns bad the service will move inside the Upper Tramway Mall around the ice rink.
Free tramway service is provided for attendees to return back to Gatlinburg, and for those who prefer to drive up the mountain themselves, free parking is offered. After the service, the Seasons of Ober Restaurant offers an Easter Buffet from 7:15 to 10:30 am.