The month of May in the Smoky Mountains around Gatlinburg and Pigeon Forge is alive with events, and the start of festivals from bluegrass to bagpipes! Here's  everything happening in this merry month.
May continues the display of arts and crafts that started in April, with special events and opportunities from our huge local artisan community in Gatlinburg, and plenty happening out on the Quiet Side of the Smokies too. Car shows go crazy this month, with all kinds of motors to admire, and music is in the air from multiple sources, including two big festivals later in the month.
Weather-wise, it can be a heavy month for rainfall, but the thousands of miles of waterways are flowing strongly everywhere, and it's a great month for fishing. May is also a favorite month for Weddings in Gatlinburg and the area.
Read on for highlights of May 2023 events in the Smokies.
Arts & Crafts
For the 8th year running, the very popular Hands On Gatlinburg returns, May 5-7, offering 3 days of classes and demonstrations for any who want to beef up their game in a myriad of media. From young kids to elders, we can always learn, and the studios and galleries along the Arts & Crafts Community Trail are offering multiple classes.
Townsend and the Heritage Center will be hosting numerous events during May, some with music and some with arts and crafts, and some with both. It's always an option to get out of the crowds and spend some time over on the Quiet Side of the Smokies for one of the smaller yet very high quality displays, music jams, festivals or history opportunities.
Cars
Lots of motors are running in May, all over the area. Volkswagen fans gather for a large swap meet at the Fair Grounds in Sevierville on May 6-7, with classics and custons of all kinds on display in the Circle Yer Wagens show.
British cars and motorcycles are on display, May 12-13, over in Townsend at the Tally Ho Inn, a longtime host of many car shows. The British Car Show has seen them all, from Morris to Rolls to DeLorean.
Pigeon Forge steps in with Chevys of all kinds, May 16-21, in a hosting of gorgeous chrome and horsepower from the years '55 to '57, the pinnacle of Chevrolet design and engineering. There'll be some classic beauties there, in the 50's Classic Chevy Cruise-In.
Don't let the Chevys upstage the Antique Toy Pedal and Car Show in Pigeon Forge, May 17-20, four days of pre-1960, antique lovers paradise. And meanwhile over at the Convention Center in Pigeon Forge, check out the largest classic Ford Truck show in the Grand National F-100 Show, happening May 18-20.
Music & Festivals
At Dollywood, it always feels like a festival, and the Flower and Food Festival  that started in April continues through May and into June – when it will be replaced with the summer festival – stay tuned.
Meanwhile Sevierville kicks off the month with the annual Bruce Street Brewfest presented by Gatlinburg Brewing Company in the historic downtown. Happening May 5-6, there are lots of craft brewers presenting, with live music, food and fun.
On the Quiet Side, and also on the funky side, the Bigfoot Festival is happening in the Townsend Visitor Center (a great venue) on May 6. You gotta love Bigfoot for this one, but if so, there's live music, food trucks, competitions, weird science and lots of hoopla.
The Shriners are out and about in Pigeon Forge with a Marketplace at the Music Road Convention Center, on May 11-13, and a Parade along Parkway on May 13. And on a different note, the Rocky Top Wine Trail is holding its Salsa Fest all through the month of May – not quite a festival, but certainly a celebration.
One thing that is a festival is the annual Bloomin' Barbecue and Bluegrass Festival in Sevierville, happening May 19-20. This 2-day family friendly event in the downtown offers live music from some great bands, lots of food, vendors and super kid-friendly games, as well as the smiling pig for hugs.
Another festival happens at almost the same time, over at Townsend, with the annual Scottish Festival and Games, held at the Visitor Center grounds on May 20-21 – so a one-day overlap with the Sevierville festival. This is a unique festival, with games and dancing, lots of traditional Celtic culture and sounds, with some rocking modern bands, and Scotch Whisky sampling for those so inclined.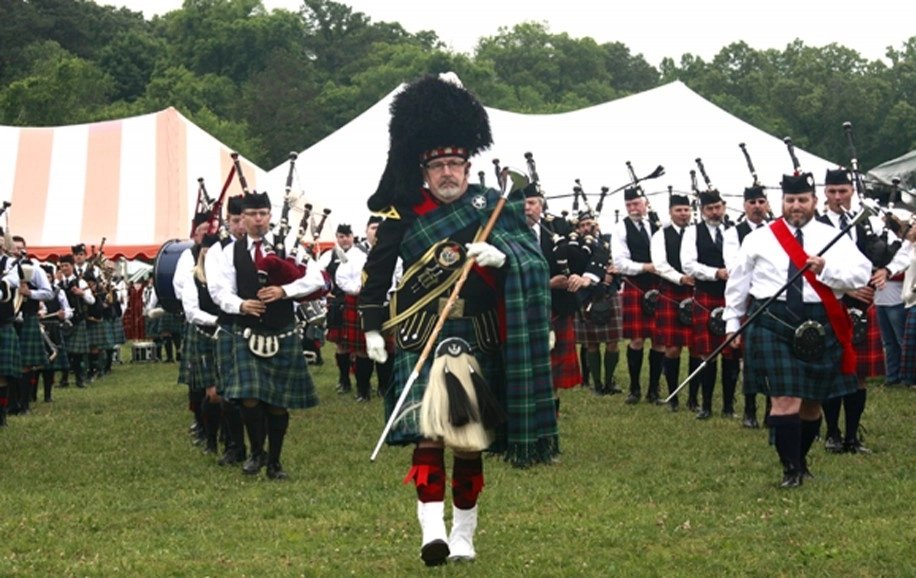 ---
Check our Gatlinburg cabins, Pigeon Forge cabins and our Wears Valley cabins for your best place to stay in the Smokies.