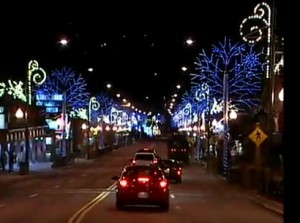 It's Winterfest 2015 in the Smoky Mountains as Gatlinburg, Pigeon Forge, Sevierville and Dollywood all turn on their millions of Christmas lights for the festive holiday season.
That's literally millions of lights. Dollywood alone lights its theme park wonderland with 4 million lights, many of them synchronized to music in stunning displays. Dollywood began its winter season on November 7, turning on its lights to inaugurate its Smoky Mountain Christmas Festival, running though January 3, 2016. The show offers many spectacular performances and has been awarded America's Best Christmas Event seven times.
On November 9, the towns started lighting up in sequence, as Sevierville turned on many millions of display lights, even reaching far along the highway up to Interstate 40 to welcome visitors to the area! The townspeople of Sevierville love a festival, and their Winterfest season of events will run through February 29, 2016.
November 10 was the turn of Pigeon Forge, which    launched its 26th Annual Winterfest Kickoff at Patriot Park with live music and free rides on its Trolley Tour of Lights. Pigeon Forge has more than 5 million lights brought to the cause of spreading cheer and festivity throughout the town, and the many theaters in the town will be offering dazzling shows all through the season, which runs through February 29, 2016.
Gatlinburg gets Veterans Day this year, an honor that changes annually. The town kicks off its Winter Magic festival season on November 11, 2015 with its famous Chili Cookoff on Parkway – one of the few times Parkway gets closed, and it's for one of the best parties.
The 26th Annual Gatlinburg Chili Cookoff and Winter Magic Kickoff – and try saying that with a mouthful of chili! – gets underway at 5 pm until 8 pm. Gatlinburg's season of lights and festivities runs through January 31, 2016.
Lights in Gatlinburg are high-tech, LED displays that give a special clarity to the displays, especially the animations. They're on Parkway and River Road, and also on Highway 321. Check out this video of some of the scenes on view:
Many events occur during Winterfest/Winter Magic in the area, and a few highlights to note include the Trolley tours of the lights in both Gatlinburg and Pigeon Forge. Riding in a heated trolley with large windows is the best way to see all the lights, with local guides to take you to the best spots.
So it's Winter Magic time again. There will be carolers strolling the street, Christmas shows and parades, synchronized light shows – even including a drive-thru light and music show in the area – and of course there will be fireworks.
For an insider guide to all the great things to see and do during this festive season in the Smoky Mountains, check out our write-up in our Things To Do section: Winterfest and Winter Magic.