Valentine's Day is coming soon, and this hasn't escaped the notice of thousands of couples flocking to the Smoky Mountains for a weekend getaway. Here's everything you need to know about love, marriage and romantic getaways in the Gatlinburg and Pigeon Forge area.

Many cabins are booked long in advance for this day, while some people in closer driving distance to Gatlinburg and Pigeon Forge can take advantage of last-minute specials on remaining cabins – see our Specials page for deals and discounts.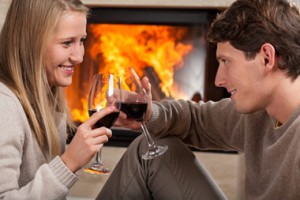 The area is home to a myriad of romantic cabin hideaways, from cabins snuggled into hillsides, hidden among trees and in park-like settings, to cabins perched on cliffs with astounding views and windows filled with sky. And all in the magical Smoky Mountains, which hold a special place in the heart for everyone who knows them.
A cabin is always the most fun way to stay in the Smoky Mountains, and with a romantic weekend planned, the amenities of most cabins create a self-contained world apart for celebrating love. Even with the countless attractions and fun events in Gatlinburg and Pigeon Forge, you might never leave your cabin.
Did you know you can have your groceries bought and waiting for you in the kitchen when you arrive at your cabin? See our article on Smoky Mountain Grocery: Shopping Delivered To Your Cabin. And how about a couples massage in your cabin? See our information on A Mountain View Spa, a great service bringing therapeutic massage professionals to your door: Massage in Your Cabin – the Ultimate Relaxation.
Is romance the ultimate luxury? It certainly feels like it, and the last thing anyone wants to do is fuss with arrangements. Better to have everything already supplied and prepared for relaxation – flowers for the lady, chocolates, wine, candlelight dinner, aromatic scents. Take a look at our many Romance and Honeymoon packages and choose just how pampered you want to be during your stay: Cabins for Honeymoon & Romantic Getaways.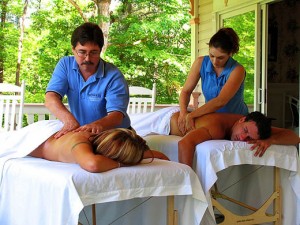 In February the weather is cold enough that the fireplace is an obvious place to cuddle. Most cabins have a hot tub on the deck, and out of our more than 400 cabins we have several dozen with a heart-shaped Jacuzzi in the master bedroom! Search for cabins by amenity here: Cabin Quick Find.
The Smoky Mountains are a favorite place for people in love. Marriage is proposed here, frequently. Weddings take place here, lots of them. Anniversaries are celebrated here. And vow renewal ceremonies, the most uplifting of all, are conducted here also.
In February the Titanic attraction in Pigeon Forge declares Sweetheart Month, and many couples renew their marriage vows on the grand staircase, under the captain's hand, with family present who didn't even exist when the original vows were said. Hopelessly romantic. See Sweetheart Month: Renew Your Wedding Vows at the Titanic
If you propose marriage on Valentine's Day, or any other day for that matter, you now have a world of arrangements ahead of you, young man! But it's okay. Gatlinburg and Pigeon Forge contain a host of people who can help you save effort and money to make that great day perfect. Here are some people we work with all the time and recommend: Carles-Witt Events: Wedding Planners and More.
The state of Tennessee makes it simple to get married, and the Smoky Mountains make it fun. The wedding planners make it affordable and complete, and we do our part with a beautiful wedding facility, cabins for your guests, and your own honeymoon cabin. See our full guide to Weddings in Gatlinburg & Pigeon Forge.
And for your accommodations here, choose from our more than 400 cabins in the area: see our Gatlinburg cabins, our Pigeon Forge cabin rentals and our Wears valley cabins.