Pigeon Forge has as many different restaurants as it has all other attractions. The list is endless, but here are some notable eateries in town. From Tennessee southern cooking to themed restaurants for family fun, to more sophisticated fare, Pigeon Forge has it all, including national genres such as Cuban, Brazilian, Mexican, Italian and of course American.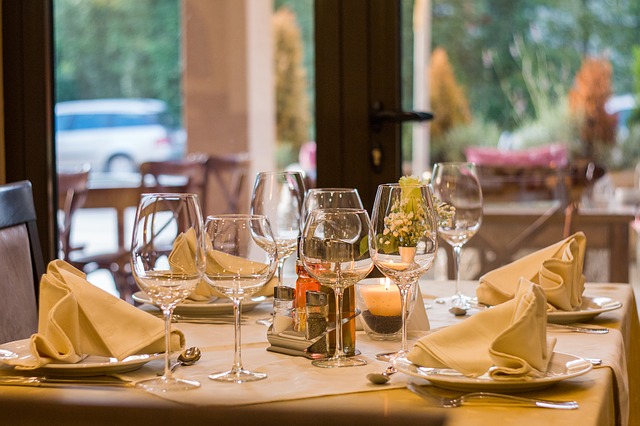 The Old Mill Restaurant and the Pottery House Café & Grille offer a selection between two excellent restaurants literally just a few steps away from each other, in the historic Old Mill District. Both eateries take advantage of the working mill that gives them the benefit of their own stone-ground grains. See our combined feature on both these restaurants: Old Mill Restaurant & Pottery House Cafe.
The Restaurant with its still-working water wheel is open for breakfast, lunch and dinner and serves family style food in large portions. Ingredients are fresh and cut or ground by hand. The dishes are wholesome, with lots of meats, fish, soups, salads, and real mashed potatoes – if you're dying for home cooking, don't miss the mash! Both places use their own ceramics from the pottery onsite, and share the freshness and handmade philosophy – as well as many different breads and grain products (which you can also buy).
The Pottery House is open for lunch and dinner with a full menu for both, and a lovely outdoor patio and a huge indoor fireplace. Artisanal breads and breading complement sharper flavors and less huge portions than the Restaurant. Salmon, shrimp and catfish vie with steak, roast beef, pork and other meats, as dishes and in sandwiches. Quiches, salads, dips and a large variety of tasty side dishes make for an extensive selection. Wine and beer here (and not at the Restaurant). Both restaurants have great desserts but you should know about the Old Mill Creamery a few steps away before you choose.
Huck Finn's Catfish is a family business and locals favorite (since 1995) that serves huge portions of home cooked Southern food. The catfish is high quality pond-raised fish and served in 10 different preparations. The kitchen is clever also with sharp flavors, several secret recipes, crisp textures and some innovative dishes. Clams, salmon, trout and market catch are on offer, as well as great sides, and a mix-n-match flexible menu. Staff are super friendly and the spacious interior has a nice vibe. See our write-up: Huck Finn's Catfish.
Smokies Cuban Café brings the Caribbean to your table with some great sandwiches and authentic dishes that have a distinct flavor that's well worth exploring if you don't know this cuisine. Everything here is fresh in this family-owned restaurant that features traditional Cuban recipes handed down through the generations and made with authentic ingredients. Explore Pastelitos, Empanadas, Cuban Sandwich, Croquetas, Black Beans and Rice, Roasted Pork, Yuca, Tostones and more. Oh, and these people know about coffee! See our feature: Smokies Cuban Café: a Hidden Gem.
Mel's Diner is as American as it can get – or used to get. It's a throwback to the Fifties, with booths, chrome and music on the jukebox. Open daily from 7 am until Midnight – and serving breakfast all that time – this joint has an upbeat atmosphere, with food ranging from breakfast to burgers, with sandwiches, soups and salads, as well as chili and dogs, and some home-cooked meat dishes, meatloaf and catfish. Desserts are equally fun, and there are shakes, floats and malts, of course. Details in our feature page: Mel's Classic Diner.
Gaucho Urbano is a Brazilian steakhouse serving up a class act serving churasco-style, which features many different meats brought to your table on the skewer and cut there. Traditional Brazilian dishes and sides offer a rich and unique experience. This is all you can eat for a set price, in a upbeat atmosphere. There's a full bar and an extensive wine list. See the full story here: Gaucho Urbano: Brazilian Steakhouse With Modern Flair.
Guy Fieri's Downtown Flavortown is the larger-than-life entertainment center combined with its huge, 300-seat restaurant and bar – a family friendly place for all ages. A colorful place, the menu is American with vivid flavors, tastes of the coast and Caribbean, and exotic drinks to match. It's a one-stop destination to keep the kids happy with the arcade games, have an excellent meal, chase it with a cocktail and try your hand at the super easy bowling the venue offers. See our write-up on this extravaganza here: Downtown Flavortown in Pigeon Forge.
The Johnson Family of Restaurants offers excellent food and great menu choices in both Pigeon Forge and Gatlinburg. The steakhouse, barbeque restaurant and pizzeria shown below have locations in both towns, but the farmhouse cooking is available for Pigeon Forge foodies only. See the full family of foods in our feature story: Johnson Family of Restaurants and meanwhile here in Pigeon Forge:
Alamo Steakhouse is frequently voted the best steaks in town (including by the Washington Post), and offers the best in hand-cut and aged Angus, as well as seafood, chops and an extensive menu to suit all the tastes in your party.
Bennett's Pit BBQ offers hickory-smoked meats that fall off the bone. Pork, brisket, chicken and ribs, as platter or sandwich, with a killer secret sauce. Try the combo taster.
Big Daddy's Pizzeria uses a wood-fired oven for its thin-crust offerings, and ingredients so fresh that the place has no freezer, as well as great sauces, meatballs and other treats from a creative kitchen. And there's a third location up in Sevierville also.
Mama's Farmhouse offers southern country cooking with a lunch and dinner menu that can change, depending on what Mama thinks is premium that day. Fried chicken or steak, meatloaf, tasty sides and vegetables will keep you going, and the hearty breakfast options will get you started.
Mad Dog's Creamery serves hand-dipped ice cream in 24 flavors and sweet-tooth fare such as sundaes, split and shakes. Crispy funnel cakes and super light, fruit-filled donuts add ballast, with multiple flavors and imaginative creations. It's very pet friendly, with doggie treats and picnic tables with water bowls for Fido.
Applewood Farmhouse Restaurant and Farmhouse Grill are two associated restaurants up in Sevierville, just a few minutes from Pigeon Forge. Sprawling along the riverbank just off of Parkway (yes, Sevierville extends the strip even farther), the two restaurants are bookends to multiple venues all deriving from the apple farm, including a hard cider bar, a winery, ice cream and candy, and a general store. There's plenty of parking so you can stroll and explore all the places. The restaurants are popular for their great food, from an American menu with a creative kitchen that knows how to please. Southern cooking for breakfast, lunch and dinner, and apple fritters you'll remember forever. Lots of good flavors here, at either restaurant, and a comfortable experience. See the full details in our feature page: Applewood Farmhouse Restaurant and Farmhouse Grill.
Dinner Shows Too
And if you're looking to eat in Pigeon Forge, don't forget the dinner shows, comedy and theatrical setups that also serve up a handsome meal with the entertainment. Check out the Murder Mystery Show or step into the Hatfield and McCoy feud, visit Country Tonite or Dolly Parton's Stampede. And the kids will love the Pirates Voyage swashbuckling dinner and show. See our guide to Pigeon Forge Dinner Shows, and explore all the Shows & Nightlife in Pigeon Forge and Gatlinburg.