The Tremont area in Great Smoky Mountains National Park is a beautiful place to drive, hike, fish, swim and simply enjoy the outstanding natural scenery and the quiet. There are many destinations and points of interest within the area, each one in itself enough to make memories to take away from your visit.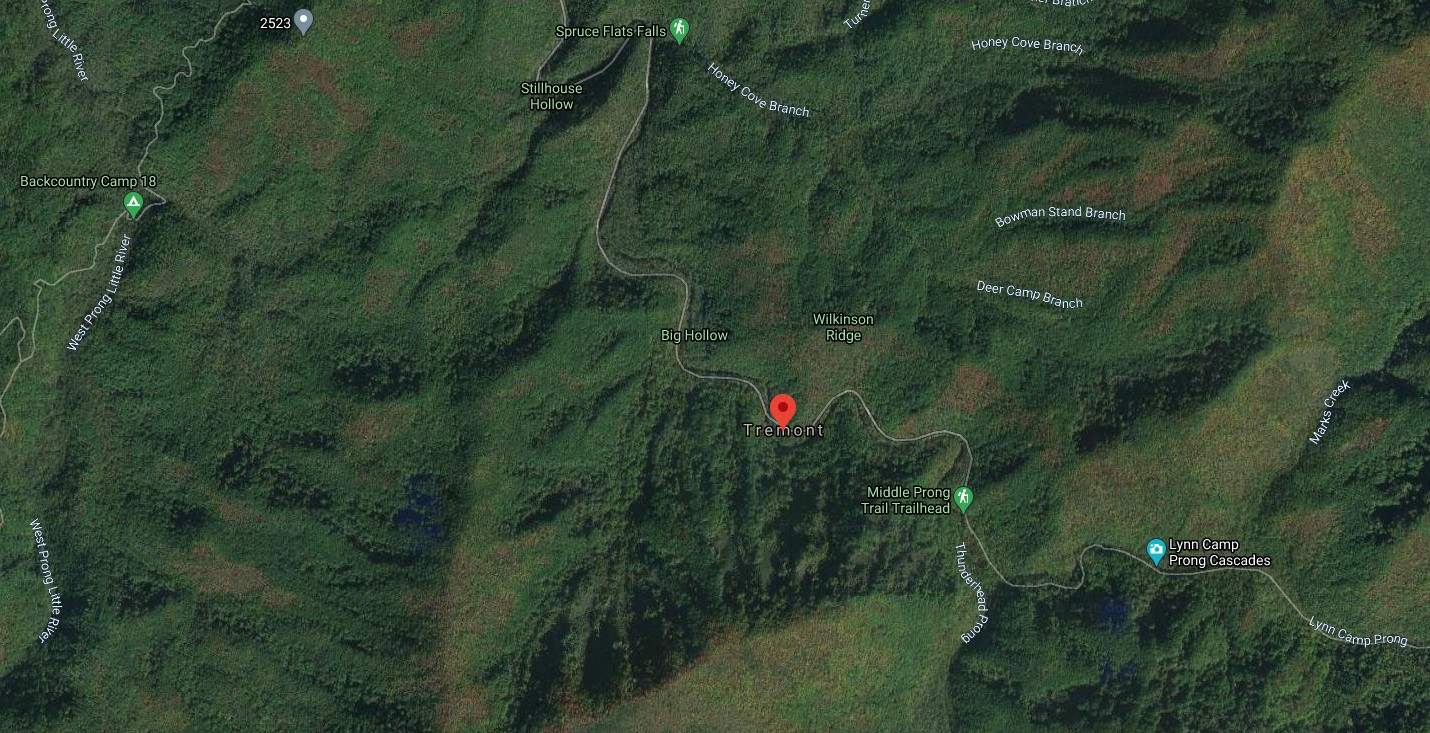 Tremont Road begins from the road leading to Cades Cove very shortly after you leave the Townsend Wye. Look for your turn: as most traffic heads towards Cades Cove on Laurel Creek Road, you turn left. Tremont Road is paved, and leads to the Great Smoky Mountains Institute a couple of miles up the road.
But the adventure has already begun. The road follows alongside the Little River and later the Middle Prong of the Little River, and there are several pull-offs along the way to park and walk to the river. There are some great swimming holes too, so your family could actually park at the first suitable place and walk along the road or river, exploring this part of the area. There's not much traffic on this road, since many people don't know about it – and after you visit, you'll hesitate to tell many people too.
If you keep on, you'll get to the Institute. But just before you get there you'll find the trailhead for the West Prong Trail. This trail is rated moderate and not too hard. It leads to Campsite 18, a back-country camping site that is totally gorgeous – some would call it the most beautiful campsite in the park. You can hike to the campsite and back again without needing to stay, and you'll maybe meet a few seasoned trekkers during the hike. This could be a great taste of wilderness adventure without much exposure to the rigors of the wild.
Great Smoky Mountains Institute
At the Institute itself, there are many things of interest here, and you should visit the gift shop. Bathrooms are here also. The Institute is a residential center for young kids to learn the ways of the forest world, and the national park, with hands-on teaching. It's an excellent place, and the people there know lots of things – it's a place where could get a lot of good advice to save you time and expand your experience of the park.
When you get to the Institute, look for the trailhead to Spruce Flats Falls. This is a hidden gem (in an entire area of hidden gems) that you may wish to hike to – see our guide to Spruce Flats Falls: Beauty Worth Hiking For for the full story.
The entire Tremont area is a web of hiking trails leading into stunning natural scenery, and all the trails we mention here connect with numerous other trails and scenic destinations. If you're a hiker, pick up a map and spend some time here.
You can also connect to the Elkmont campground area and Little River Trail from here, getting all the way to The Sinks at Little River Road (not to be confused with the Trail). It's not an obvious route, but the connection is there if you're up for some hiking. If you find Little River Road special in the same way that Tremont Road is, you may want to map out these connections.
Upper Tremont
Moving on past the Institute, we take the Upper Tremont Road, a maintained gravel road that is an old railroad grade. This goes for about 3 miles until it dead-ends at the Middle Prong Trail trailhead. There are pull offs along this stretch also, but if there's no parking anywhere, you could always park back at the Institute and walk this way too. The road itself is a place to enjoy, and slowing down is the best way to do it.
All of Upper Tremont Road is like a journey into stillness and nature. You may see people fly fishing or wading in the many pools, exploring the creek along the way – it's as pleasant to walk this road as it is to drive it, maybe even more so. It's quite narrow for driving, but it's wide open for walking, with a decent shoulder, and with little traffic (because no one tells anyone about this place).
This road is open for bicycles, by the way – NOT the trails of course. All paved roads in the park AND this 3-mile gravel stretch allow bikes. Upper Tremont Road feels like mountain biking, so feel free to get your fix here if you've been missing the pedals.
You can rent bikes in Townsend – see our guide to Mountain Biking in the Smokies for the lowdown on the whole region – and check out Smoky Mountain Outdoor Center in Townsend for bikes (and river tubing!). Our cabin guests get a free rental from this outfitter by the way, and Townsend is a nice place to explore, with a great network of greenways to bike on.
Middle Prong Trail
At the end of Upper Tremont Road, the richness of possibilities begins to make itself known. You could actually just walk anywhere you wanted and find a trail. But the best plan is to take the Middle Prong trail, and head for Indian Flats Falls. Not far along this trail is a turn for the West Prong Quiet Walkway, which you may want to explore also.
The Quiet Walkways in the national park are special places that park rangers have chosen as a short walk that plunges deep into nature, and many of them are very easy. See our guide to the Quiet Walkways of Great Smoky Mountains National Park for descriptions of some of them, including this one, the West Prong.
The Middle Prong Trail itself is an old railroad bed that follows alongside the Lynn Camp Prong as it tumbles down the mountain over numerous cascades. No pets and no bikes are allowed on this trail. This is also bear country, so be aware of this. There are two nice waterfalls about a half mile in and numerous smaller cascades along this trail. After about 4 miles, an unmarked spur leads off the trail to the right, but you'll hear the rushing water of the Falls.
Indian Flats Falls comprises four tiers of waterfall, not all visible at once, and not exceptionally dramatic, but very lovely. This is the spot to explore, rest up, eat lunch, and just enjoy the surroundings. If you're hiking on, Middle Prong Trail continues on for a mile or so and connects with other trails, all leading to worthy destinations.
Or you can start to wander back home, on the downhill slope all the way.
---
TIP: Also see our Insider's Visual Guide to the National Park – and with an abundance of different cabins close to the park to choose from, check out our tips on How to Find an Affordable Gatlinburg Cabin, How to Find a Gatlinburg Cabin With Spectacular Views and How to Find a Secluded Gatlinburg Cabin.