Winery Square is a little area off of East Parkway in Gatlinburg, only slightly off the beaten track and packed with delights from several hidden gems in terms of food, drink and pure fascination.
The square is anchored by Gatlinburg's first winery, Smoky Mountain Winery, established in 1981 and still going strong, serving tastes of the many great wines of Tennessee, including some unusual fruit wines and some drier wines aged in oak. Highly awarded, the Winery is a long-time favorite of return visitors, and a welcome surprise for those who stumble across it.
To get to the square, take East Parkway at Light #3 and turn right on Pine Lane, where you'll see the turret  of the Winery at the end of the street. Park anywhere, and proceed to explore.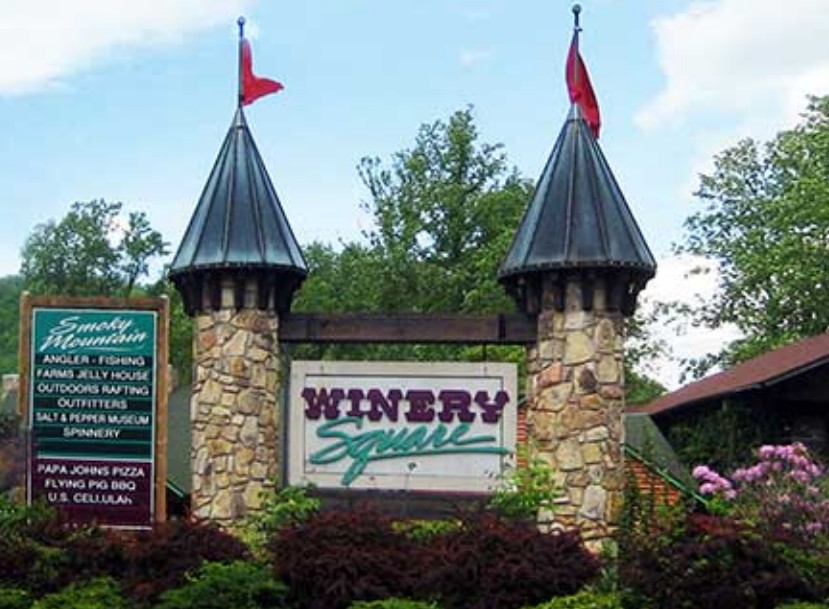 If breakfast or lunch are on your mind, you have two excellent choices in Winery Square. For some of the best sandwiches in town (no exaggeration), try Jed's 321. Newly opened in 2022, this is an outpost of Tennessee Jed's, farther up on Parkway itself, which has long satisfied locals and visitors alike with its amazing locally sourced meats and mouth-watering treats.
If you want a broader range of foods or vegetarian and vegan options, take a look inside Whole Earth Grocery, an all-natural café and store. Lunch is served Monday through Saturday, offering soups, lentils, salads and cheeses, wraps and sandwiches. The café also makes a powerful range of health drinks and shots, while the store is packed with natural beauty and health products, including supplements and homeopathic remedies.
Also in the square is the one-stop place to pick up any kind of jelly, jam, preserve, syrup or sauce ever thought of, as well as all kinds of pickles and excellent honey choices. This is Smoky Mountain Farms Jelly House, which carries a stunning array of products, and all of the jams and jellies home made. People say to stop in simply to smell the aroma, but once you start browsing you'll see concoctions you never thought of, from apple butter to Moonshine Jelly (!), and everything is high quality.
If you want salt or pepper on any of the food we mentioned, you may want to visit the very unique Salt and Pepper Shaker Museum while you're in the square. This is truly a unique museum, the only kind in the world (apart from its other collection in Spain) with over 20,000 different sets of shakers from around the world. If you like to grind your pepper, you'll enjoy the massive pepper grinder collection too. This is a great way to entertain the kids as well as impart the history and lore that attaches to the collection.
And the visit is not complete to Winery Square without noting the largest spinning and weaving shop in the Southeast, the Smoky Mountain Spinnery. In such as crafting area as this, the Spinnery products are in high demand, which the shop has satisfied for two decades and more now. It offers all the supplies, equipment and fabrics you could ever need, to spin, weave, hook, crochet, knit felt or dye. And the Spinnery offers classes for every aspect of the fiber arts, from every level of skill. If you want to make your own fabrics, or just try out a spinning wheel, this is the place.
You will find many more shops and services in and around Winery Square, including pizza, BBQ, and outdoor adventure supplies and opportunities, including the Smoky Mountain Angler for fishing supplies and guide tours (also see our guides to Fishing in the Smokies), and Smoky Mountain Whitewater Rafting just next door.
We wanted to show you some of the unique highlights so you can decide if you want to make the short trip over there, or not miss it when heading east on Hwy 321 (East Parkway). You'll see the various operations listed as being on Brookside Village Way, Cherry Street or East Parkway, but it's all Winery Square, and less than a mile from Light #3 on Parkway itself.
Roaring Fork Road, by the way, is just past Winery Square, on the right, if you're interested in taking the unique Roaring Fork Motor Nature Trail for an excursion after your visit. And to find some useful shortcuts in this part of Gatlinburg,  check out our guide to Shortcuts and Back Roads.