One of the country's best quilt shows, A Mountain Quiltfest returns to Pigeon Forge for 2022, as the 4-day FREE event opens June 6 through June 9, at the LeConte Center. Filled with world-class wonders, the show draws thousands of visitors enjoying an ancient craft that also became a signature folk art of America, and roars on strongly today.
Now in its 28th year, the event opens on Monday with numerous classes that will run all four days, and the Free Quilt Show and Vendor hall will be open to the public Tuesday through Thursday, June 7-9. The exhibition times are 9am-5pm Tuesday and Wednesday, and closing at 4 pm on Thursday.
Expert talent and exhibits from across America will converge on Pigeon Forge, competing in almost two dozen categories for prizes amounting to $20,000. Hundreds of unique quilts will be on display, all of them eye-catching and some of them completely amazing.
This year's theme is String Time in the Smokies, featuring string-piecing, a free-form method of quilting – if you had to ask or look it up, be sure to check out the show to learn more.
Around 16 expert instructors will share knowledge and skill in almost 50 classes ranging from beginner to advanced levels. The quality of instruction here is world class, and classes frequently sell out in advance – registration remains open throughout the event, so you may be able to squeeze into some classes that suit you perfectly.
Humor comes wrapped in a quilt, and the class names are something we look for each year. This year's favorite class titles include Practice What I Preach, An Introduction to Feathers, Fabric Frenzy, Dreamy Dan, Starry Starry Nines and The Swoon Quilt. And lots more where those came from – be sure to check the full Program Guide and Schedule.
Additional programs include a Dinner Lecture by Featured Instructor Jacqueline de Jonge on Tuesday evening and a storytelling and music event on Monday evening from Kathy & Mike Gwinn, who are also your guides on a daily excursion to local unique boutiques of related interest.
And if you wonder what your quilt is worth, appraisal as always is available, this year by historian and certified quilt appraiser Cindy Stuart – by fee and appointment (or squeeze in if possible).
Who knew a fabric quilt could be such a work of art? Well anyone who's ever attended A Mountain Quiltfest, that's for sure. You don't need to know the first thing about quilts to enjoy this show, it's a feast for the eyes. How will they ever pick the best ones, out of so many gorgeous designs?
Well, here are some they picked last year:
This show is very big, and has 100,000 square feet of LeConte Center to play in. The Vendor Hall will offer accessories and supplies of all sorts, as well as souvenirs. Scooter rental is also available for any who may be challenged by the walking. The Center, by the way, has massive free parking.
The LeConte Center is on Teaster Lane, and you can jog over from Parkway at Jake Thomas Road to cross the river. If you want to walk the riverbank instead, check out Pigeon Forge's wonderful Riverwalk Greenway that drops you right at the Center. And check our guide to Back Roads & Shortcuts to get the lay of the land.
Useful Information
LeConte Center at Pigeon Forge
2986 Teaster Lane, Pigeon Forge, TN 37863
Tel: (865) 453-8574
Quilt Show website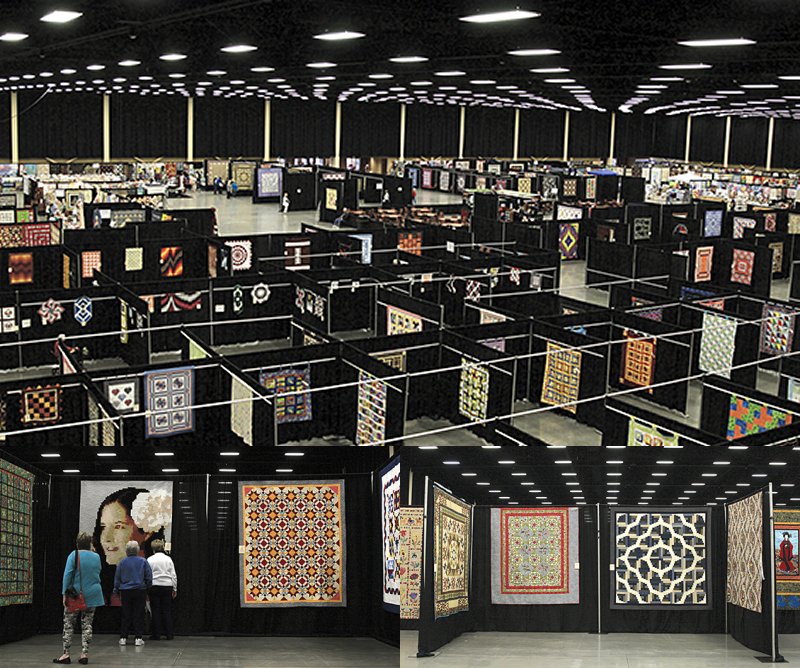 PS…if you're wondering where to stay during your visit here, see our tips on How to Find an Affordable Gatlinburg Cabin, How to Find a Gatlinburg Cabin With Spectacular Views and How to Find a Secluded Gatlinburg Cabin.