Elkmont Campground is the largest tent and RV campground in Great Smoky Mountains National Park and also the closest to Gatlinburg, 8 miles away. The campground is also beautiful, in a gorgeous setting.
With the Little River and Jakes Creek running through it, Elkmont offers some riverfront camp sites out of its 220 pads for tents and campers. The location offers a forest quiet, deep history with old cabins and buildings, and easy connection to several trails and scenic attractions.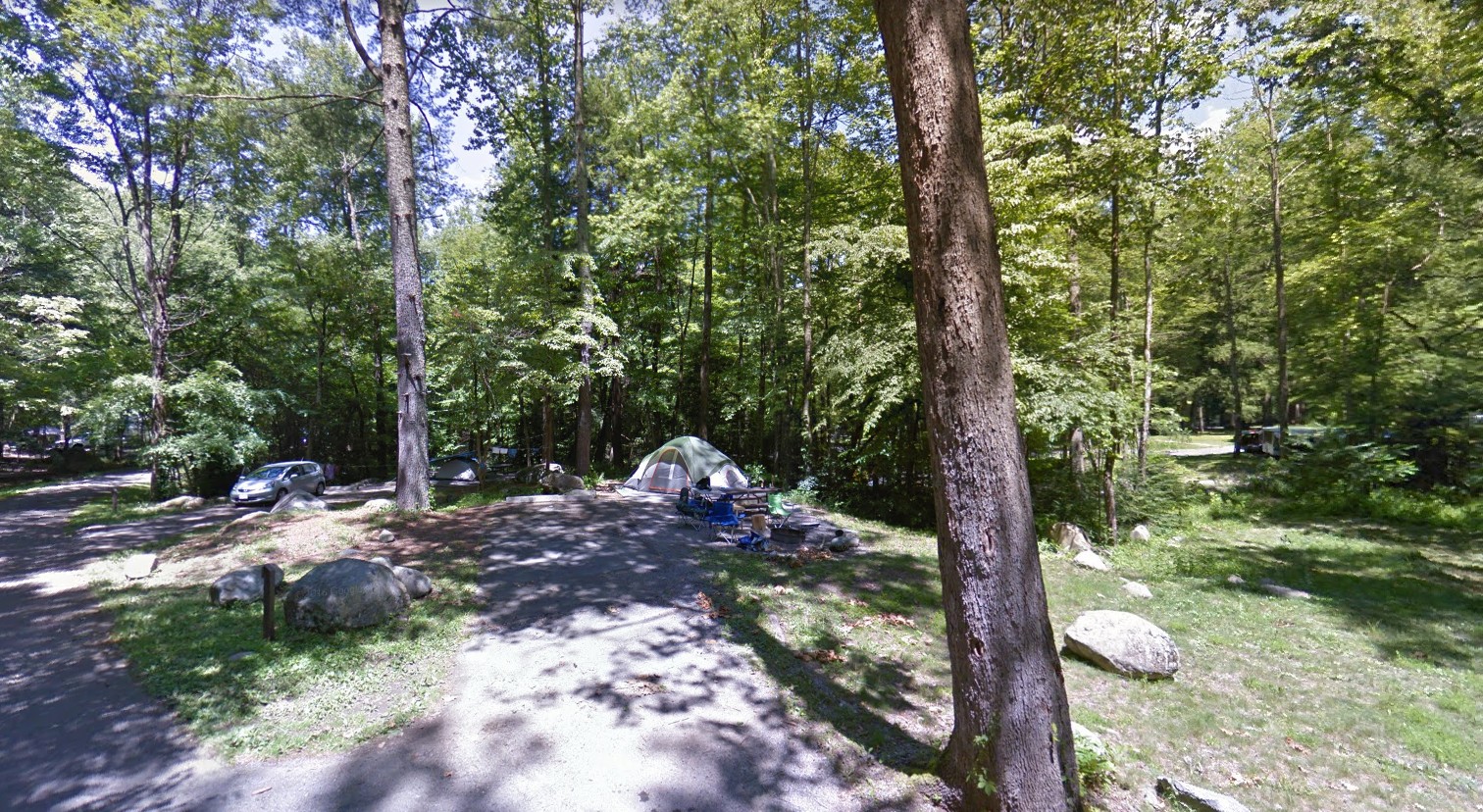 The Elkmont Area
If you're staying in a cabin, you may want to drive to Elkmont just to see the lie of the land. You can park at the campground. It's in the heart of some beautiful country, a great hub for day trips (and you may even want to get the taste of an overnight tent camping adventure). Little River Trail is adjacent to the campground, one of the easiest and nicest strolls through nature in the park. Also the Elkmont Nature Trail is here, which we include as one of our Easy Walks in the Smoky Mountains. Jakes Creek Trail is also right here, and connects with Cucumber Gap Trail and Little River Trail for a great hike. And the easy trail to Laurel Falls is not far away to drive to.
Elkmont is a destination to check out while touring along Little River Road with its many scenic attractions. It's worth being familiar with where things are situated so you can plan your daily excursions from the cabin. If you're in one of our Wears Valley cabins especially, you're already in the immensely scenic Quiet Side of the Smokies, and the Elkmont area may be one of your designated play spaces. From here you're close to Cades Cove and also Sugarlands Visitor Center.
The campground has no picnic area (it's really only an overnight place) but it's close to Metcalf Bottoms Picnic Area, which is a gorgeous place and also has a nice trail. These areas are superb during the spring wildflower profusion, and in the fall for the stunning color changes. Also, in June when the famous synchronous fireflies light up the area, the campground is right next to the prime viewing area for this unique phenomenon. All of these occasions might make it worth renting a tent for an overnight stay, and a chance to sleep with the sounds of the river in your ears.
Elkmont Campground
Elkmont is one of the several "front country" campgrounds operated by the park, with amenities such as flush toilets, running cold water, drinking water and 5-amp electrical outlets for medical equipment. You can drive into the campground and park at your site, except for 20 (very beautiful) sites that you have to walk to a short distance from the parking area. Each site has its own fire grate and picnic table.
While by contrast the "back country" campgrounds in the park need to be hiked to and offer even fewer amenities, the front country camps such as Elkmont are still very basic. The national park is a nature preserve and developed infrastructure is as minimal as possible. Those looking for a resort-style campground will find countless such places in the surrounding areas outside the park.
There's no cell service at all in the campground – GPS and texting don't work. There's no dump station for RVs (Sugarlands is the closest) and no electrical above the 5-amp. There are no showers, and while you can splash in the river to your heart's content, soap is prohibited.
The ranger station at the campground entrance offers advice on pay-showers close by outside the park, as well as maps and history literature and the latest weather forecast. The camp store sells most items you could need, including firewood – you can only bring certified firewood into the park or use local deadwood, to protect from invasive insect species, and this is a very serious concern. Similarly, this is bear country, and food storage and disposal is taken very seriously at Elkmont.
Pets are allowed at Elkmont subject to the standard park requirements of being kept on a 6-ft leash and kept off the trails. It's good to know the rules and protocols to observe around bears and wildlife and also around flowing water in the park. The trout fishing in the Little River is excellent, by the way, in this area, as long as you have a license.
Adjacent to the campground is a the old settlement of Elkmont, which conveys a deep sense of history. Be careful around the old buildings, but enjoy this ghost town feeling, that hearkens back to an earlier age in time.
Useful Information
If you're curious or planning to stay at Elkmont Campground, see the national park's Elkmont Campground page and be sure to study the campground map to decide which campsite to book – many of the sites are quite close to each other. Also take note of the regulations.
Elkmont is closed for some of the winter, and offers reduced rates during part of the winter. In season, no walk0ins are allowed, and camping is strictly by reservation – go here to check availability and book online.
Generators are allowed in the campground, and there are generator quiet hours as well as camp-wide quiet hours. There are no gates and visitors are free to come and go at any hour. There are some ADA accessible sites.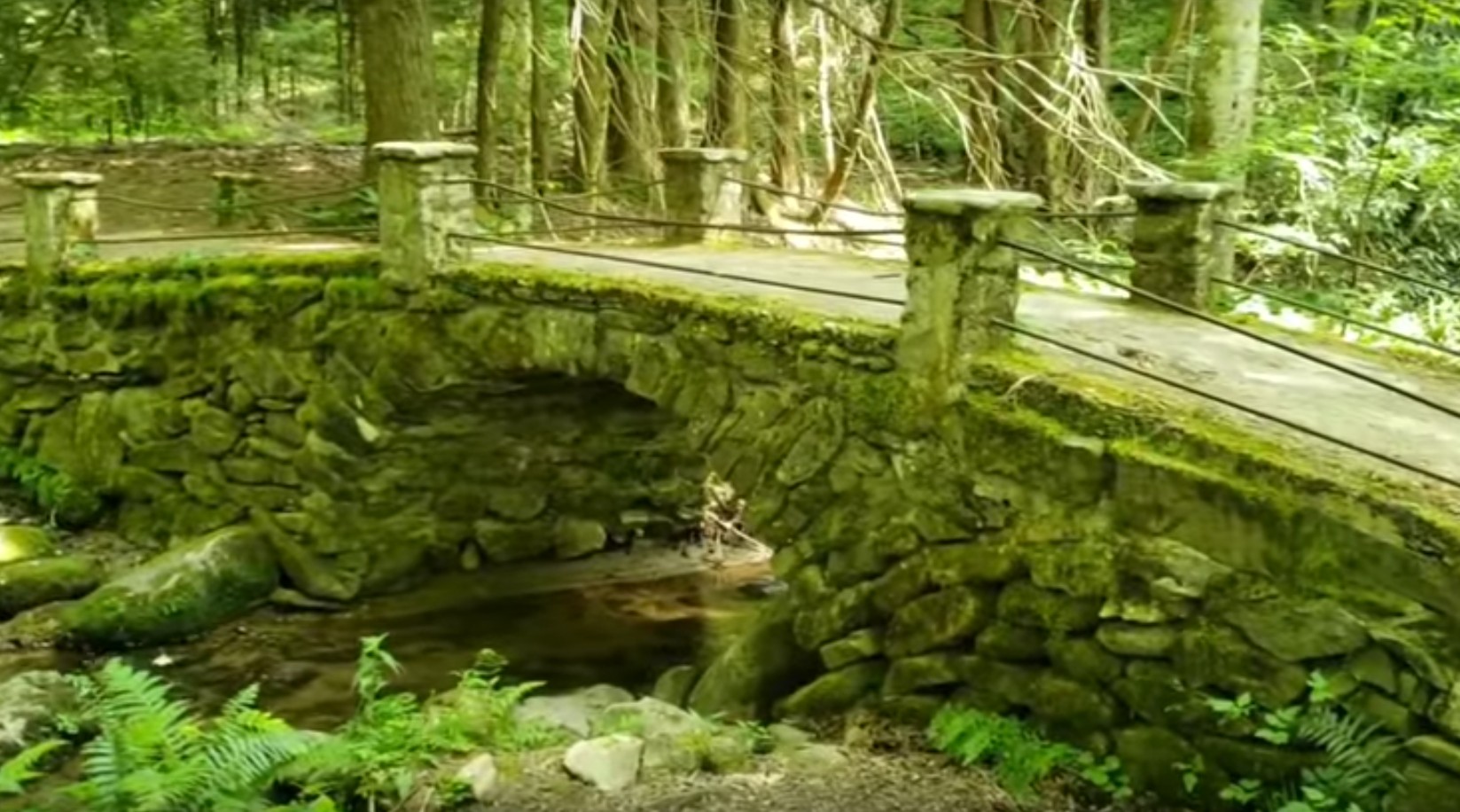 TIP: For more outdoor adventures in the Smokies, check out our Gatlinburg Hiking Trails, and our Smoky Mountains map page. And besides hiking, there are many fun outdoor things to do, which you can find in our Smoky Mountains Activities guide.
And wherever you target your activities in the park and the area, you can make it close to your cabin. We have rental cabins all over the area, including Wears Valley cabins, as well as our Gatlinburg cabins and our Pigeon Forge cabin rental.