Taking a scenic drive is one of the easiest and most rewarding things you can do in Great Smoky Mountains National Park. With almost 400 miles of roadway in the park and the surrounding scenic area, you can drive to specific locations to enjoy, as well as tour through steadily changing vistas of great beauty.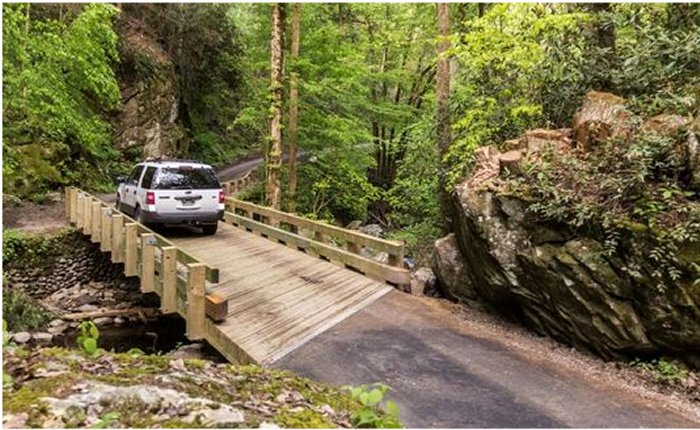 Tips for driving in the park include to start early, slow down and be careful. The park is teeming with wildlife, from turkeys to otters to elk and of course the famous black bears. With so much to see, you and other drivers are easily distracted. And because the park is so popular, there are crowds. And remember, it's the mountains: roads can be blocked, winter conditions can make things hazardous, weather can change suddenly, especially with lots of rain, and there are animals and people to watch out for.
The 5 Most Popular Roads in GSMNP
Here are the five most popular drives in Great Smoky Mountains National Park:
Cataloochee Valley.
Newfound Gap Road.
Each road is a rich experience with many things to see, with turn-offs, parking spots, scenic overlooks and historic attractions. The smart way to enjoy them is with a Guide booklet. Guides for each road can be purchased cheaply at the park's visitor centers and the information centers in the towns outside the park.
The 3 Best Scenic Vistas in GSMNP
These are three prime locations for great views in Great Smoky Mountains National Park – and especially to see the changing colors in fall:
Newfound Gap Overlook – for a spectacular view of Tennessee and North Carolina.
Clingmans Dome – presents a vast scene of 7 different states on a clear day.
Carlos Campbell Overlook – great for a short trip with probably the best view of Mt. LeConte.
For the best viewing during fall in late September, October and early November, see our guide: Top 3 Places to View Fall Colors
Cades Cove is the premium drive for wildlife and a tranquil beauty that everyone who goes there falls in love with forever. Also check out Meigs Falls, a waterfall you can drive to, easily missed along the way, but worth the stop. The drive to Cades Cove from Gatlinburg is along Little River Road, a journey filled with scenic wonders. The Cades Cove loop road is narrow, and a perfect example of the need to slow down, watch for wild life, and go early in the morning or in the evening to beat the crowds.
Roaring Fork Motor Nature Trail is one of the special nature trails created in the park, but this is one that you can drive through. It's a winding, one-way loop road a short distance out from Gatlinburg with historic buildings, old forest and mountain streams.
If you don't like traffic or crowds, visit the park outside of the June-August prime season and October. Also try these less traveled drives:
Blue Ridge Parkway
Rich Mountain Road – this is a peaceful road, but you'll need to take the busy Cades Cove loop part way to get to it.
Also add the Cosby and Greenbrier areas to your itinerary, especially in spring for wildflowers. Cosby is less crowded, and Greenbrier has fishing, walks and cascades. Both are enormously beautiful. See our guide to the distinct Areas of Great Smoky Mountains National Park.
To help get you oriented and plan your excursions from the cabin – and to save you lots of time – check our guides to Getting Around, which includes priceless Shortcuts and Back Roads, and also check out our guide to Scenic Drives Near Gatlinburg for a list of all the great roads. And see our Super Guide to Great Smoky Mountains National Park to get familiar with the many different features and attractions.
TIP: Also see our Insider's Visual Guide to the National Park – and remember that whatever part of the park interests you the most, we have vacation cabins all over the area: see our Gatlinburg cabin rentals, Pigeon Forge cabins, and Wears Valley cabins.
Save