Gatlinburg has hundreds of eateries, ranging from world-class hot dogs to eat on your feet, to ethnic and specialty food, fine dining, crepes, seafood, steaks, Italian, Mediterranean, vegetarian, barbeque, sandwich, breakfast – the list goes on.
There are foods here that you may never have thought of, or never thought you'd see again (including a world-class Frito Pie!), as well as desserts and ice creams to finish off the meal in hundreds of flavors and recipes.
You'll never go hungry in Gatlinburg, but you may get dizzy trying to sift through the countless options. Here are a few of our favorite places to eat in town – no offense to the many great other venues in town – so if your time is limited and you have a hankering for a certain type of food, you won't go wrong with the following selections.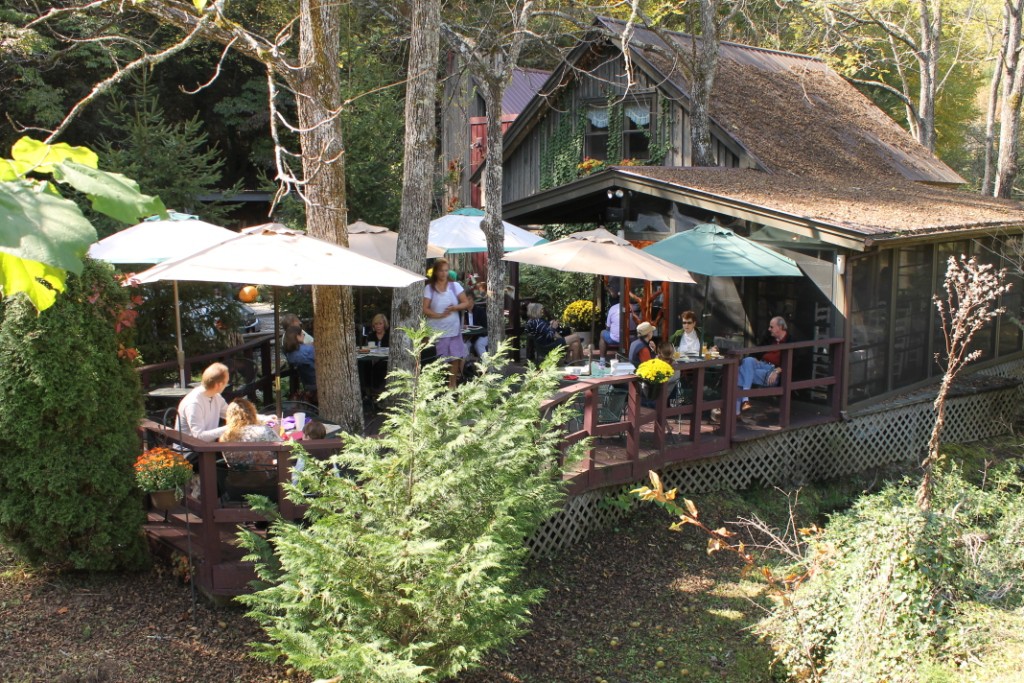 The Johnson Family of Restaurants is high on the list for good eating in both Gatlinburg and Pigeon Forge. The steakhouse, barbeque restaurant and pizzeria shown below have locations in both towns, and you can also get farmhouse cooking and hand-dipped ice cream treats in their Pigeon Forge venues. See the full family of foods in our feature story: Johnson Family of Restaurants and meanwhile here in Gatlinburg:
Alamo Steakhouse is frequently voted the best steaks in town (including by the Washington Post), and offers the best in hand-cut and aged Angus, as well as seafood, chops and an extensive menu to suit all the crew.
Bennett's Pit BBQ offers hickory-smoked meats that fall off the bone. Pork, brisket, chicken and ribs, as platter or sandwich, with a killer secret sauce. Try the combo taster.
Big Daddy's Pizzeria uses a wood-fired oven for its thin-crust offerings, and ingredients so fresh that the place has no freezer, as well as great sauces, meatballs and other treats from a creative kitchen.
Mama's Chicken Kitchen offers chicken to eat in or take out, in a variety of chicken meals cooked southern style, and excellent homemade side dishes and salads as well as a kids menu.
J.O.E. and Pop's Sub Shoppe serves deli sandwiches and subs (and beer) including Philly, Italian, Reuben and make your own with a variety of meats and cheeses as well as pork, shrimp and tuna.
Mad Dog's Creamery offers handmade ice cream in a variety of sublime servings, along with airy and filled donuts with multiple fruit and chocolate flavors, crispy funnel cake and other cakes, pies and specialties – and it's pet friendly.
Split Rail Eats is off the beaten track, and locals are fine with that since it serves American fare from a very wide-ranging menu backed up with a creative kitchen. Breakfast and lunch and food to go. Nice atmosphere and patio also. Check out our feature story: Split Rail Eats Restaurant – in Gatlinburg Along the Arts Trail.
Taste of Italy is another hidden gem, and lives up to its name with a perfect kitchen serving up classic Italian dishes as well as a great pizza, as well as vegetarian options and a kids menu too. The atmosphere is calm and relaxing, a welcome hideaway from the bustle of town. See our feature: Taste of Italy Restaurant: A Gatlinburg Hidden Gem.
Crockett's Breakfast Camp is the place to get your day off to a robust start. It's popular, so use the online wait list to get in place – the line moves pretty quickly. The food is fantastic, and the place packs a history punch too. It's busy but very friendly and real. Check our feature: Crockett's Breakfast Camp – Hearty Breakfast Meals in the Smoky Mountains.
Delauder's Smoky Mountain BBQ has been voted among the Top 25 in the nation. You can't fool barbeque fans, and this family-run place gets nothing but praise for its fare. Event people from the Southeastern states of the USA rave about this place. Check it out: Delauder's BBQ: Award-Winning Hidden Gem in Gatlinburg.
The Greenbrier Restaurant offers an elegant fine dining dinner experience, chef-driven with seafood, chops and steaks, as well as other fine dishes, and an extensive wine and cocktail offering. The location and setting are part of the enjoyment, secluded and with a large patio feel. Not cheap, of course, but a place to settle and enjoy a special time. Our write-up: The Greenbrier Restaurant: Chef-Driven Dining, Wine & Spirits.
Smith & Son Corner Kitchen is a lunch and dinner restaurant with American fare and an upstairs bar with signature cocktails. The food is excellent, and hearty, with a large menu selection. Dips, salads, sandwiches, burgers, desserts – and a kitchen that knows what to do with brisket, pastrami and other mouth-watering treats. This is food to make you happy and keep you going. See our feature: Smith & Son Corner Kitchen in Gatlinburg.
Smoky Mountain Brewery offers a sports bar and mountain lodge experience, with lunch, dinner and drinks, and open until midnight – but still remaining a family-friendly restaurant and offering plenty of options for the kids. There are micro brews of course, and cocktails and wine, all to wash down the extensive menu items such as fish n' chips, deli sandwiches, burgers, spaghetti, shells, steaks, chicken and many salads. Vegetarians are welcomed as well as those who love key lime pie. Take out and delivery also. See our feature: Smoky Mountain Brewery in Gatlinburg & Pigeon Forge.
Cherokee Grill is a dinner restaurant (with lunch on weekends) located next to Smoky Mountain Brewery, offering steakhouse fare rounded out with seafood and pasta dishes, as well as salmon, pork chops and burgers. High quality service and food and generous portions. It's elegant dining in a very relaxed atmosphere, perfect for everyone. Smoked trout and crab bisque here are highly regarded, while of course the meats are superb and the appetizers are creative and tasty. The restaurant serves wine and microbrews (from the Brewery, its sister). See more: Cherokee Grill: a Prime Gatlinburg Steakhouse.
Smoky Mountain Trout House is now in its fifth decade of serving Gatlinburg with fresh local trout in almost a dozen different preparations. There's a good cheeseburger here, and the steaks are comparable with steakhouse fare. Catfish, shrimp and Sandwiches are on offer, as well as a good kids menu. Come hungry, the appetizers are appealing. The place is small but extremely friendly and worth finding – locals eat here. Serves wine and local and imported beers. See our feature: Smoky Mountain Trout House in Gatlinburg.
Chesapeake's Seafood and Raw Bar is a seafood restaurant that lives up to its designation, flying in fresh seafood daily and placing itself on a par with the best coastal seafood restaurants in the country. The kitchen handles its top-line foods with appetizing flair, serving up tasters, chowder, gumbo and bisque as well as sandwiches, but of course the main dishes are fresh oysters, lobster, salmon, tuna, grouper, clams, shellfish and the catch of the day. Steaks are great here and the spacious layout offers a capacious bar easily good enough to dine at, and a heated patio overlooking the river. Wine, spirits and microbrews. More: Chesapeake's Seafood and Raw Bar in Gatlinburg.
Smoky Mountains Creperie. If you long for the crepes of Paris that America no longer cherishes, this little counter café run by a Romanian couple serves up the best crepes in America (and maybe France). The Creperie adds Yankee flair to its perfectly created crepes, filling them on the sweet side with fruits, cream and chocolate, and on the savory side with meats, cheeses and veggies. Everything is delicious, and delightful just to look at. Get the breakfast crepe or go straight into lunch, dine at the counter or take out to the street and walk on happy. Read our feature story: Smoky Mountains Creperie in Gatlinburg: Crepes Are Back!
Fannie Farkles. Here's another place to get food that you can eat on your feet, including the best hot dog (we didn't say it, people from Chicago do), and the foot-long corn dog. The counter window on Parkway presents a hidden gem in plain sight, and you can go in and sit to eat or walk along munching. Sausage subs and cheesesteaks slathered in peppers and onions can set a body right after, or before, a trek along Parkway. In back is an arcade with both modern and retro games that all the generations will enjoy. See more: Fannie Farkle's in Gatlinburg: Food and Fun For the Family.
Tennessee Jed's has long been a favorite with locals for fabulous sandwiches for lunch and breakfast, with fresh ingredients and roasted meats served tender and moist. Understated and very human-friendly, Jed's offers great service and a very savvy kitchen. Sausage, BBQ, Reuben, turkey, chicken, and even quiche and vegan food, as well as great homemade side dishes (Tip: potato salad), AND a real Frito Pie! Two locations in Gatlinburg and now only one offers the famous breakfast, so see our feature story to learn which one: Tennessee Jed's: Fabulous Sandwiches, Now 2 Gatlinburg Locations.
The Atrium is a breakfast and lunch restaurant that believes in home cooking and friendly service, satisfying locals and visitors for over 20 years. It specializes in some amazing pancakes (including a baked-apple monster) with excellent texture and delicious taste. Savory breakfasts include great bacon, as well as ham and sausage, and eggs prepared a number of different ways, including two Benedicts and beautifully made omelets, all with tasty home fries or grits. Lunch offers some excellent sandwiches and burgers. Portions here are large, and sharing is okay – but come hungry. Vegan and vegetarian welcome too. See our feature on The Atrium in Gatlinburg: Family-Style Breakfast Feast.
The Peddler Steakhouse is on the pricey side but well worth it for fabulous food and wonderful ambience. It's local-approved for that special occasion or treat, and for 30 years has offered friendly and attentive staff, custom preparation of your steak, and a perfect menu filled with flavor. The side dishes are appetizing and the salad bar is immense, and between these and the ala carte dishes you could make a great meal even without the entrees. Oysters, salmon, trout, mushrooms and chicken all compete with the steak, which can be custom cut at your table and cooked exactly the way you want it. Combo plates help you sample the menu. The desserts are award-winning and large enough to share. Wine, beer and cocktails complement the cozy ambience nestled in the trees at the national park end of town. See our page on The Peddler Steakhouse: Quality With Mountain Flair.
The Best Italian Café & Pizzeria is one of those hidden gems that are easy to miss and that locals love – and there's a school of thought that says the restaurant's name means exactly what it says. The kitchen serves classic Italian dishes but understands New York style, so you can find a perfect thin crust pizza or calzone here. But the dishes are creamy or tangy and all bursting with flavor. Stuffed shells, linguini, fettucini, meatballs, ricotta, mozzarella, Alfredo or marinara, shrimp, clam or calamari – yum! It's delicious, it's family, it's unpretentious and it's a quiet sanctuary off the street on Parkway to enjoy lunch or dinner with a glass of wine. There's even a back patio on the river. Don't tell anyone, but check out our feature on this gem: The Best Italian Café & Pizzeria.
New Orleans Sandwich Company brings an authentic Louisiana genre to town with Cajun and Creole cooking that is some of the finest to be found inland of the Gulf coast. There are plenty of authentic dishes besides the sandwich stuffed with delicious preparations – fried oysters, shrimp, fish, ham, roast beef, you name it – wrapped in the traditional "po boy" style French bread. How about some Gumbo (highly recommended) or Jambalaya, or Crawfish Etoufee? It's all here at this taste of New Orleans – a hidden gem very much worth seeking out. See our write-up on New Orleans Sandwich Company.
The Wild Plum Tea Room is an eclectic tea and lunch venue with original dishes prepared from fresh and seasonal ingredients in a superbly competent kitchen. The menu varies daily depending on the chef's inspiration and what's in season, and can range from Yellowfin tuna to bison burgers and the chef's special of Lobster Pie. Salads are creative and the desserts are gorgeous. Vegan and custom preparations are available by prior arrangement – the Tea Room is only open on some days of the week, and requires a 24-hour reservation in advance. It's also cash-only, no plastic. If you have the time to enjoy this place along the Arts Trail, the lunch and the setting are totally worth it. See our feature for details: Wild Plum Tea Room.
Be sure to check out our continually growing list of Notable Eateries in Gatlinburg and Pigeon Forge for even more.