Any vacation in the Smoky Mountains is made better by staying in a vacation cabin rental. Many cabins are located within resorts, which differ greatly in their location, setting and the amenities they offer. Knowing more about where the resorts are and what they're like opens up the options considerably for choosing where to stay.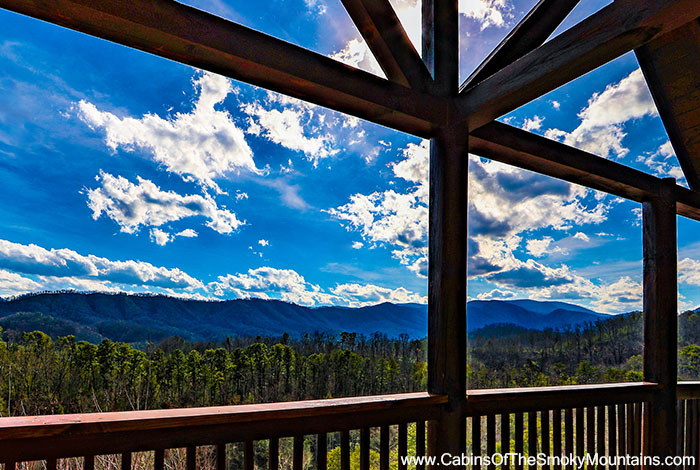 Some resorts are planned and built as typical resorts, owned and managed by one company, while others are clusters of individual cabin owners organized into a homeowners association – in such places, some cabins may be for rent and some may not. Many resorts have common amenities such as a swimming pool. Some resorts are gated communities, while others have more of a neighborhood or a subdivision feel, in areas where you feel like a local.
The great advantage with resorts usually lies in paved roads, adequate parking and reliable all-weather access to your cabin – a factor in mountain living in winter. Some resort areas are up winding mountain roads that may be fun for the confident and less fun for those not used to mountain driving.
Most resorts have been created and landscaped around the stunning mountain views afforded by the area, but within each area there will often be some cabins that overlook the mountains, and those that are nestled deep into the trees with a more secluded, park-like feel.
The shared amenities of resorts will usually include a swimming pool, some even with a hot tub. Some resorts have indoor swimming pools, heated for year-round use. A few resorts go all the way with a meeting space suitable for a wedding or a large reunion, and even a fitness center. Many resorts have picnic areas you can walk to from your cabin, sheltered and shaded gathering places, and some even have private walking trails within their acreage.
Location
Location is important of course. With countless attractions in the Gatlinburg and Pigeon Forge area, no one can visit them all in one stay, or possibly in a lifetime. It makes sense to get situated conveniently to the main items on your itinerary for your vacation.
There are resorts far removed from the bustle of the two towns, high up in their setting, while some are perched almost on top of the towns, yet just over a ridge in a setting that feels a world away. If the action on the Parkway is important to you and your family, you can find a cabin with easy access but still with a secluded mountain feel.
So there are a variety of experiences you can get staying in the Smoky Mountains, and some will depend on your choice of cabin and choice of resort location. We are compiling information about each resort – check out our guide to Cabin Resorts Near Pigeon Forge and Wears Valley – and always feel free to check with our reception staff in advance and let us help you get situated in the best place for your plans.
Routes
It helps to know some of the routes for getting around the area, especially since the price of being popular is also being crowded. Fortunately, almost everywhere you drive is a scenic drive in its own right.
For Pigeon Forge visitors, you should know about Teaster Lane and Veterans Boulevard, that parallel Parkway north and south. From the north end of Pigeon Forge, the drive to Wears Valley and Townsend offers you a beautifully scenic way to get to Cades Cove and the national park without going through Gatlinburg. See our guides to Getting Around the Gatlinburg & Pigeon Forge Area, as well as the insider's Back Roads and Shortcuts. And take a look also at our guides to Scenic Drives in the Smoky Mountains and Driving in the National Park.
From Gatlinburg, check out Little River Road as your main escape to the west, dotted with scenic attractions, and ending in Cades Cove. And from both towns, don't ignore the country to the east, especially the Cosby area. We have several features on lesser visited places here, waterfalls, picnic areas and nature trails that could just be the highlight of your stay. For an overview of the various areas in the national park that can help you plan your daily excursions from the cabin, see our guide to Special Areas of Great Smoky Mountains National Park.
Always remember too that GPS may not work very accurately for you in the mountains. It's useful to pick out places on map to get a better idea of the lay of the land, and explore some of the less traveled roads to get there. And stay tuned for more cabin resort orienting to come!
---
And no matter where you stay, make sure it's in one of our Gatlinburg cabins, Pigeon Forge cabins or Wears Valley cabins. And each cabin comes with a deal that no one else can match – a free book of Pigeon Forge coupons and Gatlinburg coupons for free tickets to many of the area's best attractions, worth over $700!
And remember that romance in the Smoky Mountains is made perfect with one of our Gatlinburg honeymoon cabins.
For more great attractions in the Smoky Mountains, see what's going on with Gatlinburg attractions and Pigeon Forge attractions.